This Daily Split-Second Gesture of Love From Devoted Grandparents Has Tears Welling up in Our Eyes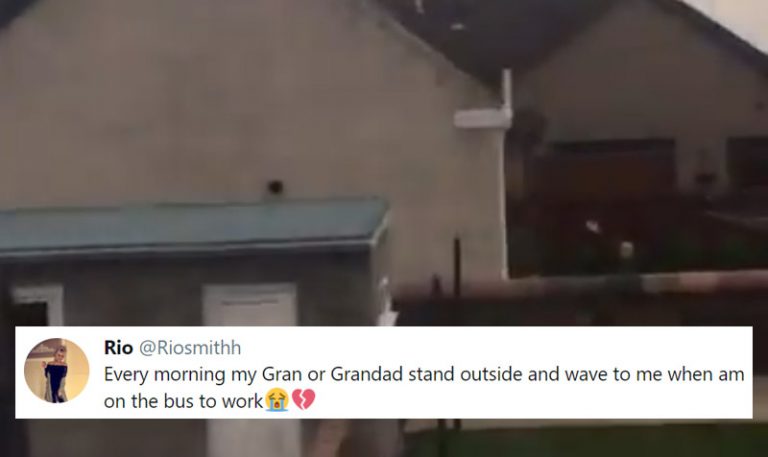 This Daily Split-Second Gesture of Love From Devoted Grandparents Has Tears Welling up in Our Eyes
They say nothing can compare to the love of a grandchild by a grandparent, and this viral tweet from a young woman in Scotland has proven this to be true in literally just a heartbeat.
Seventeen-year-old Rio Smith recently began her first job, and no one was prouder than her devoted grandparents, Valerie and Wilson Ovenstone.
Rio felt nervous entering the workforce for the first time, but with the love and support from her grandparents, she knew they were firmly in her corner.
How can she tell?
Well, for starters, they wave to her each and every day as her bus speeds past their home.
Last week, Rio filmed her grandfather waving to her and posted the video to Twitter where it has been liked more than 180,000 of times.
See if you can spot Mr Ovenstone waving frantically from his back garden, but don't blink or you'll miss him!
Every morning my Gran or Grandad stand outside and wave to me when am on the bus to work?? pic.twitter.com/8zWEPH211X

— Rio (@Riosmithh) October 19, 2017
And here I am tearing up again. All that effort, every single day, for a split second gesture of love and support for their precious granddaughter. I'm not crying, you're crying.
"My grandparents have been doing it since day one… and it makes me smile every morning," Rio said, adding that she is really close with both her grandparents and said they normally both wave, but Valerie was busy that morning.
"It's Rio's first proper job and we couldn't be more proud of her," the gorgeous grandparents said. "We are just so happy to wave her off every morning on her way to work."
Rio explained to The Sun Online why she shared her touching clip: "I posted the video just because I thought it was sweet.
"I was so shocked when everyone was replying with such lovely comments towards my grandparents."
Smith told how the couple does it for moral support and "honestly melt my heart," adding that she cherishes them both.
She told Metro: "I'd say that they are the most genuine, caring and loving people you'll ever meet.
"They aren't like normal grandparents, they are fun and act so much younger than what they are, which is so funny at times."
That is just the most gorgeous thing, ever.
Source: Twitter/Rio Smith