Disney Finally Explores Sexual Diversity with an Animated Gay Kiss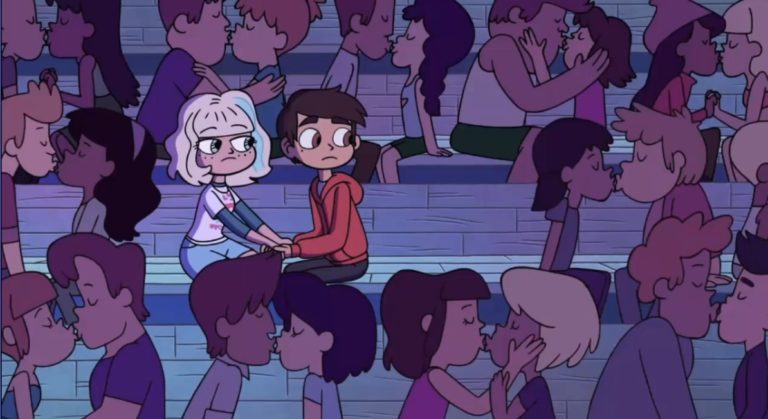 Disney Finally Explores Sexual Diversity with an Animated Gay Kiss
Disney has long been one of the world's best loved family entertainment powerhouses, setting the standard for appropriate children's viewing, both on the big screen and at home.
And now, they have finally caught up to the rest of the world with regards to LGBTQ storylines and characters.
A recent episode of the animated Disney XD show Star vs. the Forces of Evil depicts same-sex couples kissing onscreen. It might not sound like a massive step forward, but it's a first for the network.
The couple are included in a sweeping shot of many couples kissing as the cartoon character gazes across the room. They are not main characters, nor is a big deal made out of it. They are just like everyone else.
As the scene pans out, and the female character realises that she is the only one without a mate, we see a lot of other couples, including two sets of females.
While it has been a long time coming, this is a milestone that many are celebrating. It may just be a cartoon, but it is a step in the right direction.
But that's not the only milestone that Disney have reached lately.
The soon-to-be released live-action remake of the animated Disney classic, Beauty and the Beast will feature Disney's first LGBTQ storyline and interracial kisses.
It has been announced that Beauty and the Beast will feature an historic Disney first with an "exclusively gay moment."
The movie's director Bill Condon revealed that Gaston's sidekick, LeFou, would be involved in a small but significant subplot that sees him address his sexuality.
"LeFou is somebody who on one day wants to be Gaston and on another day wants to kiss Gaston," the director revealed. "He's confused about what he wants. It's somebody who's just realizing that he has these feelings."
Do you remember Cadenza the piano and Madame de Garderobe the wardrobe from the 1991 animated film?
These memorable characters are played by Stanley Tucci and Audra McDonald, respectively, in the remake. And they're going to share a little kiss that will go down as the first ever interracial kiss in a live-action Disney movie.
There has been an interracial kiss in the past, between Pocahontas and John Smith, but that was animated. Hopefully it won't be another 22 years until the same-sex animated kiss comes to life in one of Disney's live action films.
Bravo, Disney. Well done. It's fantastic to see such a major influence on popular culture as Disney make positive moves for inclusivity in their movies and tv shows.
Now we really can't wait to see Beauty and the Beast when it hits our big screens on the 23rd of March!!
Images: Disney