Little Girl Mistakes Man At Supermarket For Father Christmas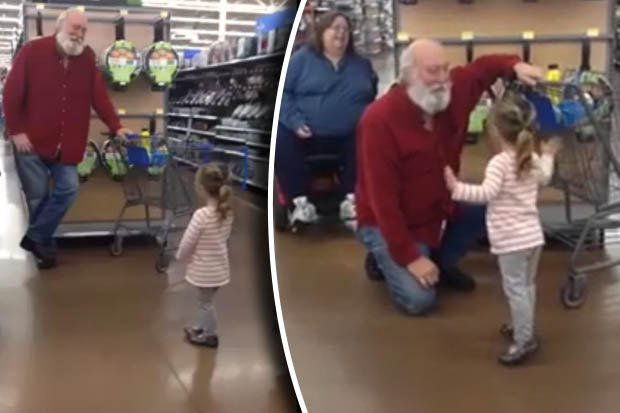 Shopping with young children around Christmas is always a precarious time. There's crazy shoppers, crowds and Santa Claus to deal with. You see just like us, Santa too has to visit the supermarket to stock up on pavlova and beer for Christmas lunch. The problems occur when young children begin to recognise him even when he's out of uniform!
This is exactly what happened recently in America when a little girl was out shopping with her father and  noticed a jolly-looking man with a white beard pass by.
Naturally, given the time of year, she assumed it could only be one person – Santa.
This story could have had a very different ending with the man in question turning his head and ignoring the little girl's inquisitive questions. But to his credit, the man called Roger played the part of Father Christmas much to the little girl's delight!
He kneels down and asks her who she thinks he is.
When she replies, he is heard saying: "Santa? I've been called a lot worse."
"Santa" then asks the youngster if she's been a good girl, and if she's getting ready for Christmas.
When she tells him she's going to leave out some cookies for him, he asks: "Can I eat them all?"
"You have to share," comes the reply.
The conversation ends with Santa wishing the girl a Merry Christmas.
Since being posted on YouTube, this heartwarming clip has been viewed over 100, 000 times! I dare you to watch it and not break into a smile…