Gwyneth Paltrow shocks on the Red Carpet for Iron Man 3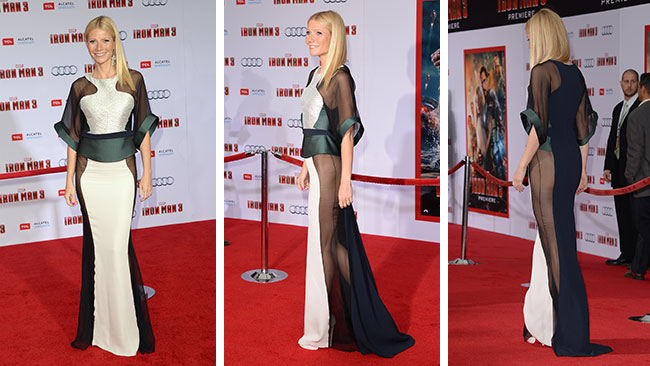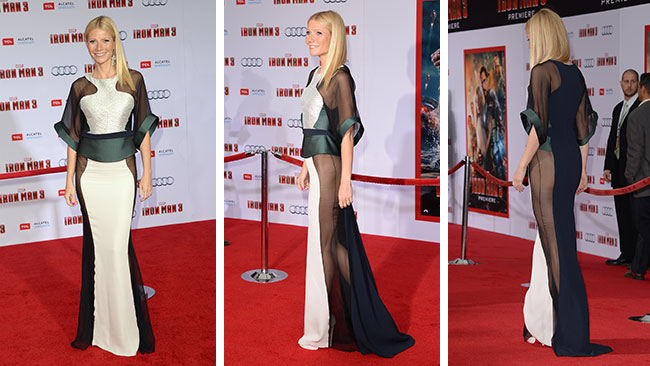 Image source: Splash
It would seem that poor Gwyneth Paltrow can't put a foot right with the media these days. Hot off the controversy of critics slamming her for sexualising children with her children's bikinis her fashion style is now in the firing line.
Sporting a space-age-style Antonio Berardi gown featured white, navy and green panels the dress was nothing to write home about from the front however when she turned to the side it was revealed that Gwyneth left nothing to the imagination. The sheer sides left no room for any undergarments and would mean that dear Gywneth was indeed 'going commando'.
The media has had a field day over this number with the The Daily Mail's Liz Jones reporting "This has got to be the most vulgar, look-at-me, attention-seeking dress I have ever reviewed in over 30 years of writing about fashion"
Gwyneth herself said to Ellen Degeneres:
"Yeah, oh, I kind of had a disaster," Gwyneth said. "I was doing a show and I changed there and I went I couldn't wear underwear. I don't think I can tell this story on TV. Well, let's just say everyone went scrambling for a razor…so I went from being the most beautiful to the most humiliated. In one day…I work a '70s vibe. You know what I mean?"
This came hot off the heels of People magazine naming Gywneth the 'World's Most Beautiful Woman'.
What do you think? Was the Space Age look really that much of a disaster?