Help The Conci Family With Sisters Battling For Their Life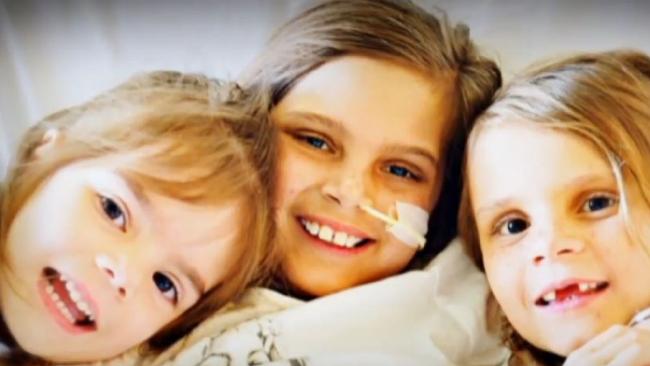 You don't realise how blessed your life is until you hear the predicament of another family. And when you hear of their predicament, you wish you could do something to help. One such family needs your help this Christmas.
Their story left The Project hosts Waleed Aly and Carrie Bickmore, speechless and fighting their emotions over this family's heartbreaking story.
Two sisters, Jenna and Jayda, are battling a condition so rare, heath experts around the world are unsure of the cause and how to treat it.
Sisters Battling For Their Life
The sisters were born with a genetic disease that is the first of its kind in the world. The condition feeds on the girls muscles which damages their liver and makes their eyes so sensitive they burn when it's light.
Jenna,9, is the oldest of her two sisters and has experienced her hardest year yet with the condition. Jenna became so malnourished, she couldn't walk and required a liver transplant. While in ICU after her liver transplant, she fought hard against pulmonary edema and an enlarged heart.
At the moment Jenna is fighting to keep her liver as her body is rejecting the new organ. Despite her horrendous health issues, Jenna wishes to find a cure to help others who find themselves with the same condition.
Her younger sister Jayda, 7, who also suffers from the same rare condition, has watched her older sister go through her health battles, wondering when she will be in the same place.
The girls' parents, Rebecca and Jason Conci have had to stop work to care for their daughters. The constant doctors' visits, hospital appointments and the latest health hurdle with Jenna, forced the parents to stop full time work. They also have a third daughter, Rivvah, who doesn't show signs of having the condition. The recent diagnosis of their middle daughter with the condition was heartbreaking.
Rebecca explained, "They tested Jayda for it, and it presented itself. At only six months we knew her liver was tracking down the same path as Jennifer's."
"It's obvious already with her eyes changing colour that it's on the cards and that it will happen.
Jason added, "Jenna has been the guinea pig, and Jayda has been watching her go through it knowing that she has got all of this to look forward to."
Rebecca shared how hard it has been having a daughter living with the rare condition.
"If I do a school run in the morning to try and get to the hospital, I'd be lucky to spend 4 hours with Jenna in hospital before I have to leave and pick the other two up," Rebecca said.
"You can work. Literally, you can't work.
"The house is important. It's important because we want them to grow up feeling safe and secure in a beautiful town in a beautiful home. That's why we bought it, but at the end of the day if we lose the house, it's a house. The kids come first," she said.
To explain how rare the condition is, Dr Sue White, who is a geneticist at the Victoria Clinical Genetics Services said, "What we know about the girls is they have what I'd call an ultra rare condition, extremely unusual, in fact we don't know any other children with the same pattern of problems."
"They already have the burden of two very sick young children and on top of that now they have this very uncertain future, and we can't tell them how it's come about."
To help the family out, community members have offered assistance to ensure the family don't lose their home.
Fundraising organizer Michelle Orr said, "They haven't asked for any of this of the community."
"They need their mortgage paid and their bills paid, and spend as much time at the hospital with Jenna as they possibly can".
You can support the Conci family by heading to their GoFundMe page.
Let's give this family some cheer this Christmas.