More Pre-Packaged Lettuce Products Recalled From Coles And Woolworths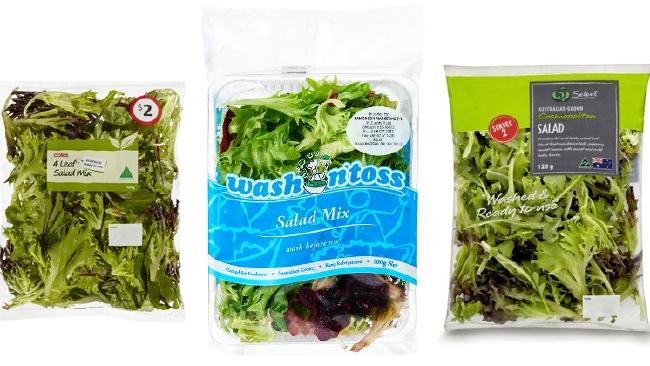 Last night Coles and Woolworths were forced to issue a recall over Coles 4 Leaf Mix, Woolworths salad mix, SupaSalad Supamix and Wash N Toss salad mix following a spate of salmonella poisoning cases. Unfortunately today more products have been added to that list.
Twenty-eight people have been diagnosed with a rare strain of the bacteria and two were hospitalised after eating leafy greens linked to Tripod Farmers, based in Bacchus Marsh, west of Melbourne.
Weight loss company Lite 'n Easy said some lunches on its menu were affected and customers were being contacted. It said it had taken steps to replace its lettuce supplier.
Salmonella doesn't often occur in fruit and vegetables but Lydia Buchtmann from the Australian Food Safety Information Council has said that there could be three reasons behind the outbreak.
"For salad to have the bacteria, the water used during growing might've been contaminated," she said. "Another reason is the water in the washing process could be contaminated. There is also the possibility that someone who has handled the food could have had salmonella."
She also said there wasn't much point in rewashing pre-packaged salads.
"Washing the salad with your own water isn't enough to get rid of the bacteria," she said. "Although it might get rid of some traces — it's not worth it.
"Salmonella is an unusual bacteria, as it can take 72 hours or even longer to come out through symptoms."
Pre packaged food has become part of our daily shopping routines as we have all become time poor and are looking for ways to save time especially with food preparation.
However a food poisoning expert warned against buying prewashed or precut fruit and vegetables as the more a food is handled and processed, the more it's likely to attract bacteria.
"I avoid these like the plague," said Bill Marler, a managing partner of Marler Clark, known as the "Food Safety Law Firm".
"We've gotten so used to the convenience of mass-produced food — bagged salad and boxed salads and precut this and precut that.
"Convenience is great but sometimes I think it isn't worth the risk."
Mr Marler has said that the best way to avoid getting sick is to buy unwashed, uncut produce in small amounts and eat it within three to four days to reduce the risk for listeria, a deadly bug that grows at refrigerator temps.
Below is a list of all the salad mixes that have been recalled so far:
FULL LIST OF RECALLED PRODUCTS
Woolworths Spinach 100gm
Woolworths Rocket 100gm
Woolworths Salad Mix 100gm
Wash N Toss Watercress 100gm
Wash N Toss Sorrell 50gm
Wash N Toss Baby Cos 100gm
Wash N Toss Spinach 100gm
Wash N Toss Salad Mix 100gm
Wash N Toss Rocket 100gm
Wash N Toss Kale 100gm
Coles Spinach 60gm
Coles Rocket 60gm
Coles Rocket 120gm
Coles Spinach and Rocket 120gm
Coles Spinach 120gm
Coles 4Leaf 120gm
Coles 4Leaf 200gm
SupaSalad 180gm
SupaSalad Green Coral 180gm
SupaSalad Supamix 1kg
SupaSalad Spinach 1kg
SupaSalad Rocket 1kg
SupaSalad Baby Cos 1kg
SupaSalad Spinach 180kg
Photos courtesy of News Corp and Supplied.