Mum Comes Under Attack For Buying Too Many Christmas Presents For Her Kids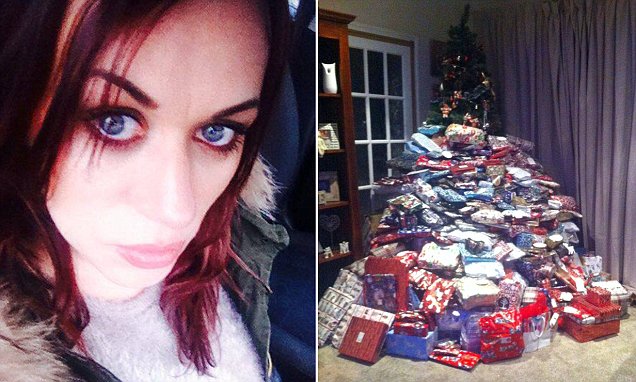 A mum of three from the Isle of Man, has had to defend herself following a photo she posted on social media last week. The photo depicted her Christmas tree which was swamped by an enormous pile of presents for her children.
The image has since gone viral and Emma Tapping has had to deal with a stream of angry comments from people accusing her of 'abusing' her children.
Ms. Tapping defended her actions, saying her children, two daughters aged 9 and 13 and her son, 19 months are not given presents or spoilt throughout the year.
She said: "The way I see it is you could buy your kids two presents or 200 presents, it's the way you bring them up.
You could buy your kids two presents and still have a little terror, my kids know the difference between right and wrong and they appreciate everything they get and they don't get spoiled throughout the year."
Ms Tapping explained that she is "not rich" and seeks advice from money saving experts.
She claims the presents — totalling around 85 each for her three children and husband — cost just £1,500 ($3,150) in total.
Emma said: "I'm not rich at all, which is the first thing I wanted to point out because it's been put all over the Internet after it had been taken from Instagram that I was rich and I spoil my children."
Will I post another pic of my tree? You bet your grandmas nipples I will. Seeing as my picture has gone viral. 
"I literally start from January, I shop all the way through, I use every bargain that I can and every sale that I can.
That's the way I do it, I shop all year round to make the pile as big as it is and start wrapping in August.
All in all it's about £1,500 worth.
Writing on her Facebook page, Emma admitted: "I LOVE christmas I LOVE spoiling my kids in the festive season and I work damn hard to make sure it is every bit as amazing as it can be.
So 2 fat fingers up to all the judgemental a**holes and big thanks to all the normal, everyday people who don't really give a s**t about SOMEONE else's christmas tree or got into the festive spirit with me.
"Merry christmas everyone (sic)."