Mum Designs Hilarious Passive Aggressive Lunch Bags For Kids That We Can All Relate To!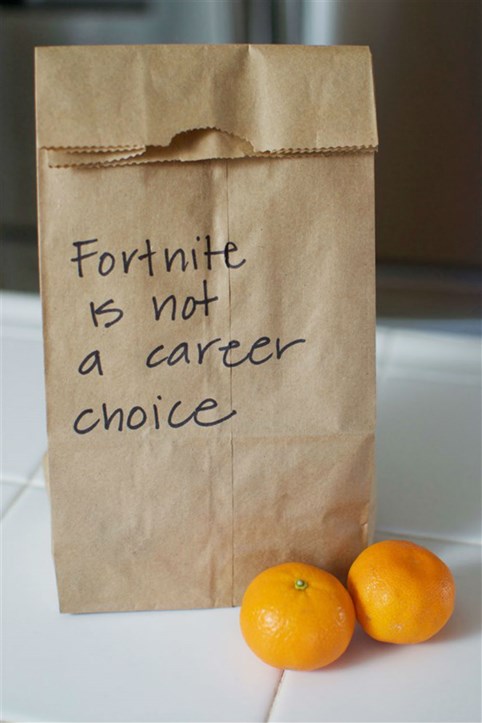 Mum Designs Hilarious Passive Aggressive Lunch Bags For Kids That We Can All Relate To!
Making school lunches for your kids is one of those things that starts off as super fun and enjoyable and quickly evolves into  "If I have to make another cheese and vegemite sandwich I will scream!"
I remember when my kids started school for the first time I would lovingly make them sandwiches and cut the bread into cute shapes. I'd buy matching Tupperware containers and put sweet little notes on them so that when they were having their lunch they would feel my love and think of me!
Fast forward to six years of school lunches and I have to admit things are much more spartan these days. Of course I'm still making them sandwiches but the only shape options they have now are whatever shape the bread is. There is no matching tupperware or love notes. Now I yell "grab whatever snack you want from the pantry" and "pick some fruit that's still holding it's shape." I call it survival!
A mum in the US has seen the funny side of preparing school lunches and has managed to make a sweet little business out of it. Mum-of-two Whitney Cicero started writing witty messages to her kids, aged 14 and 12, such as 'Fortnite is not a career choice' and 'Just pretend it's Chipotle' a few months ago, and thanks to her daughter's encouragement she started sharing them on Instagram.
It wasn't long before Whitney's posts on her @TheNewStepford account attracted a cult following with hilarious messages such as 'I could have slept in and dreamt about Idris Elba but instead I got up and packed this. You better eat it!'
Seeing a market for these passive aggressive lunch bags, the savvy mum has taken it to the next level and is now selling them in packs of 10 for other parents who share her wicked sense of humour.
Speaking to US Today, Whitney said that having a laugh is on of the most important things that will help you survive parenthood!
'It's imperative to have humour with your kids,' she told TODAY. 'We joke about everything — sex, drugs, politics, their bodies — I don't want them to think anything is taboo. 
 'Humor is a great segue into having meaningful conversations and it helps break the tension of things that can be kind of awkward. And, if we don't have a sense of humor about parenting, we will literally lose our minds.'
What do you think of these messages? We love them and can bet you all have plenty of your own to add too!
(If you or someone you know would love to get their hands on these creative bags just head here.)
Images: Instagram