Mum Throws Her Daughter A Poop-Themed Birthday Party!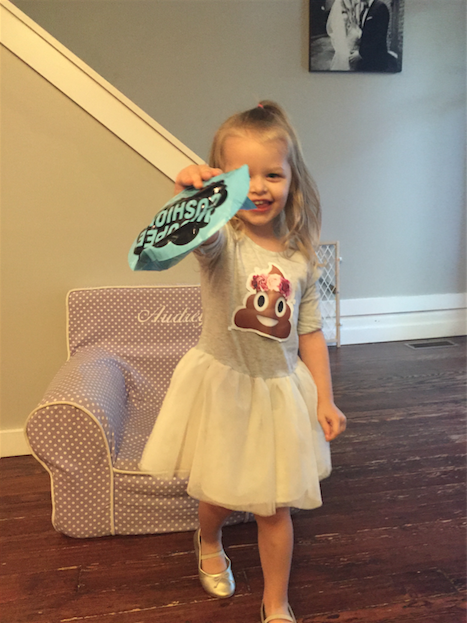 Mum Throws Her Daughter A Poop-Themed Birthday Party!
We all know toddlers can be the most stubborn humans to ever walk the face of the earth, right? Especially when they get an idea into their heads and there's just NO swaying them! Like wanting to wear their bathers to go supermarket shopping in the dead of winter! Or wanting to eat their spaghetti with chopsticks! Ugh!!
Spare a thought for Missouri mum Rebecca who asked her daughter Audrey what kind of party she would like for her third birthday. We're sure deep down she was expecting to hear unicorn, Lego or even a superhero party! But no. Audrey had her heart set on one theme only- POOP!
"For months, every time we mentioned her party, Audrey requested 'poop balloons and a poop cake,'" Rebecca told The Huffington Post. "I tried suggesting other themes, but she always insisted on poop."
Instead of trying to change their daughter' mind, the couple decided to embrace the rather unique theme and go all out for the poop-party!
Party games included "pin the poop," as well as hitting the poop emoji-shaped piñata which was filled with Tootsie Rolls and Hershey's Kisses. Mum Rebecca even dressed in a poop costume.
"I expected the grandparents to question it, but they all just laughed when I told them," the mum said.
Bringing new meaning to the saying Party Pooper, mum Rebecca says she's proud her daughter has such strong convictions. "Audrey is definitely her own person," she said. "I hope she always has the confidence she has now. She is so funny and the best big sister."
If nothing else, Rebecca hopes her poop themed party will inspire other parents with weird and wacky themes for their kid's parties.
"I feel like in this time of Facebook and Pinterest, we sometimes get caught up in trying to impress other adults," she said. "This party wasn't for me, it was for Audrey. I love that we will look back at pictures, and it will represent her at 3 ― my funny and quirky little girl."
What do you think of the poop themed party? Have you ever thrown a quirky birthday celebration for your child?
Images: The Huffington Post