Nanna's Long Lost Engagement Ring Turns up on a Carrot From Her Garden!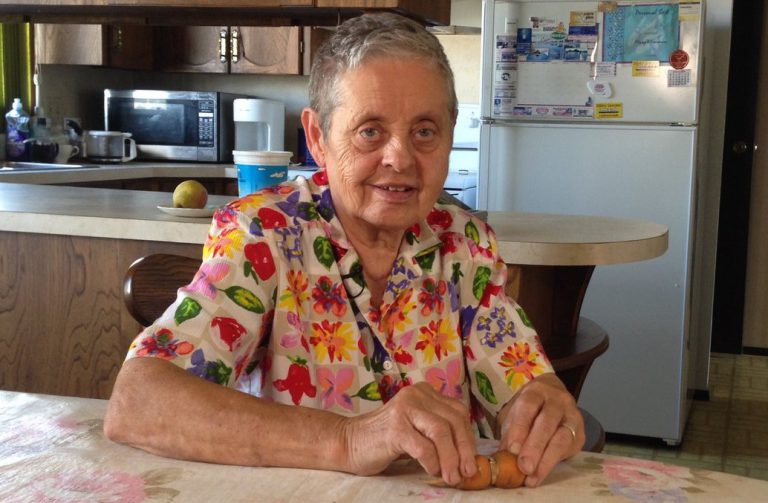 Nanna's Long Lost Engagement Ring Turns up on a Carrot From Her Garden!
This is no garden variety one-carrot engagement ring!
A grandmother lost her engagement ring while doing some gardening 13 years ago. Devastated that she had lost the ring that she wore since her husband proposed in 1951, she cried for days then quietly replaced it so he wouldn't notice.
Mary Grams was stunned when her daughter-in-law phoned her to tell her that she had found her ring around a carrot that she had dug up on the family farm in Alberta, Canada. The 84-year-old was certain that it was lost forever after it went missing in 2004.
Mary had since moved into a smaller property but her son, Brian Grams still lives on the farm which has been in his family for 104 years.
"My wife was digging carrots for supper, and I guess she came up with a carrot that had something on it," Brian explained.
"She showed me this carrot and said, 'Do you know anything about this?' I said, 'I think I do — Mom lost a ring quite a few years ago.'"
Brian's wife, Colleen then rang her mother in law with the news.
"She said, 'Did you lose an engagement ring?' And I said, 'Yes,' and then she started laughing," Mary said.
"I'm going to wear it because it still fits."
Recalling how she lost it, she added: "I was going to look at something, I don't remember what I was going to look at, all of a sudden I [saw] this tall weed.
"I thought, 'Oh, I'll grab it.' But why I didn't grab it with my right hand or leave it alone, I'll never know."
Despite searching in the soil near the potato patch for hours, Mary failed to find the ring.
"Usually, when I lose something — I don't want to brag, but I'm usually pretty lucky at finding things — but not this time. No luck this time, boy," she recalled.
"We looked high and low on our hands and knees. We couldn't find it. I thought for sure either they rototilled it or something happened to it. I cried for I don't know how many days," she said.
Grams eventually settled for a replacement ring — a cheaper alternative — and told no one but her son. She said her late husband, who died five years ago, never noticed the difference.
She said she never told him because she "thought for sure he'd give me heck or something. Maybe he would've got a laugh out of this," she said.
Colleen added: "I knew it had to belong to either grandma or my mother-in-law because no other women have lived on that farm. I asked my husband if he recognised the ring and he said yeah.
"His mother had lost her engagement ring years ago in the garden and never found it again. And it turned up on this carrot.
"If you look at it, it grew perfectly around the carrot. It was pretty weird looking. I've never seen anything like that. It was quite interesting."
Grams's granddaughter helped her snap the carrot and wash the ring off. It still fits — and went right back where it belongs, on Mary's ring finger.
"Anything I do outside, I'm going to take it off and it's going to stay," Grams said. "I should've put it in a safe place in the first place, but I didn't."
That's a good plan, Mary.
Source: Twitter/Sarah N Kraus