Popular Children's Nursery Rhyme Baa Baa Black Sheep Has Lyrics Changed As It's Deemed Racist!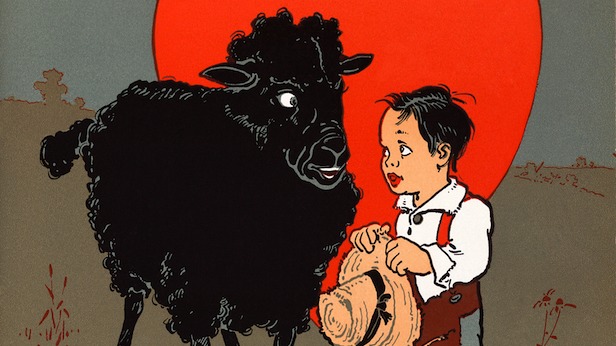 Popular Children's Nursery Rhyme 'Baa Baa Black Sheep' Has Lyrics Changed As It's Deemed Racist!
Children are being encouraged to drop the word 'black' from Baa Baa Black Sheep in order to be more inclusive of other coloured sheep.
I'm sorry…but WHAT THE ACTUAL F?? This is political correctness gone mad! Children in north Queensland are learning to sing the new edited version of Baa Baa Black Sheep which includes the line Baa Baa Rainbow Sheep.
The rhyme may have survived 200 years but it seems our crazy PC ways have seen it finally be taken out to pasture.
The Pelicans Innisfail Child Care centre says children are free to either use the word black or rainbow when singing about the sheep.
Director Pam McLaughlin says "We just go with whatever the children want. The kids are just singing and having fun. Some sing black sheep, some sing rainbow sheep. It's just a song. We don't have anything that says, 'You have to sing it this way'."
The child care centre has indigenous and non-indigenous children, and celebrates diversity. Children play with white dolls, darker-skinned dolls and dolls of both sexes.
Pam went on to say she thought changing the lyrics to 'rainbow' was quite confusing to young children. "You can get a black sheep but you can't get a rainbow sheep."
I don't understand why children singing about a 'black sheep' would even see them associate the animal to a black person anyway.
In 2000 Birmingham City Council banned the song for being racist but later overturned the decision after parents kicked up a fuss. And rightly so. The sheep is black! It's not pink, or orange or rainbow coloured. It's a colour and it's black.
The council argued that it had documents proving the nursery rhyme may be offensive to black people as 'the history behind the rhyme is very negative and also very offensive to black people, due to the fact that the rhyme originates from slavery.'
However a more accepted meaning behind Baa Baa Black Sheep has nothing to do with slavery and everything to do with taxes.
Baa, baa, black sheep,
Have you any wool?
Yes, sir, yes, sir,
Three bags full;
One for the master,
And one for the dame,
And one for the little boy
Who lives down the lane
"This classic nursery rhyme has attracted recent controversy as it was believed to be politically incorrect, but most scholars agree that it has little to do with the slave trade. The most common conclusion is that it's actually about the Great Custom, which was a tax on wool in the 13th century. Under the new taxes the price of a sack of wool was split between the farmer, king and church. It takes on sinister connotations if you consider that the original last line was 'And none for the little boy
who cries down the lane', indicating that the poor shepherd boys were left with no profits due to the heavy tax." (Source: Historyanswers)
What do you think? Is black even a derogatory term? I believe it's all in the context of how things are said and the intention behind the word. For example former president Barack Obama is often referred to as the first black president of the USA just as Martin Luther King is described as being instrumental in helping to end segregation between black and white Americans. The use of the word black even in these instances is in no way racist and in fact is used by Obama and King themselves.
So let's just leave the poor black sheep alone!