Reality TV Star Tilly Whitfield Reveals TikTok Fake Freckle Trend Left Her Scarred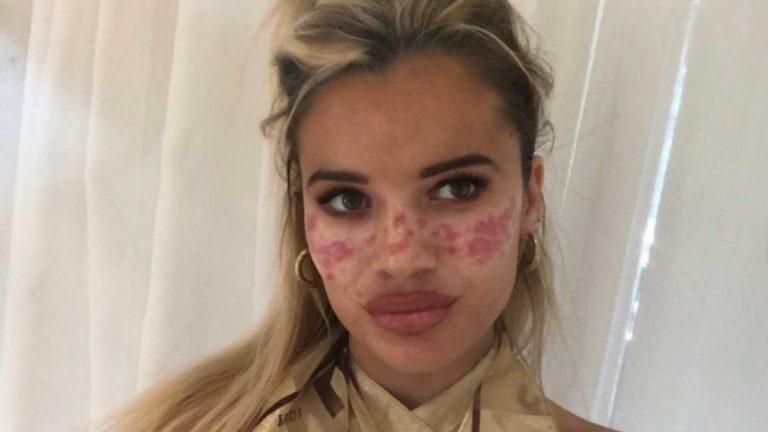 Big Brother contestant Tilly Whitfield warns others to steer clear of TikTok beauty trends after scarring her face while attempting to tattoo fake freckles onto her cheeks.
Not only was Tilly left with peeling cheeks but she also suffered from vision loss. Fake freckles have been a huge beauty trend since around 2018 and those who haven't been blessed with them have tried to fake the look using make-up for years. Tilly being one of them. While the 21 year old was scrolling through TikTok one day she saw a hack which involved giving yourself freckles using a sewing needle and ink.
Not deterred by the thought of piercing her own skin, Tilly went ahead and tried it, after all the freckles were meant to fade within six months. Tilly says she purchased some brown tattoo ink from eBay without really checking out the ingredients thoroughly.
View this post on Instagram
Had she done her research, Tilly would've discovered that the ink was a counterfeit product made with high levels of lead which led to a reaction. That's why on Big Brother she was usually seen wearing a blue clay mask to hide her scarred cheeks. "For those asking why I have my blue clay face mask on continuously through out the show this is what my face looked like a week prior to entering the house hence why I always have makeup on and my skin is always covered," she explained in an Instagram post, alongside photos of the scarring.
"This is the result of attempting to remove scarring I inflicted on myself trying to replicate an at home beauty procedure I saw on a TikTok video two months before big brother. Who bloody else would manage to do such a thing? Please please don't try any 'DIY' or 'at home' beauty procedures I ended up in hospital with temporary loss of vision in my eye due to swelling and was very sick from the infection, not to mention my face was somewhat unrecognisable. Leave it to the professionals."
In a press interview, Tilly says she spent over $12,000 on doctor's visits after her wounds became infected. She can't even do laser removal because doctors have told her that the ink she used will turn black rather than fade.
"The main response has been that I'm stupid, and, yeah, I agree," she said.
View this post on Instagram
View this post on Instagram
In an update, Tilly shared what finally worked to help fade her faux freckles:
"Pussy and butthole bleach has literally fixed my face (hydroquinone). About 9 months ago before the show I tattooed my own freckles on my face with eBay faux ink and a few sewing needles stuck together with sticky tape after seeing it on TikTok SMH. The first time I told the truth I was too embarrassed to even tell my parents cause it was so dumb…fake ink has high levels of lead in it so when it's lasered it turns frickin black so I had to find alternative treatments! After thousands of dollars worth of experimentation, all the ink is out of my dodgy freckles and al that's left is pigmentation scars from the needles. My dermatologist suggested hydroquinone and OMG its is helping sooo much. This dumb ass story has been shared around the world and I'm hoping it deters others from making the same mistake. Peace and pout."
You heard it here folks, do not try this at home!!
Images : Instagram