Santa Grants Final Wish To a Five-Year-Old Boy Who Dies in His Arms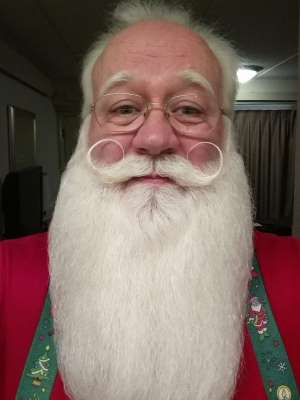 While some children freak out when visiting Santa at the shopping centre, there are others that love nothing more than to sit on the jolly man's lap and tell him what they want for Christmas.
One terminally-ill boy wanted to do just that. His dying wish was to have a visit from Santa before he passed away.
Eric Schmitt-Matzen from Tennessee is a professionally trained Santa. In his day job he is a mechanical engineer. When Mr Schmitt-Matzen was asked to visit a local hospital to pay a visit to a terminally-ill boy, he didn't hesitate to visit.
The call was urgent and Mr Schmitt-Matzen didn't have enough time to change into his full outfit coming home from work.
When Mr Schmitt-Matzen sat down at the little boy's bed, he could see that the 5-year-old was struggling to unwrap the present his mum had asked Mr Schmitt-Matzen to deliver.
To lighten the situation, the 60-year-old said to the boy, "What's this I hear about you're gonna miss Christmas? There's no way you can miss Christmas! Why, you're my Number One elf!"
Mr Schmitt-Matzen reportedly told WHAS11 the little boy responded with "'They say I'm gonna die. How can I tell when I get to where I'm going?' "
The Father Christmas actor said to the little boy, " 'Can you do me a big favor? When you get there, you tell 'em you're Santa's Number One elf, and I know they'll let you in.' "
The heartbreaking encounter saw the little boy sit up in bed to give Santa a hug, before asking one more question, 'Santa, can you help me?' before the little boy passed away in Mr Schmitt-Matzen's arms.
"I wrapped my arms around him. Before I could say anything, he died right there. I let him stay, just kept hugging and holding on to him.
"Everyone outside the room realized what happened. His mother ran in. She was screaming, 'No, no, not yet!' I handed her son back and left as fast as I could."
Mr Schmitt-Matzen, a veteran of the US Army's elite Ranger unit, ran by the nurses station bawling his head off and thought, "I'm just not cut out for this."
The 60-year-old couldn't bring himself to visit his grandchildren the following day as he was deeply affected by the encounter.
"I was a basket case for three days," admitted the actor.
A week later he was able to return to work. He said the joy on children's faces was what helped him continue be Santa at the next show.