Teacher's "Petty" Note Restricting Her Students to Just Two Bathroom Breaks per Month Goes Viral and Sparks Outrage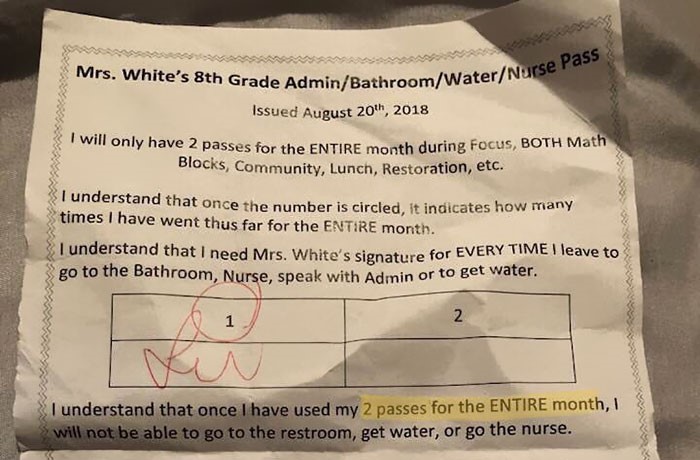 Teacher's "Petty" Note Restricting Her Students to Just Two Bathroom Breaks per Month Goes Viral and Sparks Outrage
A high school teacher has come under fire for her astoundingly strict bathroom policy threatening her Year 8 students with detention and assessment failures if they need to use the bathroom, get some water, visit the office or the school nurse more than twice a month.
The controversy began when a student brought home a note handed to her by her teacher acknowledging the fact that she had used one of her two hall passes for the month.
"I understand that once I have used my 2 passes for the ENTIRE month, I will not be able to go to the restroom, get water, or go [to] the nurse," the policy read. "I understand that only special accommodations will be made if my Doctor writes a note regarding a medical condition."
Describing her own note as "petty", Mrs White from Aspire Hanley Middle School in Memphis, Tennessee, appears to have lost her grip on basic human decency. Her strict policy takes no consideration for the fact that half of her Year 8 students are young women learning to navigate their way through menstruation and all the sudden bathroom emergencies that come with having unpredictable periods.
The note was shared on social media, prompting many comments of shock and disgust about the teacher's apparent lack of regard for the basic human rights of her students.
I thought this kind of torment had gone away decades ago. When I taught 8th grade, the kids could go as often as they needed. Nobody abused it. (Maybe her students hate her class?)

I still remember projectile vomiting in 9th grade after being told I couldn't go to the nurse.

— Chad and Kisstopher (@TheMusicks) August 30, 2018
Yeah, it sounds like this teacher thinks she's the students' nemesis rather than their ally. Also, how foolish to say "Please come talk to me, but nothing will change." I think she likes flexing her muscles to those she has power over.

— Austin Eichelberger (@austinsively) August 31, 2018
She clearly knew she was being childish & petty, likely a reaction to a few abusing passes, but as the teacher we expect her to be the ADULT in the situation. It's not too much to ask IMO….

— Cat (@CaterinaTaylor) August 31, 2018
As a future teacher, this is horrible and not at all how to manage a classroom. I would be on the phone with the principal immediately and be having a long meeting with this teacher and the principal. She's not allowed to deny a child water, bathroom breaks or access to the nurse

— Tay 📚☕️ (@teia_22) August 30, 2018
I was bleeding through my pants & had terrible cramps during Spanish class in 11th grade and my teacher REFUSED to let me go to the bathroom or nurse bc I had used my 3 bathroom passes for the 9 weeks. She had no empathy whatsoever. I had to sit there and suffer

— Booĸworм Bαrвιe (@bookwormbarbiee) August 31, 2018
Some commenters who identified themselves as current or former teachers said they understand the "frustration" of having kids use bathroom passes as an excuse to slack off, however they felt this was not the right way to respond.
As a former teacher of almost 20 years, I get the teacher's frustration with a few students who take advantage just to get out of class (most don't). (1/2)

— Ana 🗽🌊 (@AnaSolitaria7) August 31, 2018
It can be a disruption that makes it harder to teach and a distraction for other students. However, many times, students simply don't have time to go between classes. Also, this is unprofessional and petty, and I would bet it's not very effective, either. (2/2)

— Ana 🗽🌊 (@AnaSolitaria7) August 31, 2018
Mrs White has since been reprimanded, with Aspire Public Schools issuing the following statement to parents and the school community:
"On August 29, 2018, it was discovered that 8th grade students at Hanley Middle School were given a document restricting bathroom and nurse visits that was inconsistent with our school's actual policies, our mission, and our values. We are currently reviewing the circumstances under which the document was prepared and distributed to students.
Please know the safety and care of our students is always our first priority. It is important that students know we respect them and are responsive to their needs.
To reinforce these values, we convened our full team today to review all relevant policies and procedures. We will continue to work with our teachers and staff to ensure all school policies and values are consistently maintained in each classroom."
No child should be held to such a ridiculous power trip — their basic needs and human dignity are worth much more than Mrs White's petty policy.
Your child comes home and shows you this note her teacher had her sign at school.

What's your reaction? pic.twitter.com/x6hG3HepZJ

— I changed my avi dont freak out🌻 (@iJaadee) August 30, 2018
Source: Twitter