Teen Finds a Cabbage Patch Doll's Birth Certificate and Accuses Her Mum of Hiding a Secret Sibling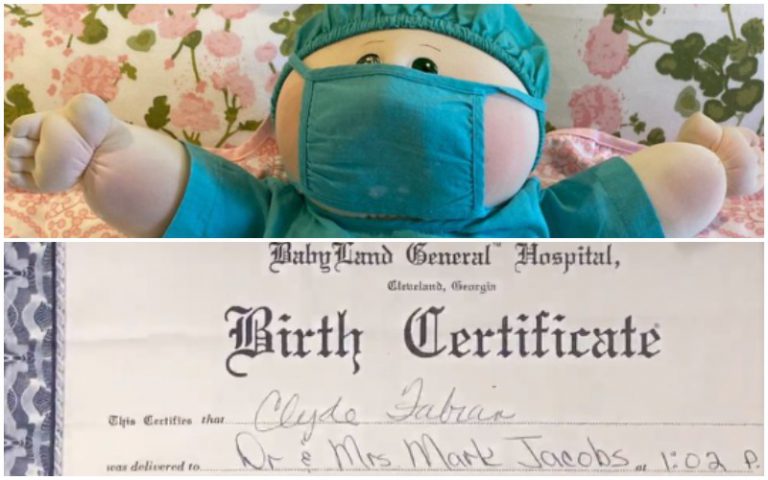 Teen Finds a Cabbage Patch Doll's Birth Certificate and Accuses Her Mum of Hiding a Secret Sibling
A fifteen-year-old girl was looking through her mother's filing cabinet when she happened across an old Cabbage Patch doll's birth certificate. Believing it to be 100% authentic, the teen launched into a screaming tirade accusing her mum of hiding a secret sibling from her all her life.
I mean, sorry, but that shit is hilarious.
The story came to light when younger sister Chloe Evans shared the dramatic take of innocence and stupidity on Twitter last week.
I may have done a lot of embarrassing things in my life, but my older sister actually once found a cabbage patch kids birth certificate in my moms filing cabinet, started screaming at and accusing our mom of hiding our "brother" Clyde Fabian from us, and she was like 15

— chloë (@chloeevansj) December 1, 2020
Clyde Fabian. Isn't that just the perfect name for a secret brother?
The hijinks continued long after they calmed sister Kristin down. Once she learned the hilarious truth, the family then mocked her mercilessly for the next two decades.
When my older sister Kristin had her first baby, my hilarious younger sister @catjaddy had this onesie made for our niece. At least Kristin has a good sense of humor about the whole snafu pic.twitter.com/T8d2ORBteb

— chloë (@chloeevansj) December 1, 2020
Chloe continued her thread revealing the original Clyde Fabian, all dressed up in scrubs like his grandpa wore at work.
Here is Clyde Fabian – in his Xavier Roberts scrubs (my mom picked this doll out because my dad is a doctor and she thought it was cute) pic.twitter.com/CCcjfd0jX9

— chloë (@chloeevansj) December 1, 2020
Answering questions from her followers, Chloe shed some more light on the situation as to how her sister's confusion began,
Why my mom kept the birth certificate? She thought the cabbage patch might be worth something one day bc it was an original. Why she kept it with our birth certificates? I don't know. That's the part of the story where my mom did an embarrassing thing.

— chloë (@chloeevansj) December 1, 2020
After her mother dug out the Cabbage Patch birth certificate, Chloe could see how her sister had become so certain that Clyde Fabian really was her secret sibling.
Omg omg omg My mom just found the birth certificates 😂😂😂😂😂 also wtf I can see why my sister was so convinced he was real pic.twitter.com/te9XRYnBxg

— chloë (@chloeevansj) December 1, 2020
There were fake footprints on it I am dying – all this for a fucking cabbage patch doll 💀 pic.twitter.com/cjIRWmGcat

— chloë (@chloeevansj) December 1, 2020
How utterly divine. And funny! We all did go a bit nuts over those Cabbage Patch Kids, didn't we?
At least this family gets a hilarious story out of it!
lol it's one of the funniest things that's happened in my life. My best friend who was there when it happened has been joking about it with us for over 20 years now 😂

— chloë (@chloeevansj) December 3, 2020
I wonder if they set a place for Clyde Fabian at Christmas, too?
Source: Twitter/Chloe Evans