What To Expect When Getting Your Eyebrows Tattooed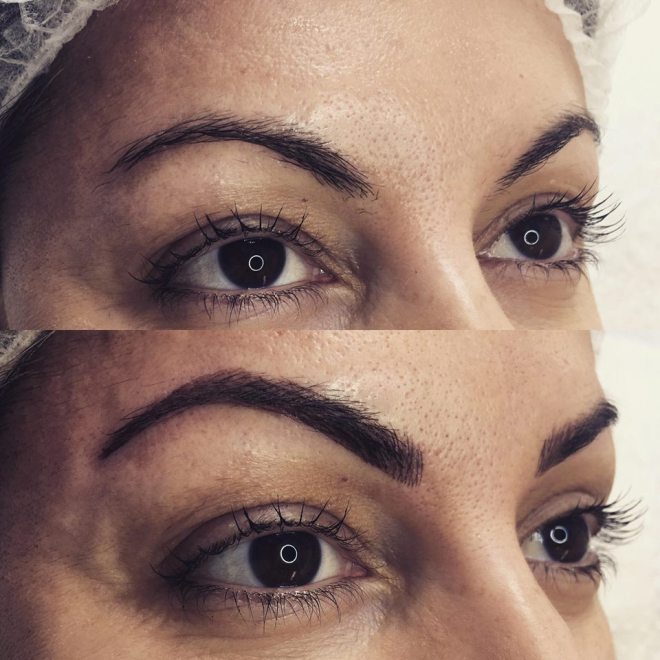 What To Expect When Getting Your Eyebrows Tattooed
The decision to get my eyebrows tattooed wasn't one I took lightly. In fact I did a LOT of research! I spent hours trawling through countless Instagram accounts, comparing photos and photoshopping various brow shapes onto my face. I even asked Facebook friends to send me photos of what their brows looked like after their tattooing had been completed. I wanted to make sure I felt confident in my decision and not live to regret it.
So why did I want my brows done in the first place? Mostly because I was a victim of the 90's which saw me pluck my eye brows into oblivion a la Pamela Anderson!
As a result, my eyebrows just refused to grow back- they were always thin, sparse and uneven. I just couldn't get them to look right and would spend hours penciling, shading and evening them out. The result was the photo below. Not bad but not amazing…
So after much umming and ahhhhing I bit the bullet and decided to get me some ink. I went to see Connie at Brow and Arrow Tattooing in Oakleigh after she came highly recommended by various friends and acquaintances. Plus all her work on Instagram looked AMAZING!
( I have to add that although I had researched feather tattooing as much as was humanely possible, I still entered the studio scared shitless. It was my first tattoo and it was going on my face! Perfectly normal reaction I think.)
The first thing that happens once you make a booking is you receive a STACK of information to read regarding Feather Touch Brow Tattooing*.
Amongst the do's and don'ts are things like avoiding botox 2 weeks before and after your treatment, to not expose the skin to the sun afterwards and most importantly come to your appointment with freshly washed hair.
No, this isn't for the comfort of yourself and your tattooist, it's because you won't be able to get your brows wet for about a week- which means hair washing will be quite difficult! (I booked myself in for a wash and blow wave to avoid looking like a greasy monkey mid week!)
Anyone who is breast feeding or pregnant is advised not to undergo tattooing unless they feel comfortable in expressing milk for 48 hours before treatment.
Likewise if you are on any medication such as blood thinners it's advised you get the okay from your GP before going ahead with any tattooing.
Upon arrival you will be given a list of forms to sign- the usual waivers which include information on post care and the like.
An anaesthetic cream will be applied all over your brows half an hour before the commencement of your appointment. In that time Connie will measure up and draw your brows in with pencil to make sure you are happy with the shape and size of them. She will NOT commence any tattooing until you are 100% happy with them. So now is the time to speak up. Do NOT be embarrassed. You are getting tattoos…on your face!! You need to be happy!
Once a colour match is done, so that your new brows are as close to your originals as possible, then the fun begins!
What you will feel.
(Keep in mind I have never had a tattoo so the feeling of a needle on my skin is very new to me!)
While everyone's pain threshold is different you shouldn't feel much pain at all, If anything I felt more like a little drag of the skin every now and then. Nothing super uncomfortable and all totally bearable.
Connie stops every now and then so you can check out the progress of your brows as well as making you sit up once in a while so she can check the shape out properly. Cause we all know how different our faces look lying down!
What to expect after your first session.
Your brows will look much darker and more defined. Don't panic! They will reduce in size in a couple of weeks and the colour will settle. You will need to come back for a perfecting session in 4-5 weeks which will give Connie a chance to fix them up and define them further. This will allow you an opportunity to live with your new brows and see how you feel. When you go back for your perfecting treatment you may want them thicker or a different shape altogether. (ie. less arch, more arch or straighter).
Post Brow Treatment
When you leave your first session you will NOT be able to STOP looking at your brows. You'll check them in the car mirror, shop windows and in the reflection of your friend's sunglasses. In fact any shiny surface is a chance to check out dem brows!
Also, do not panic if they seem uneven to you at first. Everything will be evened out at your next session.
Keep in mind they're not permanent and will need touching up once a year or so.
It's been a week since I had mine done and I can honestly say, hand to heart, I absolutely love them. I've had no pain, no itchiness and no redness…so far. Having said that I have been piling on the Bepanthen to ensure they always stay moist. Especially before having a shower – the cream acts like  barrier to keep them dry.
Every night after carefully washing your face you will need to wipe them gently with a moistened cotton pad to wipe away any dirt or dry skin. The brows should start flaking after a few weeks in which time you should get a true sense of how your brows will look.
* Feather Touch Tattoo is the technique of using a row of needles to hand-draw in each brow hair, then a dye is applied on top and allowed to absorb into the small incisions. This is done three to five times until it looks perfect! If a mistake is made, you can just not apply the dye to this area.
So what do you think? Is this something you would consider doing or have already done? Did you regret getting your brows done or do you love them?
Images: Supplied