This Woman Apologised for Her Own Bad Behaviour in the Best Way!
This Woman Apologised for Her Own Bad Behaviour in the Best Way!
Everyone has shit days. Sometimes it might seem like there are more shit days than good days. I get it. Life can suck sometimes, but that's no reason to take it out on other people, right? We teach that lesson to our children all the time, but sometimes forget to apply it to our own behaviour.
A woman in California was rude to a Starbucks employee working in the drive through part of the coffee shop. Apparently, there were no cardboard carriers or something equally trifling. She was not happy about it, expressed her irritation to the server and each person went about their day a little worse for the interaction.
No biggie. That happens a lot. I can't say that I haven't done it, much to my regret. But I've never, not once, done what this lady did next.
She returned the next day, asked for the employee that had served her, and gave him this:
Yesterday at your drive-thru we had a less than cheerful encounter. At no fault of yours, you were out of carriers and said you could not take my empty cup (trash). I was less than understanding and my manner was curt.
I need to apologise – the thought of leaving a trail of unkindness like that is so not the path I want to reflect. Not for you, not for me. 
You are a young man, clearly working hard to build a future and you should be commended. Keep up your attitude of cheer and hope. Stay hopeful no matter what kind of people cross your path (or drive thru)
Surely, God has good blessing in store.
You taught this ole lady something yesterday about kindness, compassion and staying humble.
I thank you! God bless you today and all your todays.
Debbie
Enclosed inside the customer's card was a $50 note.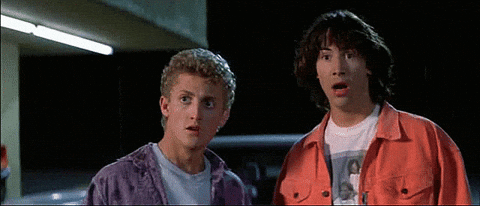 Holy dooly, what a way to make up for being a bit rude to someone!
The barista involved was shocked by Debbie's kind gesture and says he has never received anything like that in his two years working at the popular coffee franchise.
"People seldomly apologise for rudeness, and she went above and beyond to apologise to me," he said. "She obviously felt bad and is a genuinely good person."
"The card was still incredibly heartwarming to read. Funny thing is that I didn't even think she was that rude even. I had forgotten about the incident 5 minutes later."
Debbie was clearly having a bad day and didn't mean to take it out on her friendly, local barista. We've all got a lot going on, and none of us are perfect. But we do need to remind ourselves not to pollute other people's days with our shitty attitudes. It's not their fault, and it only serves to make everyone feel bad, as the barista says.
"One thing I've really experienced in customer service is misplaced anger and frustration. People have a very hard time venting and healthily getting rid of their anger and they end up taking it out on others. I get it from customers, my fellow co-workers, my manager, and many others.
I try not to let my anger and frustration influence my behaviour much. Obviously, it still happens at times, I'm not perfect. I still try to put on a happy face and be helpful even when I'm angry and super negative on the inside. It definitely has helped with my interactions."
I've been teaching my children to not allow their moods and attitudes to spread to others by comparing it to paint in a pool. I've told them to imagine a beautiful pristine blue pool in our backyard, and that each time they speak in anger or annoyance to each other, to picture them pouring a big tin of paint into the beautiful clear pool. Imagine how murky and yuck that pool would be by the end of the day if everyone was rude to each other all the time!
Of course, an apology and a fifty dollar note would go a long way to cleaning some of the paint out of the pool, but it's much cheaper and easier to just be nice to everyone instead.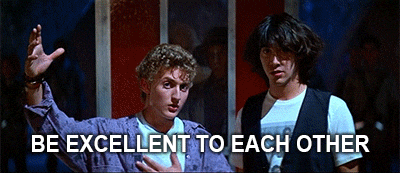 Source: Reddit and Giphy