Woman Shares a Hilarious NSFW Story of the Time Her Roommate Interrupted Her Cowgirl Practice Session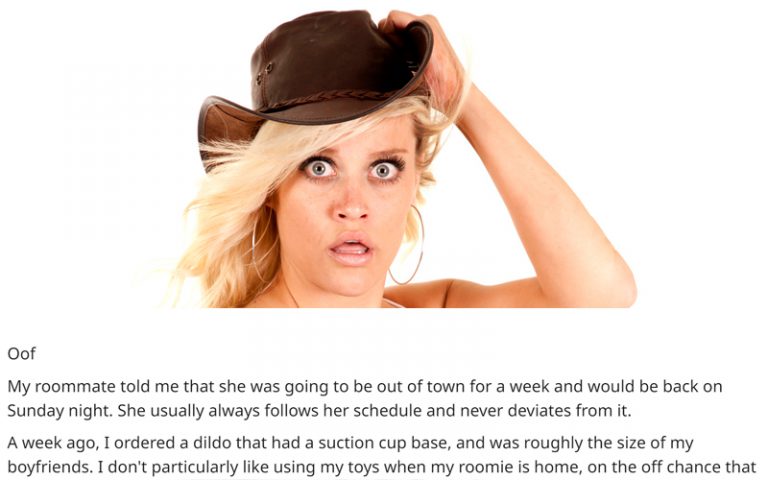 Woman Shares a Hilarious NSFW Story of the Time Her Roommate Interrupted Her Cowgirl Practice Session
One of the first things to do when moving into a share house with a roommate would be to get a lock put on your bedroom door, right? To protect not only your personal things from being snooped through while you're not there but also to place a clear boundary between your private space and the communal areas of the share house.
That might be all well and good, but if you then decided to have yourself a little cowgirl practice session in the lounge room instead of within the privacy of your own room you might not get the sort of solitude you had hoped for!
This woman, known only by her Reddit account name Struggling_to_Keto, recently screwed up big time, explaining her story in a post to the sub TIFU (Today I Fucked Up) to the great delight of the many thousands of people who have read it.
Please enjoy her terrible decision-making skills here:
TIFU by having my roomate walk in while I was practicing cowgirl riding… from r/tifu
Reddit users liked her story so much, they gave her gold, silver and platinum awards for it – and left these appreciative replies.
"Dying at the thought of you getting up after an hour and the dildo just standing there, straight up, where you had just been sitting and chatting with your friend." wrote one Redditor.
"Truly an impressive feat of endurance. I applaud you!" added another.
Some people suggested that her roomie knew exactly what was going on and decided to see how long she could drag out the situation:
"She knew something was up. And decided to make it as awkward as possible. That's what makes a good friend."
"Dude, she put on Handmaid's Tale. That's a pretty fucking evil choice if you know your friend is being forced to squat on a dildo."
Anyway, the lesson is there for any of us who might need it: Never masturbate in a shared living space if there is a chance you will be found out and forced to sit on a dildo for hours on end.
Possibly a good one to remember.
Source: Reddit/Struggling_to_Keto