Be the Queen of Easy-Clean in Your Bathroom – ENJO Giveaway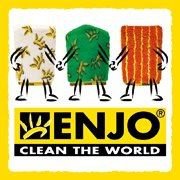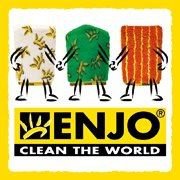 Many a mother will complain that the area of the house that she least enjoys having to clean is the bathroom. Keeping showers, baths and tiles mould/calcium and soap scum free, cleaning the toothpaste stains the kids leave around the sink, and battling the streaks they leave on the mirror, is no mean feat.
Oh, and then there is the toilet. Let's not even get started on the toilet. Disgusting looking calcium stains are the bane of my life. It doesn't matter how much the rest of your toilet sparkles and gleams, if you have those thick brown calcium stains at the bottom of the bowl, it just doesn't look clean.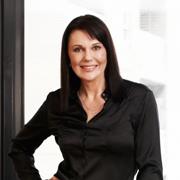 A few months ago, I received an invitation along with a small number of other bloggers, to attend an event with the founder of Enjo Australia, and aptly dubbed 'Queen of Green Clean,' Barbara de Corti. I confess, I knew little about Enjo and find it very difficult to get excited about anything that even slightly resembles housework, but I went along so I could hob-nob with other bloggers and eat fancy canapés served by a handsome waiter. (Oh come on! You know you would have done the same thing!)
But, and it almost makes me want to wash my mouth out to say this….I did get excited by what I heard and saw…and couldn't wait to get home to try out the products in my bag of goodies. I know. Sad, but true!
The Enjo cleaning range is environmentally friendly. The clever Enjo fibres work with just a little amount of water and limit the need for you to use harsh, toxic chemicals in your home. Which is great for everyone, but particularly those with allergies and/or athsma. What's more, and this is the bit that particularly appealed to my habitual dislike of housework, is that they also eliminate the need to use elbow grease, in fact Barbara actually warned us not to use the cleaning cloths too roughly. (I could have hugged her!) You simply don't need to.
I don't know about you but I have NEVER been able to make light-work of mirror cleaning (and unfortunately we have a number of fairly large ones in my home.) Mirror cleaning sprays always left me rubbing furiously at the glass, working up a sweat, with my bottom wobbling in a most unattractive manner, as I frantically tried to rub out the smears. Well, let me tell you, that even my kid's copious finger marks and toothpaste trails (don't ask me how they get it on the bathroom mirror but they do) was not a match for the bathroom glove and the bathroom miracle. I simply wet the glove, wiped it across the mirror and then wiped it over to dry it with the miracle cloth and it was gleaming! Think Daniel-son in the Karate kid movie – wax on – wax off, and voila! I am vaguely aware at this point that I am sounding like one of those teeth-grindingly irritating infomercials, but I kid you not, I'm talking less than a minute, and not a streak in sight! And the same with the bath, and the shower, and the toilet. Huzzah! Winning!
And you know what else I love about it being chemical-free (besides my families health and environmental reasons) is…

…there is no reason not to let the kids help!
ENJO Australia would like to offer one Mums Lounge reader the chance to try out their AMAAAZING bathroom range (I sang that bit…that is how much I love it!)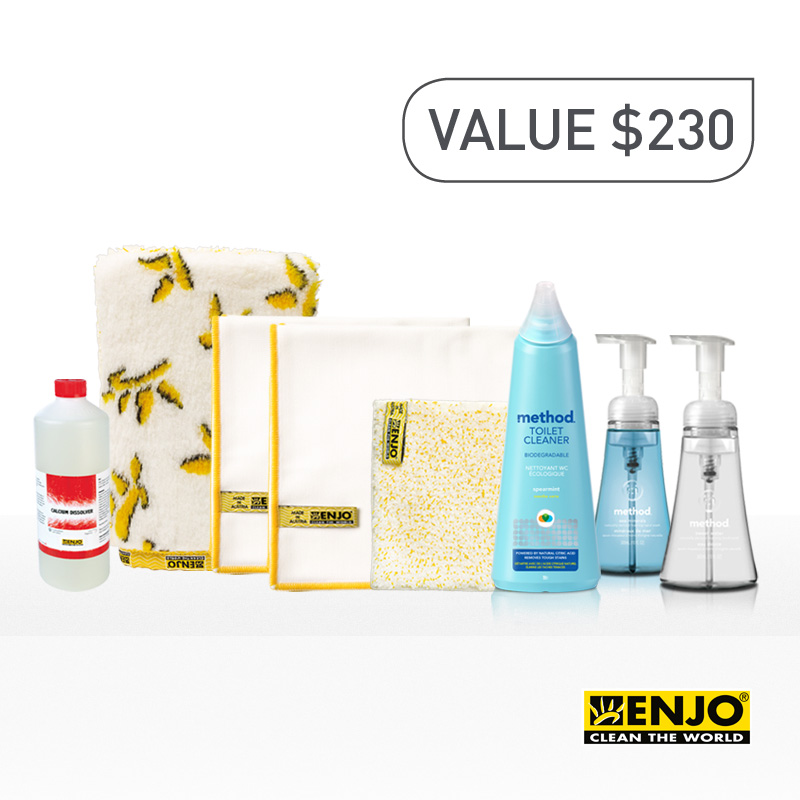 Bathroom Glove – $49.00
2 x Bathroom Miracle – $88.00
Bathroom Mini – $35.00
Calcium Dissolver – $28.00
Method toilet cleaner – $18.00
2 x Method foaming hand wash – $12.00
To enter simply follow the instructions on the rafflecopter widget below. Good luck!
You can now buy ENJO products online at www.enjo.com.au or through a personal ENJOpreneur.
Disclosure: This is a sponsored post. However, as always, all thoughts and opinions expressed are my own.