Beetle Bottoms: Discover the World of Wonder at the Bottom of Your Garden Giveaway

Sponsored post
Welcome to the World of the Beetle Bottoms
Imagine that in your garden, high up in the trees, are tiny little houses hidden among the leaves; and in these tiny houses live tiny little people just like you and me…
Impossible you say, well there are somethings you just have to believe in order to see.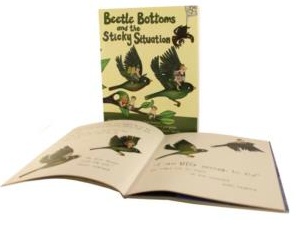 Last weekend Bubble, Foghorn and I went on an adventure…into our garden…looking for signs of Beetle Bottoms living there. None of us had ever heard of a Beetle Bottom before the parcel of books, educational games, and wall stickers arrived earlier in the week, but the idea of little people the size of apple pips captured my children's imagination so much, that they were sure we could find some living in our own garden.
Foghorn found plenty of little gum nuts which the children decided the Beetle Bottoms probably used as cups, and the recent rain had left little pools of water in some of the flowers so the Beetle Bottoms could have a bath! The children also made a little collection of twigs and leaves that they left near the back door for the Beetle Bottoms to use to build their houses. (Imagine their excitement this morning when it was all gone!)
Later, before bed, we used the beautifully illustrated Story Play Cards to take turns to create our own Beetle Bottoms adventures. The entire range of products are gorgeous, but the cards may take the cake as my personal favourite.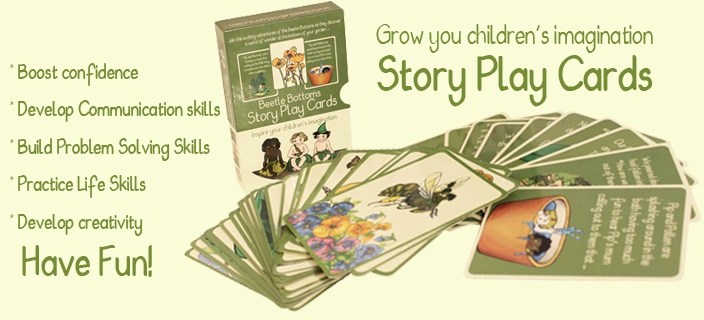 There are 36 cards, which have a picture on one side, and the start of a story on the other. It was up to us to decide what happened next in the story. Some of the story ideas that my kids expressed were very surprising, many were hilarious, and they all gave us lots to talk and laugh about together. I can definitely see them becoming a regular bedtime activity (on weekends…we may have got a little too carried away to play it on a school night) as the possibilities are endless.
The Beetle Bottoms range promotes story play, which is designed to boost children's confidence, build vocal and language skills, practice life skills, relationship skills and problem solving skills, and I certainly observed all these things coming into play whilst reading the books together, exploring in the garden, and using the story cards.
This morning 3 year old Bubble disappeared into the garden whilst I was making kinder and school lunches for the boys, and reappeared as I was trying to shuffle everyone out of the door in time, with fingernails so dirty you could grow potatoes under them! Exasperated I asked "Why are you so dirty? What have you been doing?"
"Um…." Bubble's big eyes moved from side to side as she thought for a suitable answer.
"Pip fell in another hole again and I had to help her out!"
I had to laugh. That child has an answer for everything! She then spent the next ten minutes (after washing her hands in the bathroom sink) in the car regailing us all with her imaginary adventure. She has even eagerly agreed to tidy her room so that we can put some of the Beetle Bottoms wall stickers up and freshen up the reading corner.
Something tells me, the Beetle Bottoms may be here to stay!
You can learn more about the Beetle Bottoms, buy their products online and get your FREE story play activity sheet on the Beetle Bottoms website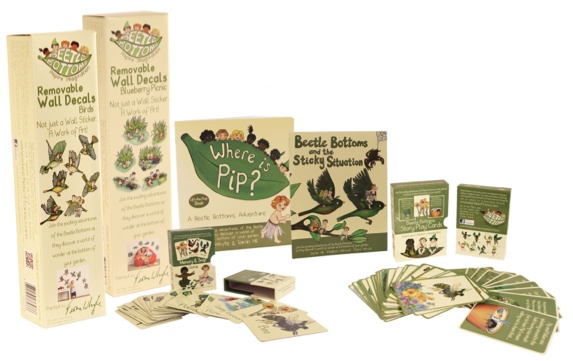 We are giving away the entire range of Beetle Bottoms products to one lucky Mums Lounge reader: including removable wall stickers, a lift the flap book, the memory card game, the story card game, and the children's story book, so you can discover the world of wonder with your children.
To enter, simply follow the instructions on the rafflecopter widget below.