ENJO Body Care Range Review and Giveaway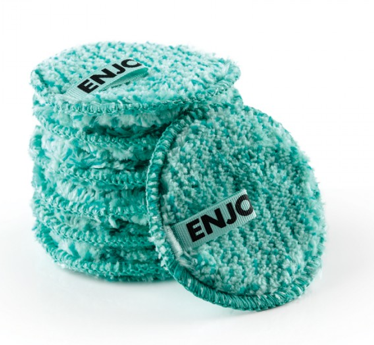 Sponsored post
No doubt by now you are all aware that I am just a tad loved up with ENJO products for cleaning my home without chemicals (and let's be honest, without the elbow grease too) but…did you know that ENJO also has products for skin?
For the past four weeks I have been trialling the ENJO body care range, and for someone who is usually giving different lotions and potions a go, I must admit I wasn't completely sold at the outset of washing my skin with water alone. I'm not shy of a black eyeliner and a good lick of mascara after all, and I didn't imagine that anything short of a scrub would get my make-up off, and let's be honest, none of us want to go pulling and stretching at the delicate area around the eyes do we girls?
But, (of course there's a but!) I was both surprised and impressed with the disc shaped mini face offs and they did take my makeup (including the eye-make up) both easily and gently with just some warm water. I am also prone to a hormonal zit or two around 'that time of the month' but have noticed that this month it has been uncharacteristically clear, which again is the opposite of what I actually had expected to happen. I tend to have combination skin, that can be oily in patches and very dry in others depending on weather, hormones etc, so I really feel as though my skin has benefited from the chemical free washing, and is now more balanced. It feels and looks much healthier.
(After washing I have still applied my usual L'Oreal Revitalift x3 moisturiser)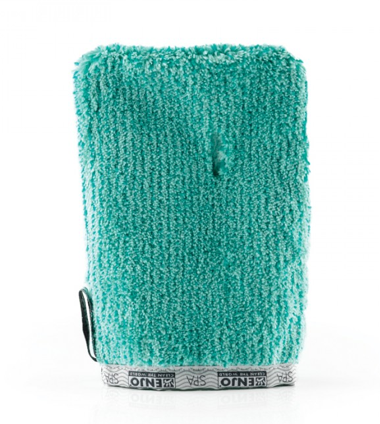 Similarly, my experience with the body glove and the Method, Pure Naked body wash has been equally positive. Although the glove can be used with water alone (making it especially good for those with sensitive skin) I do like a bit of lather and a fresh scent in the shower.
Basically, the fibres on each side of the glove are different. The dark scrub side is great for areas like your arms, legs and feet, and can also be used dry as an exfoliator (great for those of us battling in-grown hairs!) whilst the lighter side is suited to the more sensitive areas. Again, my skin feels smoother, and softer thanks no doubt to the fibres not only cleansing the pores, but stimulating blood circulation.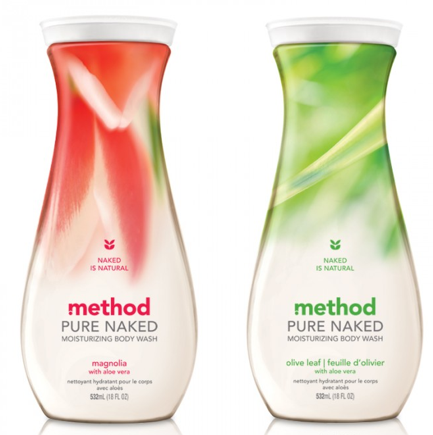 So, contrary to the doubts I had before trying the ENJO products, I have absolutely no problem telling you now that I absolutely love the body range, and will continue to use it as part of my daily skin care routine. Looking after the body care products is simple, and works exactly the same way I wash my other ENJO fibres. Simply place in a lingerie wash bag, put on a normal wash with my usual detergent (but no fabric conditioner as this will ruin your ENJO products) and line dry.
The Method Pure Naked body wash contains no dirty parabens, phthalates or EDTA. It produces a lovely rich lather (which I love) smells great, and is suitable for use by the whole family. I usually add a small squirt to the kids bath water for some good clean bubble-fun!
ENJO are offering Mums Lounge readers the chance to win their complete Head-to-Glow pack (including the body glove, body mini, daily face off eye pads, face glove, 2 x method moisturising body wash, toiletries bag, limited edition body petite) valued at RRP $242 (on sale until May 31st $189).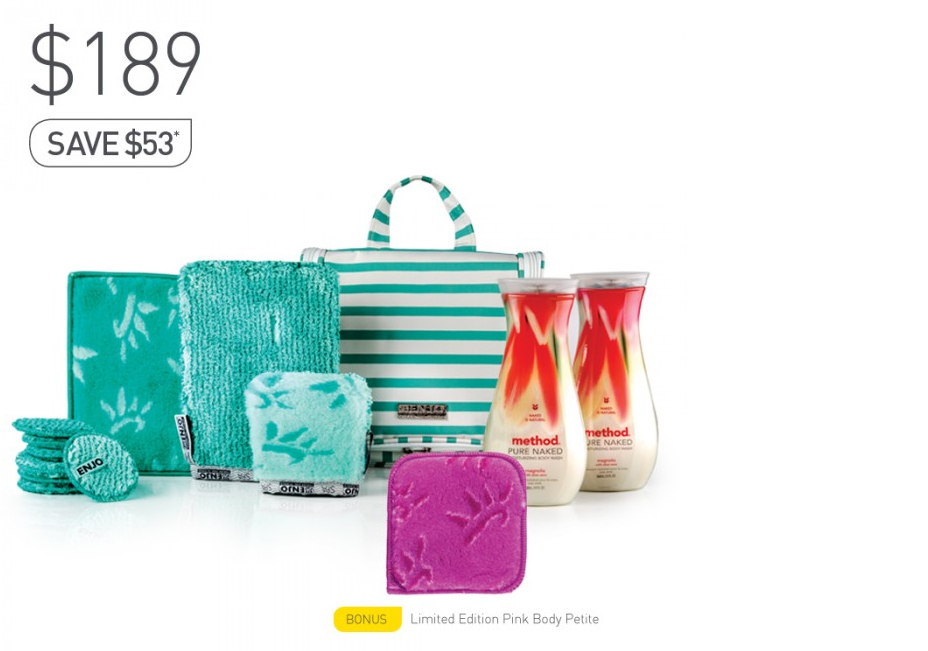 To enter, follow the instructions on the rafflecopter widget below. Good luck!