Find Out Why These Families Recommend Staying at Discovery Holiday Parks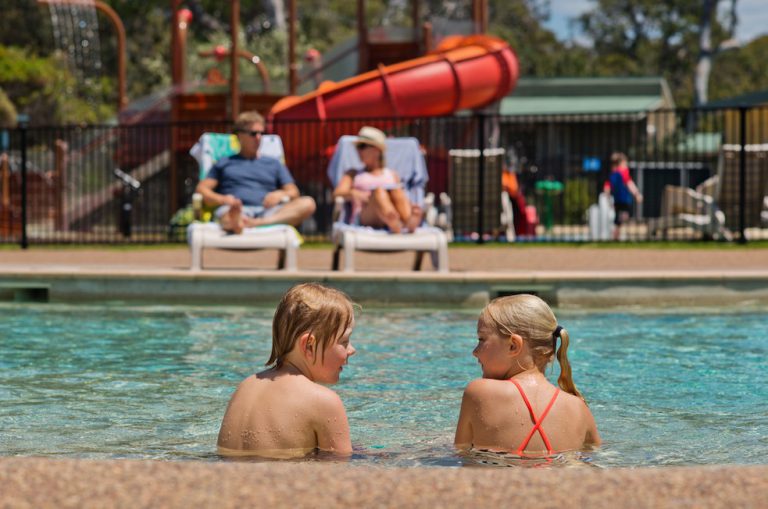 Find Out Why These Families Recommend Staying at Discovery Holiday Parks
Sponsored post
There is something about packing up for the weekend to explore a new place with your family that just brings you that much closer than you'd all be ordinarily; don't you think? Without the usual distractions of smart phones, TV's, Netflix and the like, you invariably spend more time outside doing things together, and interacting in a positive way. A few weeks ago our editor and her family had the opportunity to visit Discovery Parks – Moama and raved about how much there was to do there. But you needn't just take her word for it. Last month we invited 3 families from the Mums Lounge community to spend a weekend away with their nearest and dearest at a Discovery Holiday Parks near them, so they could experience some quality down-time for themselves and share their thoughts and experiences with us on what Discovery Holiday Parks had to offer their family.
The Lawler Family – Discovery Parks – Hervey Bay
The Lawler family chose Discovery Parks – Hervey Bay to visit for their two night stay, as the 3 hour drive was a reasonable distance to go for a weekend escape, and mum Holly felt it would be 'a beautiful, peaceful destination to visit' with her 4 year old and 6 year old.
The last year and a half has been pretty rough on myself and the kids but they have been my absolute rock. As a now single mum I haven't had the money to do much with the kids on school holidays and what not, so this was a chance to do something nice for my kids and to treat them to a lovely weekend of quality time together.
Our first impressions when we arrived were that it was easy to find, looked nice when you drive in and was peaceful, and the staff were very friendly and helpful. 
We'd give the quality of the cabin a 12 out of 10! It was a great size cabin and car park, and the park is nice and clean and easy to navigate and has everything you need. The pool was great and clean, and we loved the games room and air hockey. There was plenty of space for everyone, and it was great for caravans and camping too. Next time we go we will go with friends and make use of the pool table.  Great idea!
The park itself is very central to everything you need. The beach is a 10 minute walk and there is a park up the road about 5 minute walk as well.
My top three favourite things about this experience was:
The staff were very friendly and helpful.
Cabin had everything we needed, plenty of room for us, but I still had space to sit outside and relax while the kids played.
The layout of the park was great. Caters for all types of family holiday as well as permanent residents.
I can't fault anything. The cabin was comfy and felt homey and the park overall was lovely.
It is a really cozy, comfy, warm homey feel. It felt like a community as people were so friendly, you don't get that in a hotel and its definitely more cost effective than a hotel room would generally be, especially considering we could fit 6 people in our cabin.
We will definitely return to Discovery Parks. It was perfect for us. Nice big bed for myself, and the kids had the lower bunk bed each which I could close off when they were asleep. If we were on a budget I would get a powered site as the facilities are great. I've already recommended my parents take their caravan for a holiday to Hervey Bay. It's a great peaceful place to stay but it's still central to everything.
Really can't thank you all enough, we came home recharged and had very happy worn out kids. Thank you xx
The Bernstein Family – Discovery Parks – Echuca
The Bernstein are a family of five from Victoria, consisting of mum, dad, and their three children, aged 10, 7 and 5 years old. They choose to enjoy their 2 night getaway in Discovery Parks – Echuca.
We loved the range of activities in the Discovery Holiday Park and in the area. Considering that the weather was getting colder we were keen on activities that would work with that. The heated pool, mini golf, table tennis and tennis , the location right on the river inviting for wonderful works and the magic of the history of the paddle steamer on the river were a wonderful mix for a family to explore the area while on a short break.
We are very flexible with travel times and enjoy getting around and exploring new places. The journey is part of the fun and we love to stop on the way and explore the area. 3 hours for a weekend break is an ideal distance. When we have more time we are often traveling a lot longer.
The holiday park was nicely located on the river and nested in between the trees. The park itself is relatively small and its easy to find your way around quickly. The park is a little older but well maintained and with a very good service.
The staff were very friendly and helpful, it doesn't matter the hour of the day. When we were out of power and the door didn't close stuck at 11pm on our first night, a friendly man was there within minutes and fixed all issues for us promptly.
Our cabin was a deluxe river view cabin and as the name implies we enjoy a wonderful river view. From our main window all you could see was trees, bush and the river bank which was very inspiring.
The cabin despite its aged interior was very clean in as new conditions. The beds very comfortable, clean and had hotel standard.
I love the electric blanket to warm me up every morning. The kids loved their compact little bedroom and really enjoyed their stay. There was plenty of cupboard space. The bathroom is rather small but functional. a second toilet would have been a bonus but we managed well. The shower had a very deep recess and could have been used as a bathtub for small children. The third bedroom was rather small but would be great if traveling with more children. The kitchens was generously sized for a cabin. A sharper knife would have been a bonus but other than that the cooking was very comfortable in the kitchen. The pots are as usual in cabins, on the small side for a family and a couple of large bowls would be great to add if you stay longer. We had a split system in the unit that worked well and kept us nice and warm. All up its was a comfortable place to spend your holiday. The kids would have been very happy to stay a lot longer.
The park featured a swimming pool, tennis, table tennis, mini golf, jumping pillow, a couple of playgrounds. A great mix of activities were available. The features were all a little aged – the net from table tennis was a little low for example, the fabric form the billiard table a little torn, the spa in the pool didn't work, and little things like that would make it less enjoyable if you are a serious player but for an occasional entertainment they were lots of fun.
The closeness to the river front was very valuable. We enjoyed a nice walk along the shore. The BMX racetrack and some of the walking trails were underwater but there was plenty of other things to do.
The playgrounds cater for younger children. The jumping pillow is great fun for kids of all ages, so is the pool.
River walk, tennis, table tennis and mini golf were great activities for all of us.
There were plenty of family activities to do near the park too. Echuca Port with horse riding, trips with paddles steamers on the river, the history museum and the port itself that was like museums village that resembled the port in former times. It was a great place to spend an afternoon, but we could have easily stayed there all day.
There is also a fun park near by (10 minutes by car) which we didn't have time to explore with lots of fun activities that would easily fill a day. It offers all sorts of activities from horse riding, camel riding, bungee climbing, etc
All up it was a great stay and we really enjoyed the short holiday at the park and Echuca.
The three things we liked most about our stay were:

Riverview

Heated Pool

Cleaniness 
Thanks a lot for the wonderful experience. We really enjoyed our short stay in Echuca at the Discovery Holiday Park. We have lots of wonderful memories from our short trip.
The Strong Family – Discovery Parks – Forster
The Strong family wanted the opportunity to review Discovery Holiday Parks because in the past they'd found family parks were are very much aimed at younger families, with little to do for their 14 and 11 year old. Would Discovery Parks – Forster be able to change their view?
On arrival we found the staff to be wonderful, very informative & accommodating & were happy to have a chat on & off duty.
Our huge cabin, was very clean & well maintained, with a big kitchen. It was perfect.
The park featured plenty of BBQ areas & kids holiday activities. Beautiful pool & park. Plenty of natural wildlife & walks to explore
Having a teenager sometimes makes it difficult to keep her occupied. The free wifi and the swimming kept her extremely happy.
Both kids loved the kayaks. My 11 year old fished pretty much the whole time with many of the locals giving him tips & advice. He also joined the holiday activities & movies.
We found the park to be in a great location about 15 mins outside of Tuncurry, close to some beautiful local pubs & restaurants.
Everyone in the family was entertained, happy & certainly relaxed. There was something to do for everyone.
Overlooking the water from our balcony was magical, the staff were fabulous
The three things we enjoyed the most were;
The water being on our doorstep
Location, being just outside of town made you feel like a million miles always being that it was so peaceful & out of the hustle & bustle but still close enough to town if we wanted anything

Enjoying each other's company
We also discovered how much you can do without leaving the park
If we could change anything it would be the duration or our trip. We would have loved to have stayed longer
We think it's great value for money. You didn't have to bring a thing apart from clothes, and in comparison to other parks the price is very affordable especially considering the location.
We would stay at Discovery Parks again because we loved the atmosphere, and we'd choose the same accommodation as we've had this time. It featured everything from the clothes airer, to having a gate on the balcony if you had little ones trying to escape
We'd recommend Discovery Holiday Parks to friends and family because it offers plenty to all ages
Overall it was a very enjoyable relaxing weekend.
So there we have it! All three families had a ball at their chosen Discovery Holiday Parks, and wouldn't think twice about returning. Regardless of the age of their children (pre-schoolers through to teens) our reviewers reported that there was plenty to do for the whole family.
In fact, why don't you take a look for yourself! The Kids Lounge team recently visited Discovery  Parks – Barossa Valley to see what it had to offer in the way of fun. And they were not disappointed!

There are 60 Discovery Holiday Parks across Australia, so they've got every corner of the country covered! Simply head to their website, or download the FREE app on your preferred device to find and book your next family holiday. Search 'Discovery Parks' in the App store or Google Play.

Special Offer – Select a Cabin for $99*
Right now, you can book an autumn escape with cabins for just $99! Click here to find your happy place!