Help Your Child Develop Healthy Sleep Patterns with the Kid Moon Sleep Trainer (Giveaway)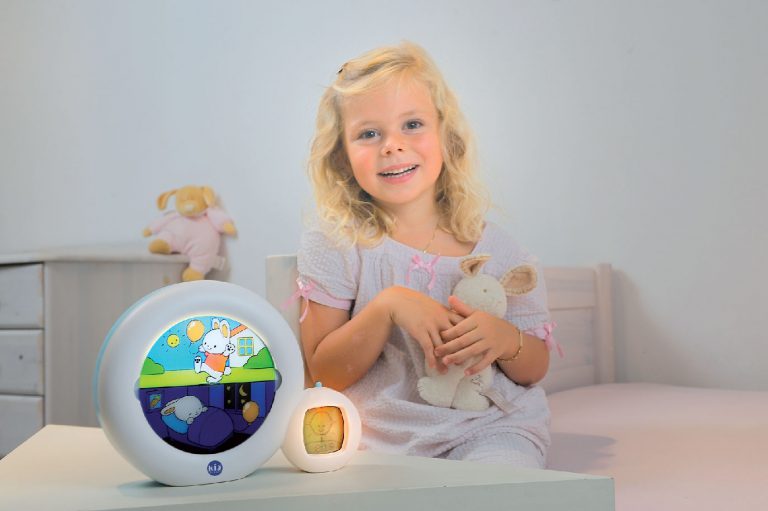 We all want more time, more money, and more laundry to wash don't we?  Okay, I was just kidding about the laundry, to make sure you were paying attention!
Ask a parent with young children what they'd like more of though and I can almost guarantee you the first thing that they'd wish for is more sleep!  Getting children into a good sleeping routine has benefits for the whole family, but can be tricky (especially for those of us who have the added inconvenience of day light savings to contend with.) Parents of toddlers are generally not amongst those fist-pumping the air at the thought of an extra hour in bed, knowing full well that they will no doubt be in for a week or so of torture as little body clocks try to adjust to the new schedule!
Last year my husband and I woke at 3.30am to find our then 6 year old sitting on the coach, dressed in his school uniform, watching cartoons on.  Used to waking in the dark at 6am, he simply had no idea that it was way too early!
Fortunately, it is possible to teach children whether to stay in bed or get up with the help of the Kid Moon Sleep Trainer clock available from Roger Armstrong.
Parents are able to set the Kid Moon Sleep Trainer to reflect when they'd like their child to go to sleep and when to wake.  For example, if it was set at 7pm bedtime, and 7am wake time, the animated LCD screen will show the bunny awake between 7am and 7pm, when it will then show the bunny asleep.  These visual cues are perfect for younger children who are yet to learn to tell the time, but the sleep trainer also features a digital clock for older children.
In addition to helping children form better sleep patterns, the Kid Moon Sleep Trainer represents great value for money as it also functions as an alarm clock, a soft night-light and features 4 lullabies to help your child to relax and unwind after a busy day of play.
The Kid Moon Sleep Trainer is available from Roger Armstrong for $79.95
The Giveaway
Mums Lounge have 4 x Kid Moon Sleep Trainer clocks up for grabs!  For your chance to win, simply follow the instructions on the entry form below.  Good luck!