New Up&Go Reduced Sugar Liquid Breakfast Review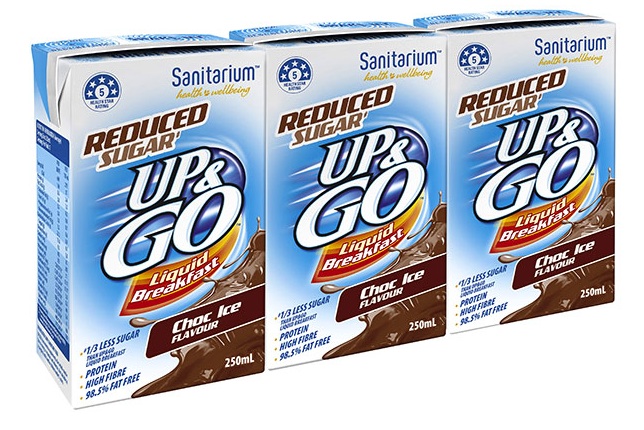 New Up&Go Reduced Sugar# Liquid Breakfast Review
Sponsored post
We all know that breakfast is the most important meal of the day to recharge our brain and body after a night of fasting, but how many of us are guilty of being too busy for breaky?
A typical morning for me involves getting three children ready for Primary school; making their breakfast, unstacking the dishwasher, searching around for someone's lost shoes, packing lunches, checking teeth, brushing hair, walking to school, hanging out the washing, checking my work emails, …and before I know it, it's 11.30am and I realise that I completely forgot to eat breakfast! Again!
Sound familiar?
Recently, I was given the opportunity to trial the new Sanitarium Up&Go Reduced Sugar# Liquid Breakfast, and I have to admit, I'm pretty impressed. It is probably worth noting that I do buy the original Up&Go's regularly for my family as the children enjoy them in their school lunchboxes, and my husband often grabs one from the fridge on his way out to work in the mornings – so I was especially keen to see whether they'd notice the difference.
Guess what? They didn't.
Despite the fact that they contain a third less sugar than the regular Up&Go drinks that they are used to, my children had no idea they were different. Besides the sugar content of course, nothing else has changed. A 250ml serve still contains the protein and fibre of 2 Weet-Bix and milk, 10 essential vitamins and minerals including being high in calcium, and it's also 98.5% fat free. What's more, it's super easy for me to start my day with a nutritious option that I can grab on the go, and it's a reduced sugar alternative to a family favourite, that I can feel good about giving to my family – at any time of the day.
For those of you who worry, like I do, when you hear that a product is 'reduced sugar' that it might contain other not-so-nice sweeteners, e.g. aspartame, rest assured that new Up&Go Reduced Sugar Liquid Breakfast does not contain any artificial sweeteners or colours.
Michelle Reid, Accredited Practising Dietitian and nutritionist at Sanitarium also points out that new Up & Go Reduced Sugar# Liquid Breakfast has a 5-star rating under the new Government led initiative which rates foods from ½ star – 5-star based on their nutritional credentials.
"Up&Go Reduced Sugar# achieved a high health star rating (HSR) score due to the protein content, low saturated fat and sodium content, and reduced sugar content. When you're unable to take time out of your hectic morning for a more traditional breakfast such as wholegrain cereal or toast and fruit, Up&Go Reduced Sugar# is the ideal option to enjoy on the go."
Interestingly, Reid also points out that when compared with reduced fat flavoured milk or low fat yoghurt, Up&Go Reduced Sugar# contains on average half the sugar+.
Who knew, huh?
Up & Go is available in two flavours, Vanilla ice and (our favourite) Choc Ice and can be found in all major supermarket retailers (pack of 3 $4.79)
To find out more, visit www.facebook.com/UPandGOau and join the conversation with #UpandGo.
Have you tried new Reduced Sugar# Up&Go? What do you think?
+Based on average nuttab 2010 data for reduced fat flavoured milk and low fat flavoured yoghurt
# 1/3 less sugar than UP&GO liquid breakfast
Disclosure: This post is sponsored by Sanitarium.  However all thoughts and opinions are my own.