Move Over Doll's House! The Peppa Pig Lights & Sounds Family Home Review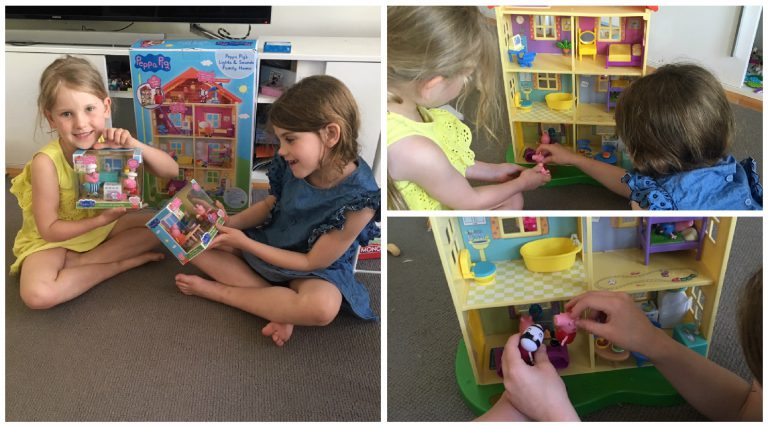 Move Over Doll's House! The Peppa Pig Lights & Sounds Family Home Review
Any little Peppa Pig fans who find the Peppa Pig Lights & Sound Family Home wrapped beneath their tree on Christmas morning are in for a real treat!
Standing at 22 inches, the Peppa Pig Lights & Sounds Family Home features seven rooms across four floors and includes 13 never-seen-before accessories.
"My girls have had an absolute ball playing with the Peppa Pig Home," said mother of 2, Georgie from SA. "It has lots of hidden little surprises which kept them engaged in pretend play for extended periods of time. When the little figures enter the house at the doormat the living room light switches on and when they jump in the muddy puddle at the front of the house (or stand on the doormat) they hear more sounds and their favourite phrases from the show. They especially loved taking it in turns to go up into the attic and use the telescope to look for more visitors just like the characters do in the TV show.
I'd highly recommend it for Peppa Pig fans over the age of 3. It has been fantastic for encouraging imaginative play and language development. Some of the things my girls come out with when they are playing is hilarious!"
The Peppa Pig Lights & Sounds Home includes Peppa, George and Zoe Zebra figures, a telescope, computer table, office chair, double bed, bedroom mirror, bathtub, toilet, bunk beds, couch, two dining chairs, dining table and refrigerator. Everything you need to fully furnish Peppa's home. But the fun doesn't end there. You can also collect Peppa Pig Little Rooms (RRP $24), which are essentially extension packs to the Peppa Pig Lights & Sound Family Home.  There are two to collect, each with its own lights and sounds and figurines so you can customise your house as and when you please.
The Peppa Pig Lights & Sounds Family Home is available from Big W, Myer and independent retailers RRP $149 
Head to au.peppapig.com/grown-ups and www.bigballoon.com.au for more information!