What Aussie Women Really Think of the L'Oreal Paris Revitalift 14 Day Challenge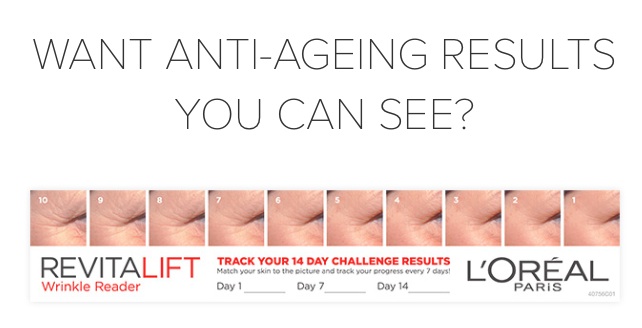 Sponsored post
Those of you who come here regularly, may remember me taking the L'Oreal Paris Revitalift 14 day challenge back in July/August.
If not, you can see my results and read about my experience here.
And yes…I am still using it!
You may also remember that L'Oreal Paris also invited Mums Lounge readers to take the L'Oreal Revitalift 14 Day Challenge for themselves. It's been a few weeks now since the lucky community reviewers received their samples in the mail, and this is what they've had to say about this product:
Thanks so much for the opportunity to review the product, it was great! I could feel that my skin was firmer right away.
It smells amazing too! (Little bonus there).
I'm a little slack with my skin routine being a mum of two, but this is a great product to get back into maintaining my skin!
Kerri, San Remo
I loved the L'Oreal Revitalift sample!  I'll admit I was a little sceptical as at 46,  I've tried a lot or products.  I first noticed a difference on the lines on my neck.  I really dislike these lines and when after 5 days I noticed a difference I was VERY happy.  It was a bit harder to see the result on my "crow's feet" but the area was definitely smoother and the lines looked less pronounced.  I have Revitalift on my shopping list for when I head to the chemist on Wednesday and have recommended it to others already.
Thanks for the chance to try such a great product.
Kylie E. Tasmania
I LOVED that the samples were in sachet form so there wasn't any wastage and got to share with my friends. A nice smell and the product made my skin feel hydrated. A slight change and I'm sure after longer use results would be more visible.
Sharnee, Helensvale, QLD
When I first put the cream on I was surprised at how thick it was especially for a day cream but was pleased to see it absorbed fairly quickly. Although I would suggest anyone putting it on just before make up give it time to absorb properly. Noticed a difference in the texture of my skin, it felt a lot softer and firmer though I didn't think it looked all that different. All in all was pleased with the product Would give it 8/10
Lee, Glenmore Park, NSW
I found the product very thick and moisturising. It was comfortable and warming/tingly once on. I noticed an improvement in texture and fine lines and would recommend to others.
Kate, Gowrie Junction, QLD
Yes I did try the samples and were very happy. I found the cream easy to put on, easily absorbed and left no sticky residue. I'm not sure if I appear younger but very happy with this moisturiser and ease in applying.
Maria, Kingsgrove, NSW
I tried the samples given & liked the texture of the cream. It was not oily and was absorbed into the skin fast. I used everyday, once a day and applied it on my face and neck. However, I did not see any difference in my skin being less wrinkled or firm. I might use this cream again as a prevention to getting wrinkles.
Jeanette, Carina, QLD
Being someone who has very sensitive skin with most products making my face burn, I was very surprised when I first used Revitalift. My first application I put a tiny bit on and grit my teeth waiting for my face to feel on fire and nothing. My face felt very moisturised and relaxed. Day two, I grit my teeth once again hoping for it not to burn. Once again all went well. Now 14 days on I'm in love with this product and have my pot ready to go now my samples are finished. Because I have very sensitive and dry skin even at the age of 30 I have many lines around my eye area. This cream has helped so much in just 14days and has made my skin feel amazing. I haven't used any other creams on my face in this time and my skin feels so moisturised.
I have attached 2 photos and I'm sure you will be able to tell what is before and after.
Thank you so much for picking me to be a part of the trial.
Caroline, Whyalla Nth, SA
The product was amazing!!! Considering being a mother I don't have much time for a Beatty regime the product ticks all the boxes!!! To apply it was so quick and easy and left my skin feeling refreshed.
Yasmin, Castle Hill, NSW
After a few days of use, around the eye area became flaky and irritated. I discontinued use on the delicate skin areas and concentrated on my forehead, crows feet, smile lines and neck.
I've noticed a reduction in depth of the forehead lines, which has impressed me. The frown line between my eyebrows hasn't reduced as impressively, but has softened.
Overall, my skin appears more full and healthy, which is lovely.
I'm only using the cream at night and on mornings if I'm not going to wear makeup, as the two seemed to clash.
I'd be interested in trialing for a longer period, to see if the improvements continue or plateau.
Erica, Seacombe Gardens, SA
I have used the sample up and after the 2 weeks, my skin is firmer, smoother, more radiant and there is definitely less intensity to my lines and wrinkles.  They are softer and less intense.   The moisturiser made my skin smooth and felt wonderful.
Thank you.
Ariane, Palmyra, WA
Find out more about the L'Oreal Revitalift 14 Challenge here.
CONGRATULATIONS to Caroline from Whyalla Nth, SA, who has won a year's supply of L'Oreal Paris products for her review!