WIN 1 of 3 Gift Vouchers to Spend Online at MAMADOO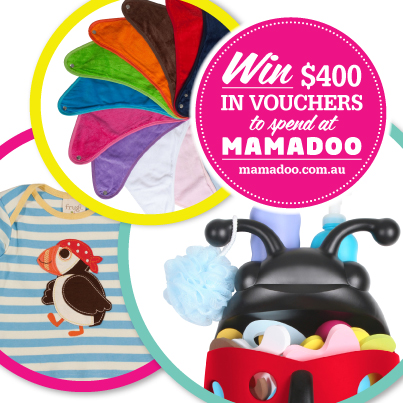 Sponsored post
If we had to name two things that we wish we could have more of, there is little doubt that money and time would rank highly for many of us. Unfortunately, the truth of the matter is that parenthood often sees a shortage in both of these commodities for the majority of us.
Many of us have turned to online shopping in an attempt to save money, but searching multiple sites looking for certain products can really bite into our precious time. Wouldn't it be great if you could have just one website (like a shopping mall), where you could shop for all your baby, toddler, and children's needs in one place, with the convenience of just one checkout?
Well, thanks to MAMADOO, you can!
MAMADOO's virtual shopping mall is about offering choice by allowing shoppers to view the gorgeous baby and children's products available to Australian shoppers, all in one place. The MAMADOO range currently offers in excess of 3,000 different products including maternity products and caters for children from newborn to tweens. What's more, 95% of MAMADOO's suppliers are other Australian mumpreneurs who are either manufacturing their own items or pulling together their own selection from overseas brands, so you can shop the site knowing that you are supporting other Aussie mums succeed.
Finally, when it comes to buying items for babies and kids, who knows better than the parents who have bought and used these products before? The MAMADOO website gives shoppers the opportunity to provide feedback and reviews for products, helping others make informed choices about the way they spend their hard-earned dollars.
Seriously, what is there not to love about MAMADOO?
But wait…there's more! MAMADOO are giving Mums Lounge readers the chance to win 1 of 3 great prizes.
Up for grabs is 1x $250 gift voucher, 1 x $100 gift voucher and 1 x $50 gift voucher, so three of you can enjoy a MAMADOO shopping experience on them!
To enter, simply complete the entry form below.