WIN a Britax Safe-n-Sound Slimm-line AHR worth $529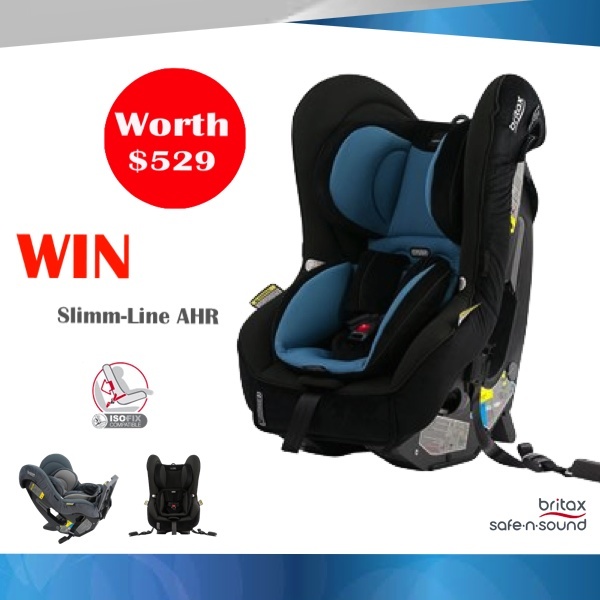 WIN a Britax Safe-n-Sound Slimm-line AHR worth $529
When it comes to choosing a car seat, our family can be pretty demanding customers, as there is so much that we need out of a car seat. Primarily I have my children's safety in mind, which is something that I really wont compromise on when it comes to putting my kids in the car. Secondly we have a real car-full with 4 little ones still in car seats, so we need car seats with a slimmer structure. Thirdly, we love a good road trip, so our little ones' car seats need to be snug and comfortable. The new Safe-n-Sound Slimm-line AHR combines everything that is important to our family about a child's car seat all rolled into one neat stylish package.
Having a child's car seat that is ISOFIX compatible was a huge step forwards when it was approved in Australia, with it's secure design meaning that it would be very unlikely to be fitted incorrectly, therefore further ensuring our children's safety. The Safe-n-Sound Slimm-line AHR encompasses this technology with both the ISOFIX anchorage and the top tether, ensuring that when fixed in, this car seat is doubly secured.
The Safe-n-Sound Slimm-line AHR is packed with features to assist in protecting our little ones. It has a retractable stabilising bar which prevents the seat from rotating in the event of an impact (when used in the rear facing position) so that our little ones would not come into contact with the seat in front of them. The Safe-n-Sound Slimm-line AHR also features Active Head Restraint and EPS Layer, which not only shields our child's head and helps absorb energy in the event of a side impact to reduce the risk of injury, it also acts as a comfy place for our little one to rest their head on a long journey.
The Slimm design and outer shell of the Safe-n-Sound Slimm-line AHR is a huge benefit, Particularly if you regularly have a car full or need some extra space for play dates, as it allows 3 car seats to be easily fitted in a row.
From a comfort perspective, one of the features that I think are well worth having, especially for long trips in the car, is the 2 recline positions. This was a god send when we had a long way to go at the beginning of the School holidays as my little one dropped off and enjoyed a more comfortable rest, making a more peaceful journey for everyone.
I love that the Safe-n-Sound Slimm-line AHR is more than a safe place to keep our little ones when we are travelling in the car, it is also easy to use and has all those great features that I have come to love from Britax that make parents' lives a little easier. The adjustable height bar can be altered easily with one hand, so I was able to ensure that the height was exactly right for my little one without any stress or effort on my part. The AHR hassle free harness automatically repositions the shoulder straps, which makes it a great tool for our fast growing little one and also nice and easy for the children to switch seats for play dates etc. The other little feature this car seat has that I love is the EZ-Buckle System, which makes fastening my little one into their seat a breeze, as I never waste any time searching for the buckle once they are in their seat – any time saved on a school morning is greatly appreciated in this house. The Safe-n-Sound Slimm-line AHR also has marker guides, which are really easy to use, so that I can tell exactly the right time to move my little one from rear facing to forward facing.
The Safe-n-Sound Slimm-line AHR really is everything you will need out of a car seat from birth up to around 4 years. It features leading technology in children's car seat safety, is comfortable, easy to install, easy to adjust, and slim!
Written by Julie Williams
Thanks to Britax AU http://www.britax.com.au we are giving away Safe-n-Sound Slimm-line AHR worth $529 to one of our lucky readers. Enter below and good luck!
Disclosure: The writer was gifted the Safe-n-Sound Slimm-line of the purpose of an honest review.  All thoughts and opinions expressed here are her own.
Win a Safe-n-Sound Slimm-Line AHR ISOFIX Compatible Car
Seat