Win a Wooden Toy Prize Pack from Ten Dollar Baby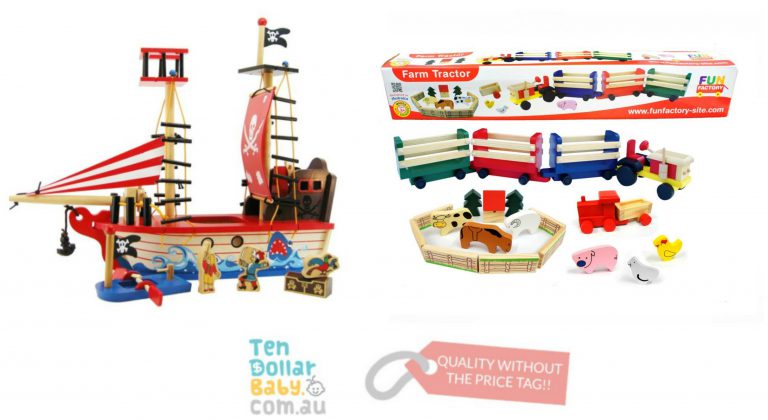 Win a Wooden Toy Prize Pack from Ten Dollar Baby
Sponsored post
There is just something a little bit special about wooden toys isn't there?
As a parent I was always drawn towards the wooden toys when my children were smaller for a number of reasons. I'll be honest; the fact that I didn't have to endlessly replace the batteries in them was always a huge bonus, as was the fact that they weren't blasting out repetitive music over and over…and over. Hello! I spent countless hours trying to work out how to get my toddlers down for naps, I wasn't about to overstimulate them with flashing lights and loud noises.
But, of course, there are lots of other great reasons to buy wooden toys too. For starters, they are far more durable. If you look through the toys your mum still has from when you were a kid, I'll hedge a bet that there aren't many plastic toys in there, right? In contrast, wooden toys are much less likely than plastic toys to succumb to wear and tear and with proper care, are quite capable of being enjoyed by more than just one generation of little people.
Whilst high tech, modern, noisy toys are capable of distracting kids in the short term; wooden toys offer a very different play experience, in which children are inspired to engage in creative and imaginative play. They get to decide what the toy is used for and in what way, and if it makes a noise, they get to decide what that noise is – and each play experience will be different from the last. The possibilities are endless!
Unfortunately, the only drawback with wooden toys is that they can often be quite expensive…if you don't know where to shop that is!
Ten Dollar Baby is an online baby and kids store dedicated to bringing you a great range of quality products at affordable prices, everyday. They stock everything from baby and kids clothing, footwear and accessories to toys and gifts – all at fantastic prices!
Ten Dollar Baby have a great selection of quality wooden toys without the large price tag.   Take these for example. How much would you expect to pay for these?
Well, you might be surprised to learn that the Windmill Stackeroo is only $21.95, the Wooden Block Train is $30, the Vehicle Set with Traffic Signs is $22 and the Toolbox Bench is $29.95. BARGAIN!
Would your little people LOVE these toys?
Ten Dollar Baby are giving Mums Lounge readers the opportunity to win the awesome wooden toy prize pack pictured above (valued at $103.90)
To enter, simply complete the entry form below. Good luck!
For more excellent quality products for babies and kids, visit www.tendollarbaby.com.au