Your chance to Win a Month's Supply of UNCLE TOBYS Oat Slice Lunchbox Snacks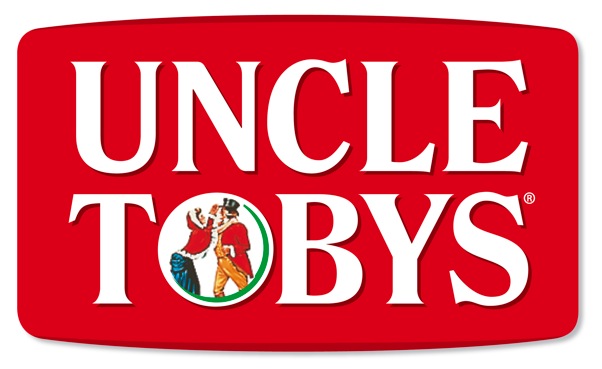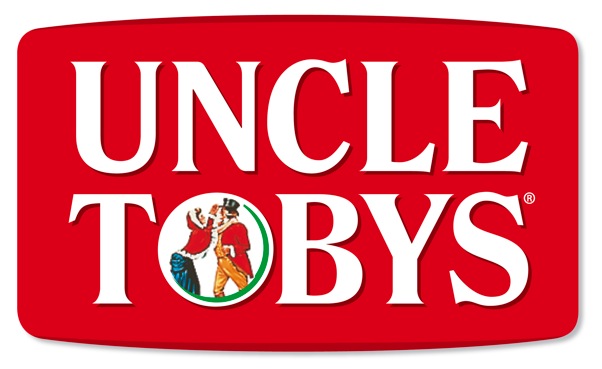 Ask any mother what she dreads most about sending her kids back to school after a break (or even the weekend), and without fail, the majority of us will answer unequivocally – making school lunches! Trying to ensure we pack the lunchbox with healthy foods we know our children will eat, can often make morning lunchbox packing feel like groundhog day. I know that Hubbster and the children would all appreciate a little injection of inspiration into their lunchboxes.
It goes without saying that my family's health is of the utmost importance to me, and providing them with nutritious snacks helps top up energy levels and provides them with vitamins and nutrients that their bodies need for wellbeing. Choosing nutritious, low GI snacks rather than empty kilojoules is important for maintaining a healthy weight, creating healthy eating habits and maintaining healthy bodies.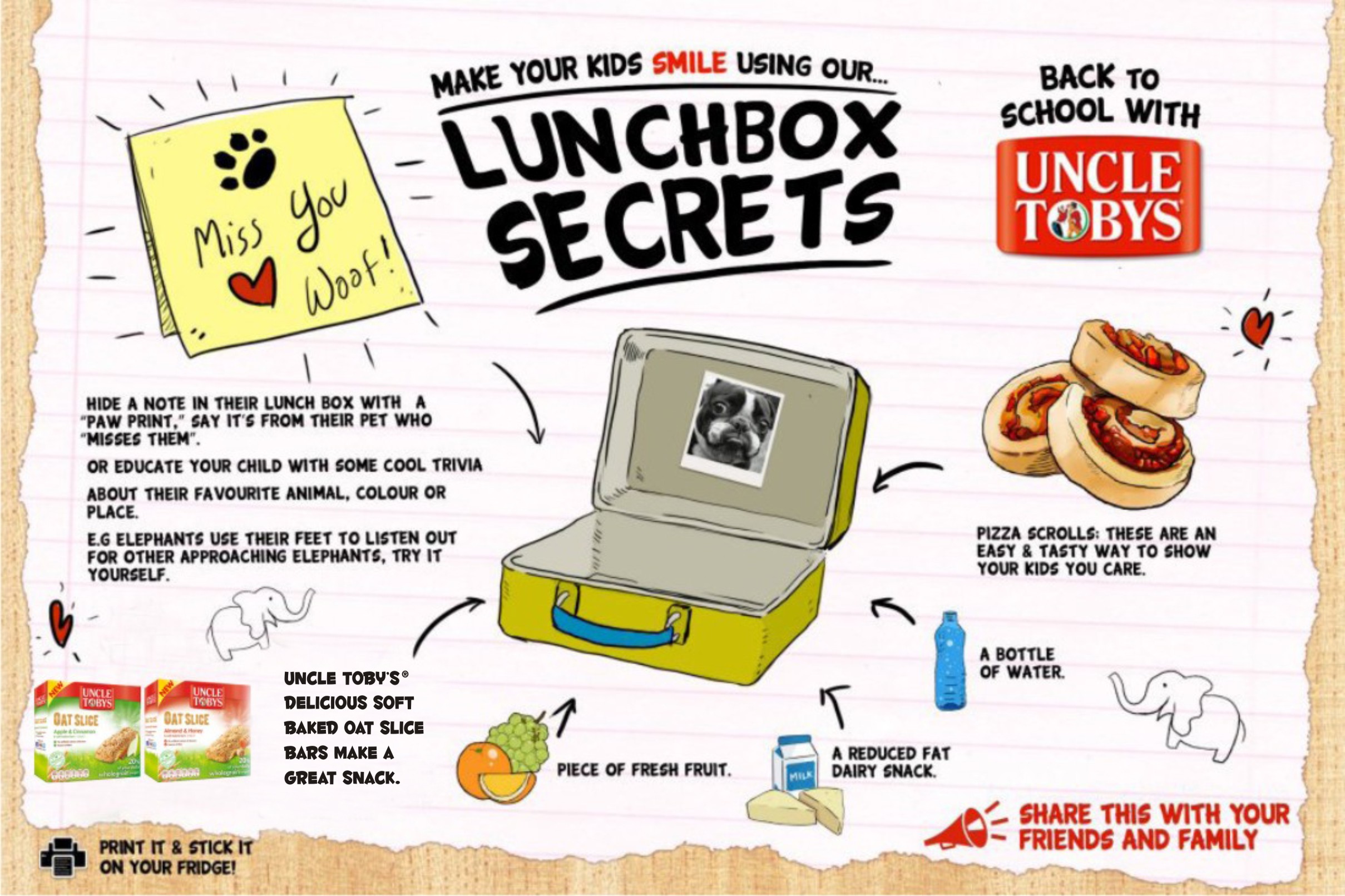 UNCLE TOBYS Five Easy Tips for Packing a Balanced Lunchbox
A tasty grain based meal: This could be a wholegrain or wholemeal sandwich or wrap. Or perhaps a pasta, noodle or rice dish for a bit of variety. Don't forget to pack a fork!
A piece of fruit: This will get your child halfway to their recommended two serves a day.
Some dairy: Pop in a tub of yoghurt, some slices of cheese or a milk drink.
A tasty snack: With UNCLE TOBYS snacks, you'll help fuel playtime and bring a smile to their face. The delicious range includes UNCLE TOBYS Apricot and Forest Fruits Chewy Muesli Bars, Apricot and Nut Crumble Crunchy Muesli Bars, and the new Oat Slices.
Bottle of water: A frozen water bottle or long-life milk are the best choices for drinks. This will also help keep other foods cold and safe for eating by the time lunch comes around.
You can find more of Uncle Toby's lunchbox recipes and suggestions here.
Introducing UNCLE TOBYS New Oat Slice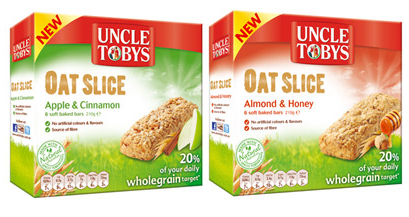 The newest lunchbox snack to be added to the UNCLE TOBYS range is the delicious soft baked oat slice available in two flavours: Apple and Cinnamon, and Almond and Honey.
The Oat Slices are made from all the natural goodness you'd expect from Uncle Toby's Australian grown oats, contain no artificial colours or flavours, and provide 20% of your daily wholegrain target.
But, (and this is the only part that the kids will be interested in), they taste great too. In fact I've had to resort to hiding them out of reach to ensure they make it to the lunchbox!
Mums Lounge have a month's supply of UNCLE TOBYS Oat Slice lunchbox snacks to give away to five lucky readers.
To enter, in 50 words or less tell us what a tasty nutritious lunchbox comprises of for you and your family.
This is a game of skill. Winners will be chosen for the quality and creativity of their answer.
Please also note that all three tasks must be completely to qualify for entry into this giveaway.
Good luck!
Please read terms and conditions below:
1. Information on how to enter and prizes form part of these Conditions of Entry. To enter, contestants must 'Like' both 'Uncle Toby's' and 'Mums Lounge' on Facebook and answering the question posed, in 50 words or less, at the end of the article during the promotion period.
2. Entry is only open to residents of Australia aged 18 years and older. Employees (and their immediate families) of the Promoter, Participating Outlets and their agencies associated with this promotion are ineligible to enter. The promotion will run in Australia between 19th November 2012 and 16th December 2012.
3. The promotion will be conducted by Mums Lounge. Uncle Toby's is not associated with this promotion. The entries will be judged on creativity. The winner(s) will be notified by email.
4. This is a game of skill. The entry/ies deemed to be most creative as decided by a panel of judges appointed by Mums Lounge will win a month's supply of Uncle Toby's Oat Slice snacks, valued at $20. The judges' decision is final. The Promoter accepts no responsibility for any variation in the prize value. Prizes, including any unused portion, are not transferable or exchangeable and cannot be taken as cash, unless indicated otherwise.
5. The Promoter reserves the right at any time to verify the validity of entries received and reserves the right to disqualify any entrant for tampering with the entry process or for submitting an entry which is not in accordance with these Conditions of Entry.
6. Incomplete, illegible or indecipherable entries will be deemed invalid.
7. The Promoter shall not be liable for any loss or damage whatsoever which is suffered (including but not limited to indirect or consequential loss) or for personal injury which is suffered or sustained, as a result of taking any of the prizes, except for any liability which cannot be excluded by law.
8. The Promoter collects entrants' personal information in order to conduct the promotion. If the information requested is not provided, the entrant may not participate in the promotion. By entering the promotion, unless otherwise advised, each entrant also agrees that the Promoter may use this information, or disclose it to other organisations that may use it, in any media for future promotional, marketing and publicity purposes without any further reference, payment or other compensation to the entrant. Entrants' personal information may be disclosed to State and Territory lottery departments and winners' names published as required under the relevant lottery legislation. A request to access, update or correct any information should be directed to the Promoter at their address set out below.
9. The Promoter is Mums Lounge. Contact:

[email protected]