The Bugaboo Fox 2 Stroller – The Best Ride Ever on All Terrains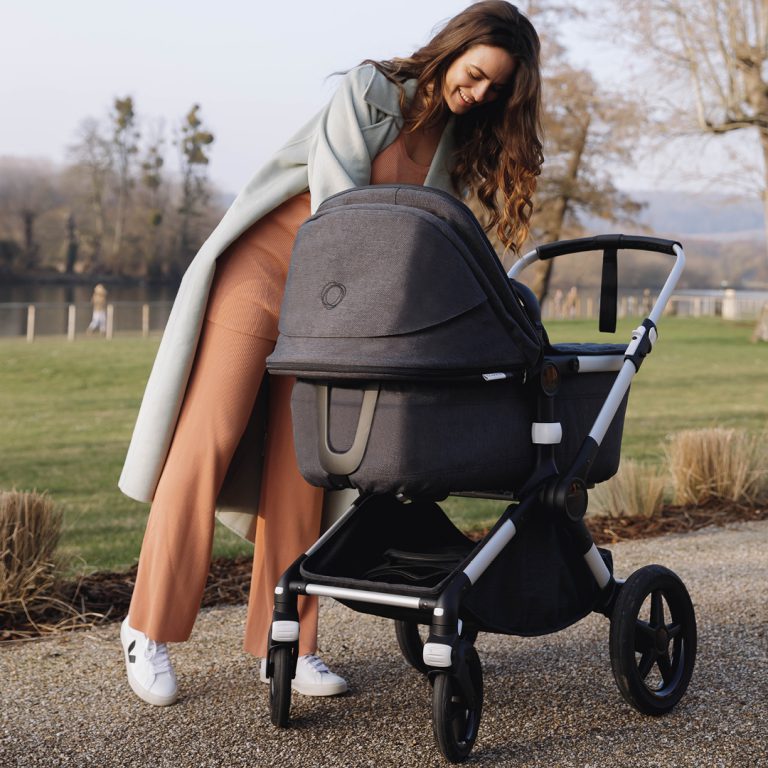 The Bugaboo Fox 2 Stroller – The Best Ride Ever on All Terrains
In partnership with Bugaboo
When it comes to preparing to welcome a new baby into your family, choosing the right pram is up there in the top three most important purchases you'll make, along with a car seat and a cot. It's important to make sure that it suits your lifestyle needs, as well as meets strict safety standards. So, before you order any old pram online that you love the colour of, only to find it doesn't fit into the boot of your car or is too heavy or hard for you to collapse, we highly recommend doing your research. There is a wealth of knowledge to be found online, but if practicable, in our opinion, you can't beat actually going into a baby store and seeing exactly what features each pram has and how it manoeuvres and is assembled and collapsed.
We must warn you though, should you set eyes on the new Bugaboo Fox 2 in real life, you might very well fall in love! That's right, the famous Dutch brand Bugaboo has recently released a new version of their single all terrain stroller Bugaboo Fox, which is now called the Fox 2. The best in its class, the Bugaboo Fox 2 is the most advanced comfort pram in the iconic Bugaboo lineup, offering parents and child the best ride ever on all terrains.
Features
The driving technology has been refined to make it the absolute best in it's class. The large puncture-proof wheels and advanced central joint suspension coupled with the position of the perfectly angled handlebars in relation to the wheels, gives this stroller the feeling of power steering. It can easily navigate around corners and tight spaces and along busy streets very easily and with just one hand. Not only does this make parents' lives easier, it creates a very smooth, comfortable ride for baby who can sleep in the bassinet or toddler sleep undisturbed by harsh, jerky movements.
The Bugaboo Fox 2 comes with bassinet and stroller seat fabric included. Simply attach either the bassinet fabric or the seat fabric to the frame depending on the age and stage of your baby. For newborns who lack the neck strength to hold up their head, the bassinet gives a safe and comfortable place for your baby to lie down and sleep whilst in the stroller. When your baby outgrows the bassinet, simply switch the fabric to the toddler seat. We should also mention here that there are a large range of colours to choose from.
The toddler seat can quickly and easily be placed in the rear facing position (which is recommended for younger children), or the forward-facing position for more curious toddlers. The Bugaboo Fox 2 is their highest roller at 59 cm high, so it can easily be used as a high-chair or next to a table in a restaurant. This is also a great feature for those who find bending over into a lower stroller hard on their back.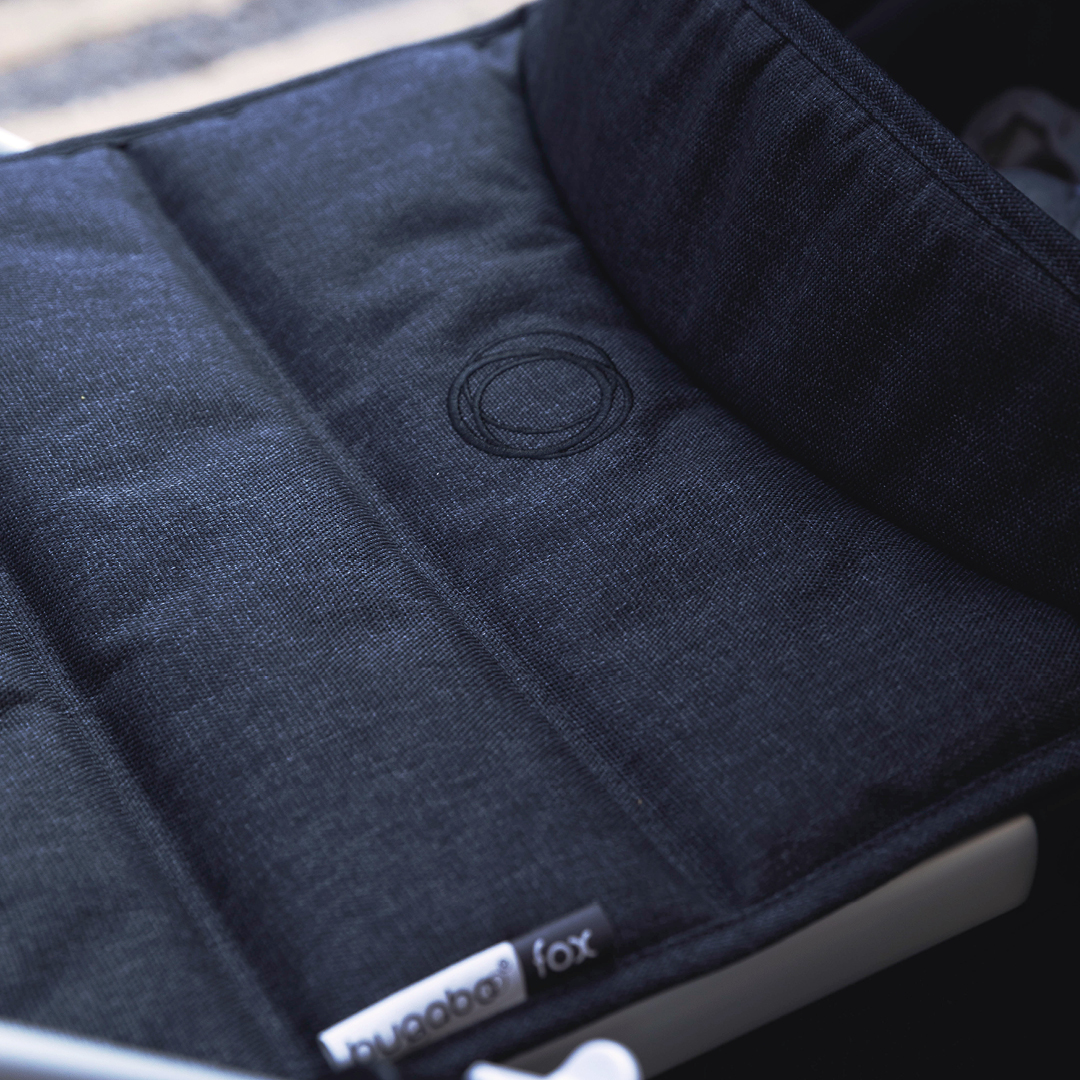 The toddler seat has three reclining positions; sleeping, relaxed and sitting up, so no matter what time of day or mood  bub is in, they will be comfortable. The seat is easily adjustable with one hand. Simply squeeze a lever on the back of the seat. The toddler seat is also equipped with a bumper bar that can be released and rotated allowing parents to take their baby in an out of the stroller with ease. This function has been improved on the Fox 2 version, so it is even easier than before.
One of the new features that Bugaboo Fox 2 owners are particularly excited about is the peekaboo window in the sun canopy. All Bugaboos have an extendable sun canopy which has been improved in the Fox 2 to include the peekaboo window which not only adds extra ventilation for your child, it also allows parents to connect easily with their child on-the-go. The sun canopy and peekaboo window can be used with both the bassinet and the toddler seat.
One of the things that we love about the Bugaboo Fox 2, is that it is strong yet light. Whilst it weighs just 9.9 kg, (so nice and easy to lift in an out of the car boot and light to manoeuvre), it can hold a child up to 23 kg (approx. 48 months). It can also be folded very compactly, by slipping off the wheels, making it easy to transport if going away on holiday or when space is limited. For everyday use, we also love that the Bugaboo Fox 2 can be folded up with one hand and with the bassinet or toddler seat still attached.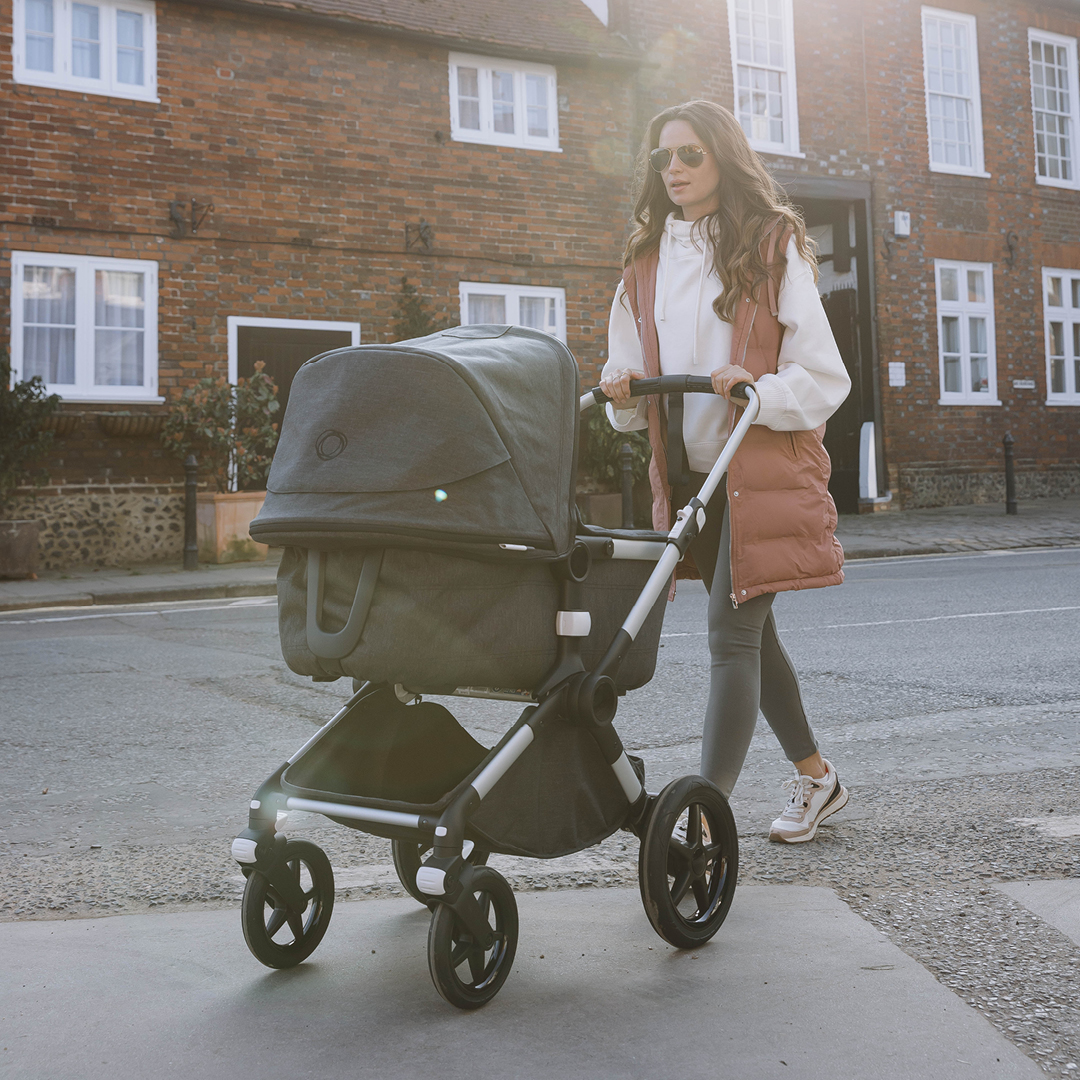 As every parent knows, storage in a stroller is also important. Bugaboo have added 2 pockets to the bassinet which are perfect for tucking away handy things like baby wipes, toys or your phone etc. It also includes an under-seat basket which holds up to 10 kg and is easily accessible from both the front and the rear.
Basically, the best ride just got better! The Bugaboo Fox 2 combines 20 years of smart design and rigorous testing to offer you the best, most comfortable strolling experience yet.
Visit the Bugaboo Australia website here to buy RRP: $1,899.00