Metricon New Home Build Update: The Ensuite Edition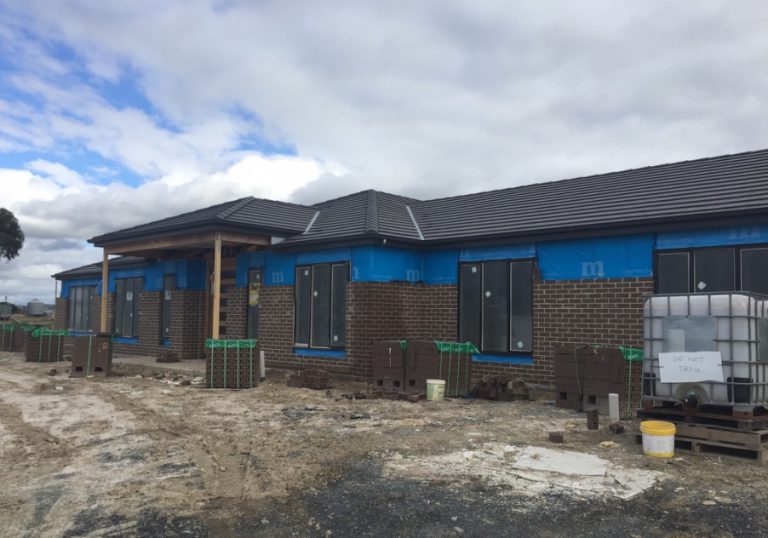 Metricon New Home Update: The Ensuite Edition
With the brick work well and truly on it's way now, our new home is starting to look more and more…well, like a house! (Yes, thank you Captain Obvious!)
Yesterday, Hubby and I had our appointment at Beaumont Tiles to make our tile selections for the floors, bathrooms and laundry.  To be truthful, it was all a little bit exciting and overwhelming to walk into the store and see such an enormous range.
"How will I ever pick?" I wondered scanning the rows upon rows of tiles.
On arriving we met with a lovely lady named Narelle who had a look at the samples I'd brought of the cabinets and bench tops and listened as we explained that there was no more money (zip, zilch, nada, bog-all) available for upgrades and we'd be sticking to the Category 1 tiles Metricon had already charged us for.
(I may as well have just said "Listen lady, don't even bother trying to wring anymore money from us…m'k. You know..that blood and stone thing…well that!)
She nodded understandingly and showed us over to the tiles in the Metricon range.
That's when I realised that choosing the tiles wouldn't be quite as difficult or overwhelming as I had first expected. In fact the choice of tiles in the range was, to be honest, rather underwhelming considering the cost of the tiles that has already been factored into the build.  We'd both been picturing nice big (possibly rectangular) floor tiles.  We were presented with a choice of small and square in a variety of colours.
Nevertheless we cracked on with our selections. In fact, we'd almost come to the end and were happy with the selections we'd made when Hubby decided (out of curiosity) just to have a little walk around…and I…stupidly followed.
That's when it happened! We saw it.
You know when you see the one, and you just know!
Yeah, that!
Unbeknownst to us of course, we possibly couldn't have fallen in love with a more bloody expensive tile if we'd tried.
"We can't upgrade," Hubby said to Narelle "But just out of curiosity, what would it cost to have this floor tile throughout the house?"
Narelle took the tile's code, punched it into her computer and after a few seconds of waiting almost fell off her own chair before delivering the news to us that, that particular tile would cost an EXTRA $30K. Faaaaar out!
But, the trouble was, everything we'd already picked suddenly looked drab and boring.  I needed that tile goddam it! So, I suggested that maybe…just maybe we could upgrade just a teensy bit, and have it as a feature wall in our ensuite.
And just like that, we'd crossed the line.
One minute we are pinky promising one another in the car not to spend another cent, and the next we are looking for an upgrade tile to go around the bath in the kids bathroom too. Damnit!
So…the tile that did it..was this new one out called Kurt.
I am actually possibly more excited about the bathroom now than I was about the kitchen (but that may also have something to do with the fact that lying in the bath with a glass of wine reading is a much more preferable pursuit than cooking and cleaning!)
After our appointment I NEEDED to have (another) walk around the house (even though nothing has changed on the inside since the last 375 times that I NEEDED to look at it. I just needed to stand and look at the ensuite with the new pieces of the puzzle in my mind and picture how it will look.
If you remember the online iStyle Colour course I did last year, and how I learned to create mood boards for my home ideas, you won't be surprised to know that I was itching to get home and do something similar for the ensuite.
Once again it seems I am drawn to the natural colours and tones, and wood textures.  No surprises there!
So now when I walk into the house and see this…
In my mind, what I am really seeing is this…
Now I just need to make sure that the bedroom is looking equally spectacular! Hubby has already warned me that I won't be throwing my clothes all over the floor of the bedroom and floor-drobe at the new house. (Because a new house is going to cure me of this lifetime habit apparently!)
Beside becoming a nudist, (which is highly unlikely considering how cold it gets here in Melbourne in the Winter), I'm not sure what the solution is – other than getting myself super organised in the wardrobe department.
Best I start looking into some clever storage ideas, so I can keep all my shizz neat and tidy in the walk-in robe! Eeek!
Hit me with anything awesome that you've seen or use in your own home please. The more ideas the better!