12 Big Combined Christmas Gift Ideas For Kids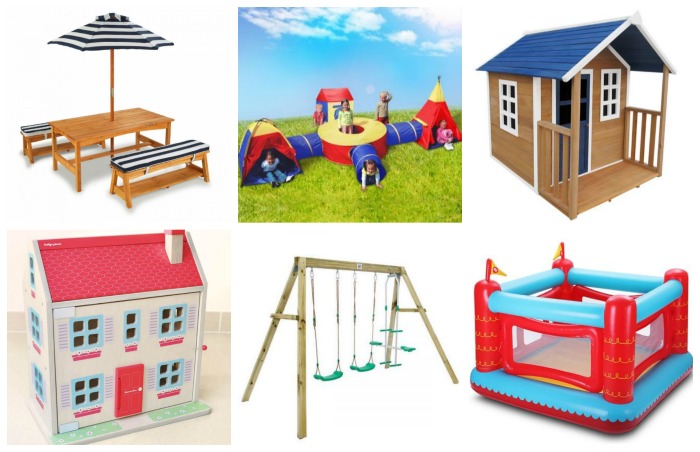 If you ask any kid what the best thing about Christmas is, they will say the presents. If you ask a parent what they dislike most about Christmas presents, it's finding new homes for all the wares their children receive on Christmas Day.
If you're a family with multiple children, it can be overwhelming finding places for all the new toys.
One way to counteract the mass accumulation of toys on Christmas Day is purchasing a combined gift that the kids can enjoy all year round.
Our three girls will get a sack each with mini presents from Santa, a present from mummy and daddy and one big combined present that the grandparents will chip in with to avoid toy clutter dominating our house.
Each year we have invested in one big item for all three of our girls to play with. Last year was a trampoline, the year before was a play kitchen and the year before that was a swing set. All three 'big' presents were gratefully received and the toy clutter was kept to a minimum.
Purchasing a combined present can take a big chunk out of your Christmas budget and often you have to allow for delivery times to ensure the item is received before Christmas.
We've compiled some a list of 12 big combined Christmas gift ideas for kids to help keep the toy clutter at bay.
1. Deluxe Kids Tee Pee Tunnel Tent Play Set $64.95
2. Fisher Price Inflatable Ball Pit $69.95
3. Fisher Price Inflatable Kids Play House $129.95
4. Bestway Splash in the Shade Wading Pool $129.95
5. Indigo Jamm Hascombe Dolls House with Furniture and Dolls included $219.95
6. Mocka Kids Tee Pee $119.95
7. Lifespan Forde Swing and Glider Set $249.95
8. Red Vintage Kitchen $259.95
9. Outdoor Table and Bench set with cushions and umbrella $299.95
10. Kidkraft Pirate Sandbox $329.95
11. Genki 16Ft Trampoline $419.95
12. Outdoor Wooden Cubby Play House with a Verandah $429.95
Disclosure: The are affiliate links on this post. Should you choose to purchase an item, we will receive a small commission at no extra cost to you.