10 New Release and Classic Christmas Children's Books You Need to Read This Season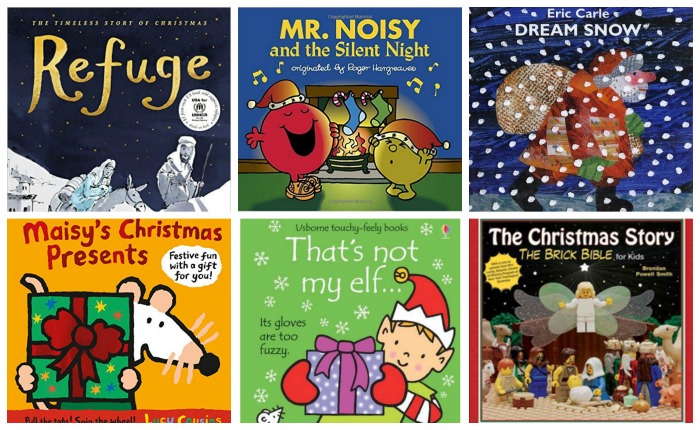 Like movies, children's books can be a great way to lead up into the excitement of the festive season. A good Christmas book can help children get into the spirit of Christmas and it builds anticipation for the big day.
Christmas Eve is the perfect time to read a new book to help lull kids to sleep. We've compiled a list of children's Christmas books that are new releases or simple classics that are loved each time they are read this time of year.
1.  That's not my elf… $14.99
The latest release from the popular series created by Fiona Watt. A delightful touchy-feely book with simple, repetitive text, bright, colourful illustrations and textures to touch and feel on every page. Elves are popular at the moment with the Elf on a Shelf series and this title will make a welcome Christmas addition to the list.
2. Mr Noisy and the Silent Night $10.99
A new release in the Little Miss and Mr range of books, Mr. Noisy and the Silent Night is a book you need to add to your collection. In this Christmas-themed Mr. Men book, Mr. Quiet might get the peaceful Christmas he's always wanted.
Poor Mr. Quiet doesn't look forward to Christmas it's too noisy for him Noisy decorations, noisy carol singers, a noisy postman delivering Christmas cards, and, noisiest of all, an annual visit from Mr. Noisy himself But this Christmas, a snowstorm might give Mr. Quiet the silence he so desperately craves."
3. Emily's Bush Christmas $14.99
Released last year, this book written by Jackie French is sure to delight with an Aussie theme. Now in paperback – can Emily bring some Christmas cheer to the unhappy Bunyip? It's Christmas Day in Shaggy Gully. The kangaroos are feeling bouncy, the echidnas are being prickly, the emus are feeling peckish and the possums are just hanging around. Only the Bunyip is gloomy. 'I'm mad and I'm mean! Bunyips don't like Christmas!' Meanwhile, Dawn and her chorus are playing Christmas carols, but somehow Emily Emu can't get a note right. Her musical mishaps float down to the creek, where the Bunyip lives… Can Emily and her friends possibly make the Bunyip smile this Christmas?
4. Maisy's Christmas Presents $19.99
Have fun with Maisy in this interactive book from the multi-award-winning Lucy Cousins. It's so nice to give your friend a present at Christmas time, don't you agree? Maisy thinks so! When she comes back from her shopping trip, she has presents for everybody! Help Eddie, Charley, Talullah and Cyril unwrap their wonderful gifts by lifting the flaps. Then help choose a special present for Maisy by turning the wheel – what surprise will she get? Or what surprise will you get, all for yourself? You didn't think Maisy would forget you, did you?
5. A Wish to be a Christmas Tree $16.99
This charming tale of an overgrown pine always being passed by for Christmas, and what his woodland friends do to help him, is sure to become a Christmas classic. With delightful illustrations by wildlife artist Michael Monroe and enchanting text from Colleen Monroe, the birds, deer and squirrel of this story help make their special friend's wish come true.
6. Dream Snow $16.99
An Eric Carle Classic that has received high praise and reviews for it's simple story and art.
It's December 24th, and the old farmer settles down for a winter's nap, wondering how Christmas can come when there is no snow In his dream he imagines a snowstorm covering him and his animals named One, Two, Three, Four and Five in a snowy blanket. But when the farmer awakens, he finds that it has really snowed outside, and now he remembers something Putting on his red suit, he goes outside and places gifts under the tree for his animals, bringing holiday cheer to all.
Clever lift-the-flaps reveal the animals hidden under the snow in the farmer's dream, making this board book edition a treat for all ages.
7. Refuge $24.99
A timely rendition of the nativity follows Mary, Joseph, and Baby Jesus as they travel in a strange land, hoping to find refuge in the kindness of strangers. $1 from the sale of each print book sold until October 2017 will go to the UN refugee agency, UNHCR.
Everyone knows the story of how Jesus was humbly born in a manger when was no room at the inn. But here is a lyrical depiction of what came next: the new family's travels through the desert, fleeing Herod's soldiers in order to find a safe place to welcome their son into the world. A refreshing look at the classic Christmas story that's never been more relevant, Refuge asks readers to consider the modern day.
8. How the Grinch Stole Christmas $12.99
The ghastly Grinch refuses to be moved by the Christmas spirit in this must-have paperback version of Dr. Seuss's classic tale.
The Grinch hated Christmas! The whole Christmas season!
With hilarious rhymes and beautiful illustrations, this classic seasonal story has become a favourite for good reason and teaches readers the true meaning of Christmas.
9. The Polar Express $16.99
This is a magical, medal-winning Christmas tale about a boy who boards the mysterious Polar Express, bound for the North Pole. When he arrives, Santa offers the boy any gift he desires, and the boy asks for one bell from the reindeer's harness.
10. The Christmas Story $19.99
Santa, sleigh bells, mistletoe, reindeer, and presents: these are the tell-tale signs of Christmas. But for Christians, December 25 is also the time to celebrate the birth of Jesus, and what better way to introduce your kids to the story of the Savior's birth than through LEGO.
Every year, children of all ages revisit the scene in Bethlehem with Joseph, Mary, the three wise men, the angels and shepherds, and the baby Jesus, swaddled and lying in a manger. Kids will love seeing the story of Christmas played out using their favorite toys. This important Christmas story is sure to be the perfect holiday gift and a book for families to cherish for years to come
Do you have a favourite book you read each Christmas? Tell us in the comments.
Disclosure: There are affiliate links on this post. Should you choose to purchase an item, we will receive a small commission at no extra cost to you.