The Cash Back App Offers Business Owners the Opportunity to Make EXTRA Easy Money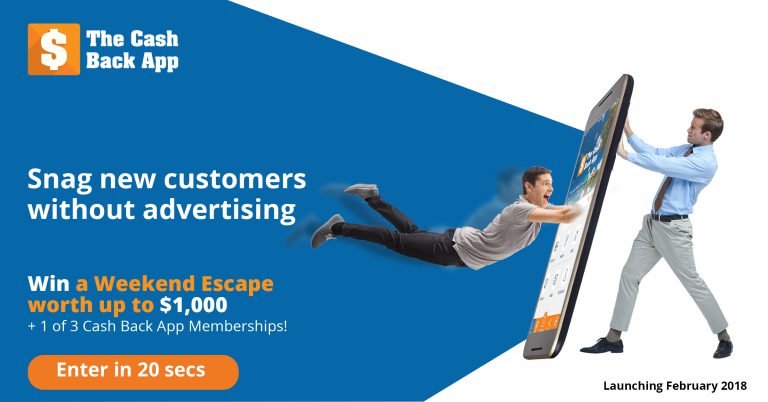 The Cash Back App Offers Business Owners the Opportunity to Make EXTRA Easy Money
Sponsored post
If you love instant discounts and cash back on your purchases, you are going to LOVE the Cash Back App launching in February 2018. Just as the name implies, users of the app will gain access to a variety of exclusive deals and gift cards from retailers across Australia, including major stores like Woolworths, JB Hi-Fi and Supercheap Auto. With 39,000 members, and more than 350 merchants already signed up to The Cash Back app, this shopper savvy app could revolutionise the way Aussies shop.
Follow Cash Back app on Facebook
The Cash Back app is an Australian owned and operated company that has been established to specifically help customers reduce the cost of living, and to support local businesses. The idea is to create a business model where 'everybody wins.'
Once it launches, The Cash Back app will offer business owners the opportunity to make extra cash and it's as easy as sharing the app with your clients. The Cash Back app provides you with the marketing tools to quickly and easily share the app with your network. Let's say that you share it with 100 people you know, and they share it with their family and friends. In just a month you could have built yourself a Shopping Community of 1000 members! You then earn a passive income when people from your Shopping Community shop and save with The Cash Back App.
Click here for more information on joining the merchant program.
WIN a weekend escape worth up to $1,000 + 1 of 3 exclusive business memberships
The Cash Back App is launching in Feb 2018! To celebrate, we're giving you the chance to WIN a weekend escape worth up to $1,000 + 1 of 3 exclusive business memberships!