Nurture Your Child's Creativity Anytime, Anywhere: Plus Your Chance to Win a Micador jR E.S.C.A.P.E Table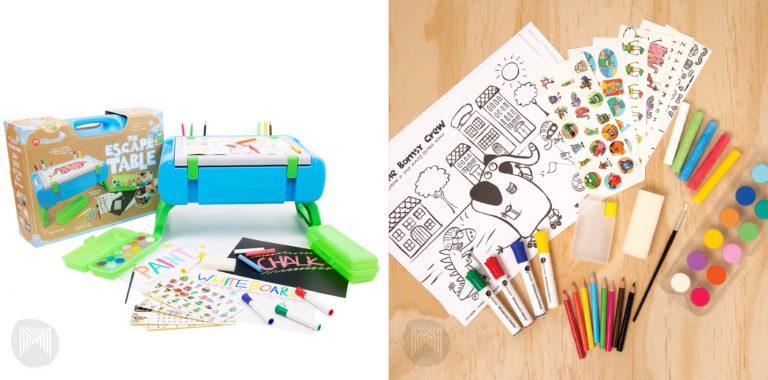 Nurture Your Child's Creativity Anytime, Anywhere: Plus Your Chance to Win a Micador jR E.S.C.A.P.E Table
Easel, Storage, Case, Art, Play, Everywhere! E.S.C.A.P.E!
This week the Kids Lounge Toy Testers have been busy putting the Micador jR E.S.C.A.P.E Table to the test, and it's fair to say it has been a massive hit with the kids and parents alike. Trust us, you won't hear your child telling you that they are bored and have nothing to do with this at hand. Better yet, as we discovered with our super cute Toy Testers, it's just as easy to take along with you everywhere as a tablet or similar device, with the added advantage of keeping little hands and minds busy whilst also encouraging creativity and developing those all-important fine motor skills.
The E.S.C.A.P.E Table has been designed specifically for children aged 3-8 years old, and is a storage case that cleverly converts into a table. Inside the case you'll find a large array of art materials including pencil cases and pencils, water colour paints with a water container and a paint brush, a chalkboard, chalks and a duster, sheets of paper, sticker sheets, activity sheets, white board markers and a white board! Seriously, what more could a little budding artist need?
At just $60, we think the Micador jR E.S.C.A.P.E Table represents fantastic value for money. It is lightweight for children to carry around easily, but is made from quality materials and is really sturdy too. Converting it from a case to a table is simple and can be done by your child without assistance (which is super handy especially if they decide to take it along with them to play with in the car). Interestingly, we found that our toy testers where only too happy to pack their things away into their case when they had finished using them, without being promptedbecause they wanted it to all be there ready for their next play session. Now, that's a parenting win, right?
We are giving the Micador JR E.S.C.A.P.E Table an unreserved double-thumbs up. The play possibilities are endless and anything that encourages children to spend less time on their devices and more time in engaging, creative activities gets our nod of approval.
The Micador Jr E.S.C.A.P.E Table is available from the Micador website and Kidstuff stores.

Win a Micador jR. E.S.C.A.P.E Table valued at $60
We've got one Micador jR. E.S.C.A.P.E Table up for grabs for one lucky reader!
For your chance to win simply watch the short video above of our Kids Lounge Toy Testers and complete the entry form below. Good luck!
a Rafflecopter giveaway