WIN 1 of 2 Mavella Superfoods for Kids Prize Packs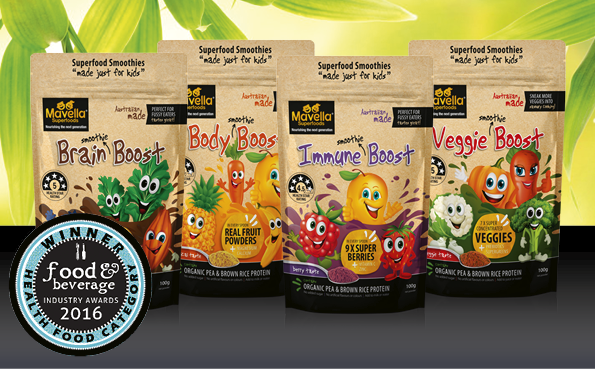 WIN 1 of 2 Mavella Superfoods for Kids Prize Packs
Mavella Superfoods is a brand created by two Aussie Mums, who like most parents have had their own personal struggles in getting their children to eat more vegetables, fruits and better nutrition.  The brand name is after their own kids names, Maverick and Ella – Mavella!
Mavella Superfoods is a range of functionality powders for kids and contains no hidden nasties, no artificial colours, flavours, sweeteners or preservatives. It is also vegetarian, dairy free, gmo free, soy free and gluten free. ALL NATURAL. Just goodness!
Just add to water, juice or milk and they have this amazing healthy drink for kids, or use the powders in cooking, such as sprinkling Veggie Boost into spaghetti bolognese.
They are perfect products for kids that are fussy eaters as each product in the Mavella Superfoods Boost Range has a different functional purpose for growing children. Their powders are unique not only in formula, but in taste. They taste amazing and kids love them!
There are 2 complete sets to be won. Each containing:
Immune Boost – fight away nasty germs
Body Boost – help growing bodies
Brain Boost – help kids focus
Veggie Boost – sneak in veggies
If you would love to get your hands on a complete set, thanks to
Mavella Superfoods
simply enter your details below and good luck!
ML – WIN 1 of 2 x Mavella Superfoods for KIds Prize Packs worth $95.80 each