WIN a JetKids® BedBox®Premium Travel Accessories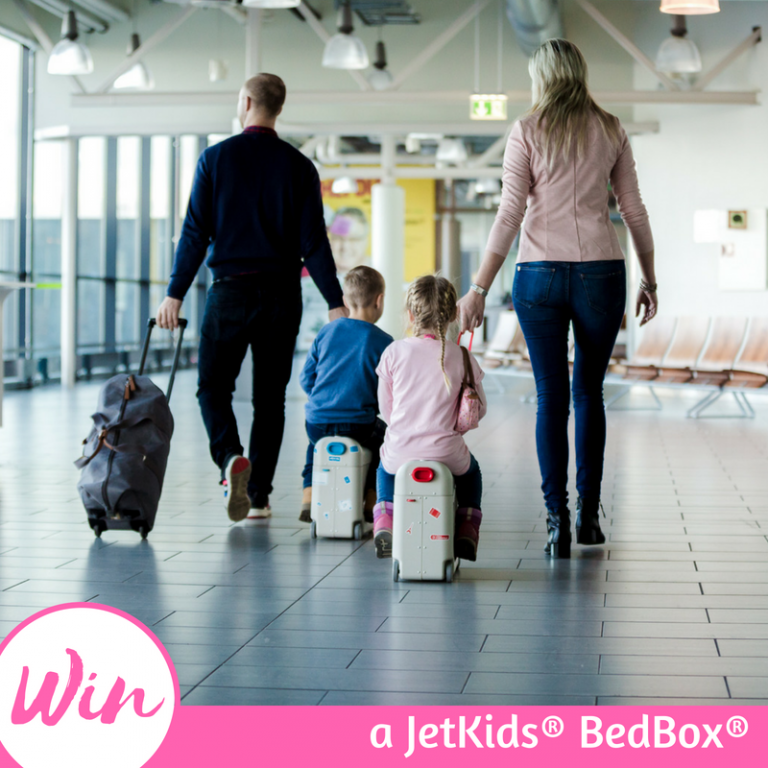 WIN a JetKids® BedBox®Premium Travel Accessories
1st Class Travel for Kids
Lets face it, travelling with young kids is not always full of giggles and smiles, so if we can find ways to make the process a little easier then sign me up. Having travelled both long and short haul with 4 little ones I can safely say that it is one of those occasions when the destination is definitely better than the journey. That was until we discovered the JetKids® BedBox®and the weight was literally lifted from our shoulders, all 20kg of him.
JetKids® BedBox®was designed by a former Norwegian Air Captain and his wife, a specialist in children's travel products, who spent years developing their innovative product designed to make parents and children's travel experience a much more relaxed one.
Firstly this is a ride on suitcase, so it scores high in the fun rankings and can be personally decorated by the kids with heaps of stickers to choose from to create their own unique design. It features 360 degrees swivel wheels in the front, so manoeuvrers fluidly making it quick and easy to whiz around the airport, train station or hotel and Mum or Dads load is a whole lot lighter when towing a little person rather than carrying them when their legs are tired.
The BedBox®is hand luggage dimensions with 20 litre volume which is plenty of storage, so the kids never have to be parted from their favourite or essential things and avoiding meltdowns over a missed teddy are easily avoided.
While the BedBox®is a fantastic ride on suitcase;the real game changer is that it quickly and easily converts a chair into a comfortable bed for getting a quick nap or a sleepor into a leg-rest so that the kids can put their feet up and relax in comfort.  It's been specially designed to act as an extension to most standard economy airline seats and works wellon board trainstoo. Neatly folded inside the suitcase lid is a soft washable mattress,still leaving plenty of storage space,and side cushions to give the kids that real 1stclass treatment and a comfortable well rested child is usually a much happier one, making travelling with kids a much more enjoyable experience all round.
The JetKids®BedBox®is an impressive and innovative design that combines fun, practicability and comfort all into one neat high quality little box on wheels. If you are planning on travelling with kids these holidays then add this to your must haves.
Thanks to our friends JetKids® we have one of these amazing BedBox® to GIVE AWAY to one of our lucky readers. If you know someone that would love to WIN this, simply enter your details below and good luck x