Review: 'Dirty Deeds, My Life Inside/Outside of AC/DC,' Mark Evans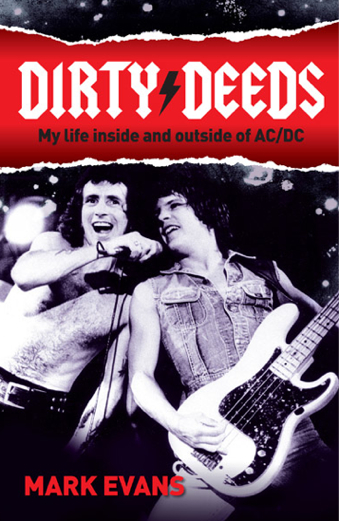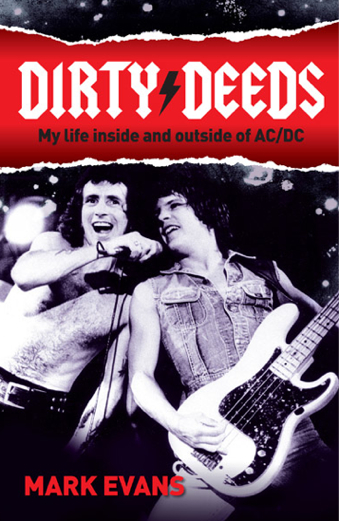 I've got to come clean, because those out there who know me, know that I'm not a huge AC/DC fan. They just weren't on my playlist as a teen, and I can't claim to be a late-adopter either.
Equally though, many of you would know that I like rock and roll a lot, and a good rock and roll story never goes astray on my reading pile. As such, when I was asked if I'd take a look at Mark Evan's autobiography Dirty Deeds (Allen and Unwin ) it was a no-brainer – I said yes and set my amp to eleven…
A few days after his nineteenth birthday, rock and roll lover Mark Evans wandered into his local to check out the band – and his life would never be the same again. Two days later he was playing his first show as bass player with AC/DC; within a week he was on Countdown, rocking out next to wildman Bon Scott, who was dressed as a pigtailed, cigarette-smoking schoolgirl – and waving a mallet – and Angus, who was, of course, decked out as a schoolboy. And all for the princely wage of $60 a week!
Mark's book is a roaring read, full to the brim with the sights, sounds and smells of Melbourne in the 70s. It's wonderfully authentic, gritty and unromantic. It's a personal story of growing up rough and as a result, fitting well into the rough-house music scene of Melbourne.
Mark's recount of loosing his father at a young age was touching, as you'd expect, as was the pragmatism with which he approached the independence he found himself possessing at just 16 years of age. From this young age, he backed himself, found work, found the pub scene and found music. A regular punter at many live-music venues around Melbourne, Mark discovered the bass guitar and in a case of being in the right place at the right time scored a spot playing with AC/DC…
"Anyway, as we sipped our beers at the Station, Steve and I got to talking.
'What have you been doing for work, mate?' I asked him. It was purely innocent question, but one that would change my life.
'I'm working with this new band called AC/DC. In fact, they need a bass player – what you doing right now?' was Steve's answer…
That one question from Steve was enough to change absolutely everything for me. I have often wondered what would have happened if I didn't ask him what he was up to. Still playing pool and getting pissed after work on a Friday night?"
From this point on Mark's autobiography is an intimate insight into the rise of one of Australia's most influential rock bands, complete with gig details and back-stage antics. It's a fascinating look back at the venues of the time – the Hard Rock Cafe, the Matthew Flinders Hotel, Festival Hall and of the bands of the era such as Rose Tattoo, The Angels and the Choirboys. As the book continues, AC/DC travel far from their original East St Kilda headquarters in Lawrence Road, finding a footing abroad and brushing shoulders (and at times, fists) with rock royalty.
By the time the tale hits 1977 I was deeply ensconced in the adventure. I was starting to understand how AC/DC had become such rock legends and I was excited to find out what the future held for the band. So much so, that I was legitimately shocked when Mark was sacked from the band. I knew it was coming, but it didn't make the shock any less palpable – I could imagine just how sick it made him feel, to have gotten 'a bullet from the band, my mates.'
Reassuringly though, the book moves on, as does Mark – to new bands, to family, to triumph and also to heartbreak. It's quite moving at its close, and Mark's message is clear – "Keep moving. Enjoy life. Never give up."
I've a new appreciation now for AC/CD, and also for the whole music scene of the time. I enjoyed the Melbourne music scene in the 90s, and it's fascinating to have been given an insight into the history of the people and places kicking around before I hit the pubs as a teen.
There's a very good chance that this book will have you pining just a little for a rawer, rougher time. I'd recommend it for sure.
Mums Lounge have 3 personally signed copies of 'Dirty Deeds' to giveaway in time for Christmas. To enter simply follow the instructions on the rafflecopter widget below.
This book was reviewed by Mandi Johnston, for her blog That Book You Like. You may also enjoy a visit to the TBYL website for lots of bookish fun!