Top Five Australian Authors This Month


This creative picture book details original illustrations of some of the beautiful, crazy and fantastical bugs and beasts that are hiding in our very own National Library of Australia (Canberra), with the added bonus of helping your child learn to count! A wonderfully educational story, this book also contains fun facts on each page – Did you know that flies jump backwards when they take off?

Winner of the Children's Book Council of Australia Honour Book and winner of the Booksellers Choice Award, this story chronicles the daily happenings of a cheeky wombat called Mothball. Jackie French creates an irresistible personality for her adorable wombat and children will delight in joining Mothball as she trains humans to become better pets. This is a laugh out loud story – whoever knew wombats could be so demanding?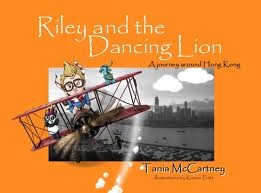 Join Riley and his two friends panda and dragon as they zoom around Hong Kong in Riley's little red plane, searching for the traditional dancing lion. One of four titles in the series, this story is exciting and educational for children, with real photographs of well-known Hong Kong sites. Other titles include original photography of Melbourne, Sydney, Canberra and Beijing – make geography fun!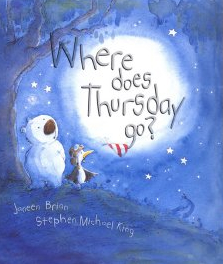 Any child who has ever wished their birthday would go on forever will love this book. Splodge and his friend Humbug go on a journey to discover what happens to Thursday. Beautifully written and with delightfully whimsical illustrations from Stephen Michael King, this book has been translated into 13 languages, won the Honour Book Award for Early Childhood and Notable for Picture Books; CBCA 2002.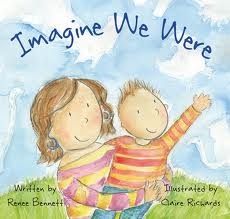 5. Imagine We Were – Rennee Bennett (© Wombat Books)
This story captures the attention of even the youngest child with soft and colourful illustrations of well-loved farm animals. With lots of opportunities to make animals noises and the rhythmical conclusion of endearing sentiments on each page this story will build up young children and make each one feel special.
Jasmine Berry is the creator of Read To My Child (www.readtomychild.com.au), a free website where she reads stories for children in a simple and natural video format. A lovely alternative to television at those busy moments in the day, Jasmine created the site for her own children and has now made it available to other busy mums and dads, with full permission to do so from the authors, illustrators and publishers of the books featured on her site. Enjoy!