12 Fascinating Facts About Disney on Ice Presents Frozen That Will Have You Rushing Out to Buy Your Tickets!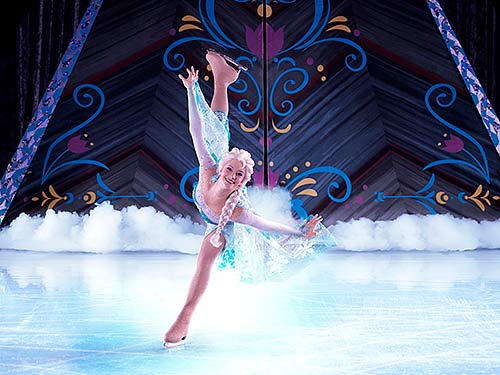 12 Fascinating Facts About Disney on Ice Presents Frozen That Will Have You Rushing Out to Buy Your Tickets!
If there ever was a Disney animation that was simply perfect to be performed on ice it has to be the Academy-award winning movie Frozen, right? We're getting excited chills down our spine just thinking about it!
Last week, Mums Lounge writer Julie Williams hit the ice rink in Canterbury NSW with her four year-old twins to find out more about the upcoming Disney on Ice presents Frozen show that is due to open in Perth on the 2nd June. Julie and her family were met by Australian TV personality and Disney on Ice ambassador Shelley Craft, who as well as being only too happy to pose for photos with the star-struck twins, also shared some very interesting facts about the spectacular show.
If you have ever wondered what goes on behind the scenes of a Disney on Ice production, this may give you a little bit of insight.
Disney on Ice presents Frozen Show Facts
Elsa's Ice Queen dress is made from hand-painted silk chiffon by world class costume desihgner, Parson-Meares, in New York.
Over 100 costumes and 650 accessories will adorn the skaters, created by Costume Designer, Dawna Oak and her creative team of 100 designers.
The 'ice floor' will be transported with the support of 16 trucks, and 20 staff and crew.
20 snow machines will create the magical kingdom.
40 litres of snow is produced for each show.
100's of lights and speakers will be erected, including a new spotlight tracking system which will be used for the first time in a Disney on Ice show.
More than 300,000 Aussies will attend the Disney on Ice presents Frozen show this year.
It takes around 20 hours to set up the production, and between 5 and 7 hours to tear it all back down.
The show features 18 male performers and 21 female.
Each cast member has between 1 and 5 costumes.
All 32 Trolls have a specific gender and a unique facial treatment.
The largest prop on the show is the bridge weighing around 1,200 lbs
Audiences of all ages will delight in seeing their favourite Frozen characters including Anna, Elsa, Kristoff, Sven and the adorable Olaf brought to life on the ice. Other beloved Disney characters Mickey Mouse, Minnie Mouse, Donald Duck and Goofy all make appearances throughout the show for a truly magical experience.
With price categories to suit different family budgets plus weekday and weekend performances, morning, afternoon and night shows, the Disney on Ice presents Frozen is the perfect family treat for the June/July school holidays.
Perth – Perth Arena  2-5 June
Adelaide – Adelaide Entertainment Centre  9-12 June
Wollongong – WIN Entertainment Centre  15-18 June
Newcastle – Newcastle Entertainment Centre  22- 25 June
Brisbane – Brisbane Entertainment Centre  29 June – 2 July
Melbourne – Hisense Arena  5-9 July
Sydney – Qudos Bank Arena, Sydney Olympic Park  12-17 July
For more details or to book your tickets visit www.disneyonice.com.au