Activities for the Family: Rugby with the Rabbitohs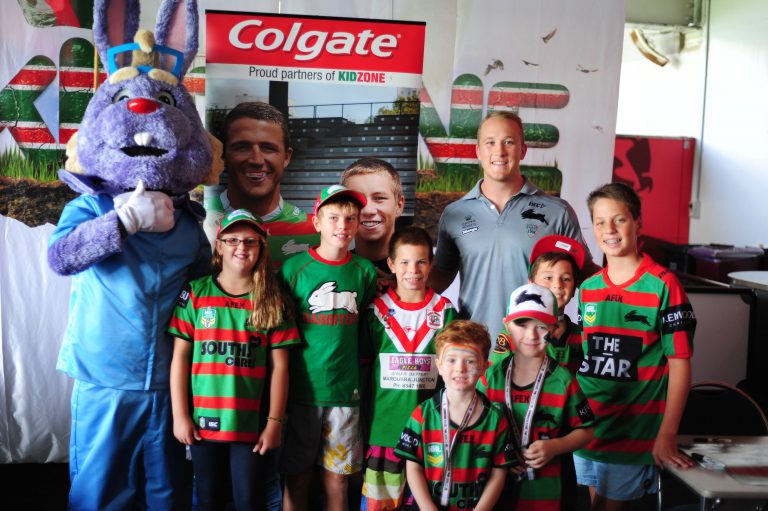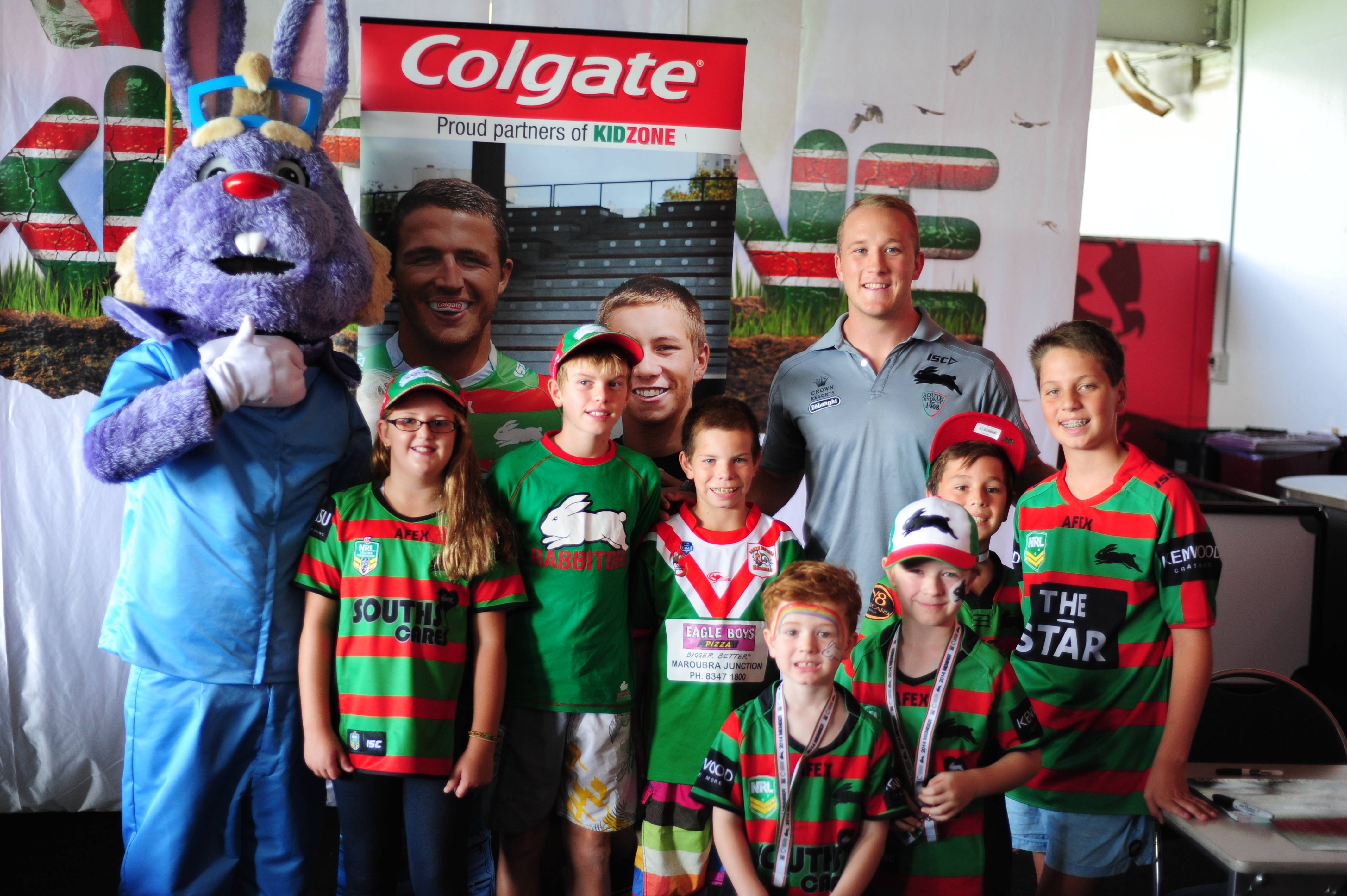 Activities for the Family:
Talking football and Colgate with Chris McQueen from the South Sydney Rabbitohs
My family and I had the chance to experience a South Sydney Rabbitohs home game and all that it offered. I took my husband and 2 small children, aged 1 and 3 to a Monday night home game at ANZ Stadium in Sydney. Let me tell you, we had the best time.
The atmosphere of the crowds is fantastic. Everyone is cheering and yelling, it's a great place for kids to use their "outside voice". On top of that at home games, there is a dedicated kids area. Up on level 2 there is a Kids Zone that has face painting, jumping castles, drawing stations, posters and flags to gather and more. If you're lucky you might spot a player or Dr Rabbit (the Colgate/Souths Cares mascot). All kids were given a toothbrush, toothpaste and tips on keeping those pearly whites clean and bright. This area is free to all kids there, but requires parents to stick around.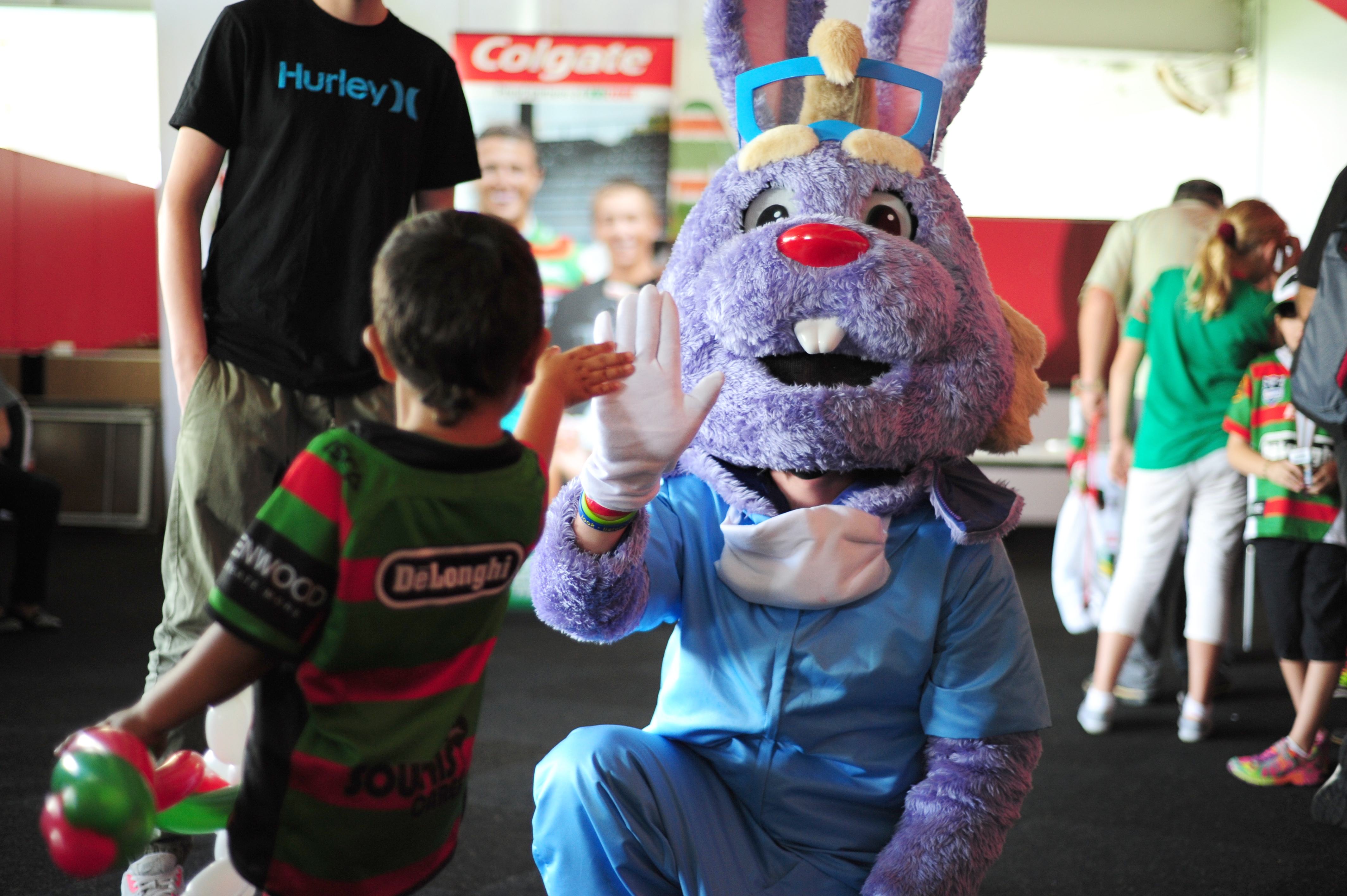 Photos used with permission.
After kick off I ventured to see what food and drinks they have on offer at the stadium. This is the part where it can cost a lot (see below). So it can be best to pack your own food – remember no glass or cans are allowed. But the best place to have a pie or hotdog is at the football. For the health conscious, they also sell fresh wraps, sushi and fruit salads.
During the game, Reggie Rabbit, the Rabbitohs mascot, walks around the field shaking hands and taking photos with the kids. It's great fun to meet him and help cheer the team on together.
'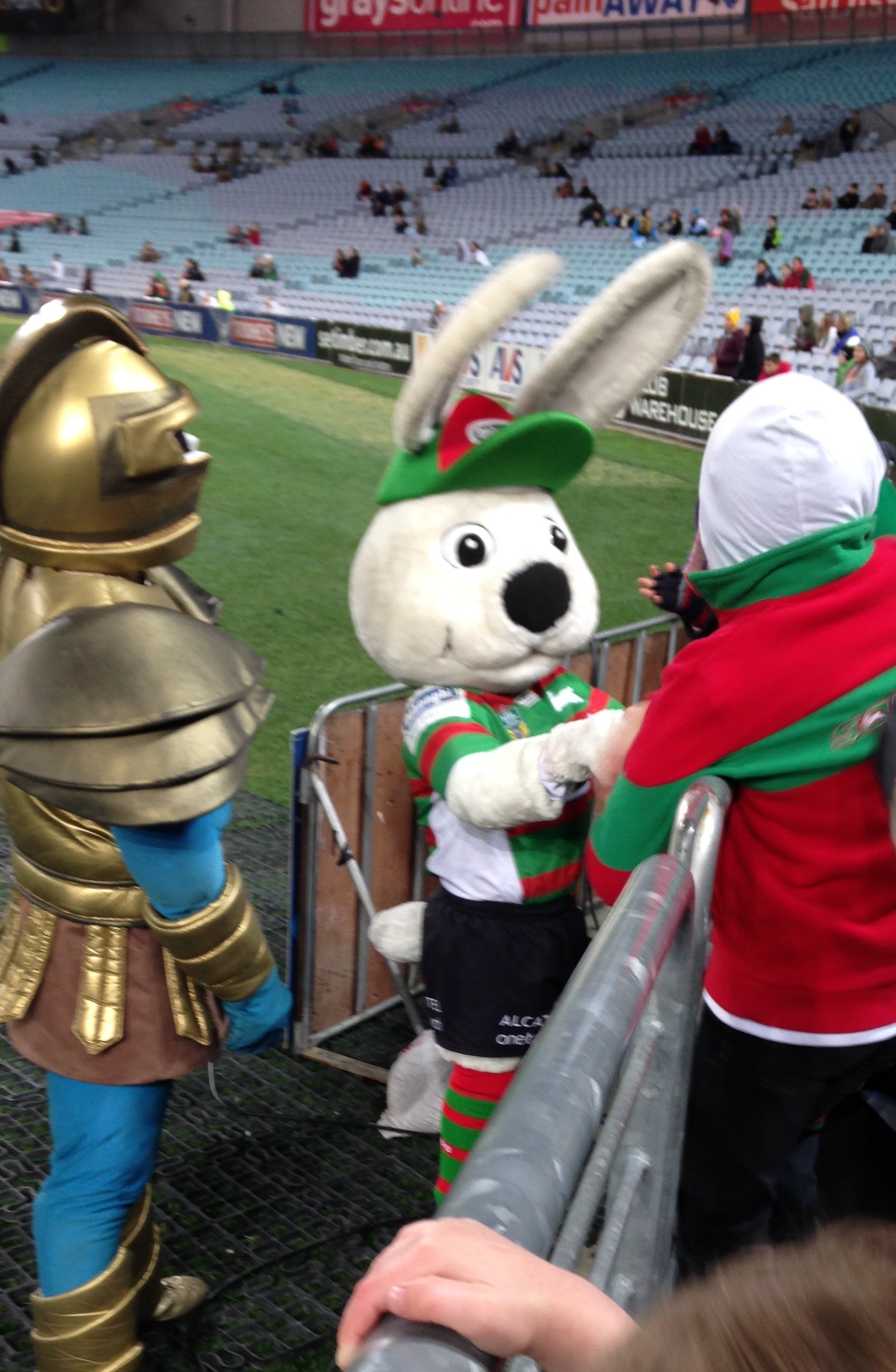 Photo credit: Jen Stokes
During the night, I was lucky enough to meet injured back-rower Chris McQueen from the Rabbitohs and have a chat to him about football, injuries and how Colgate is working with the team.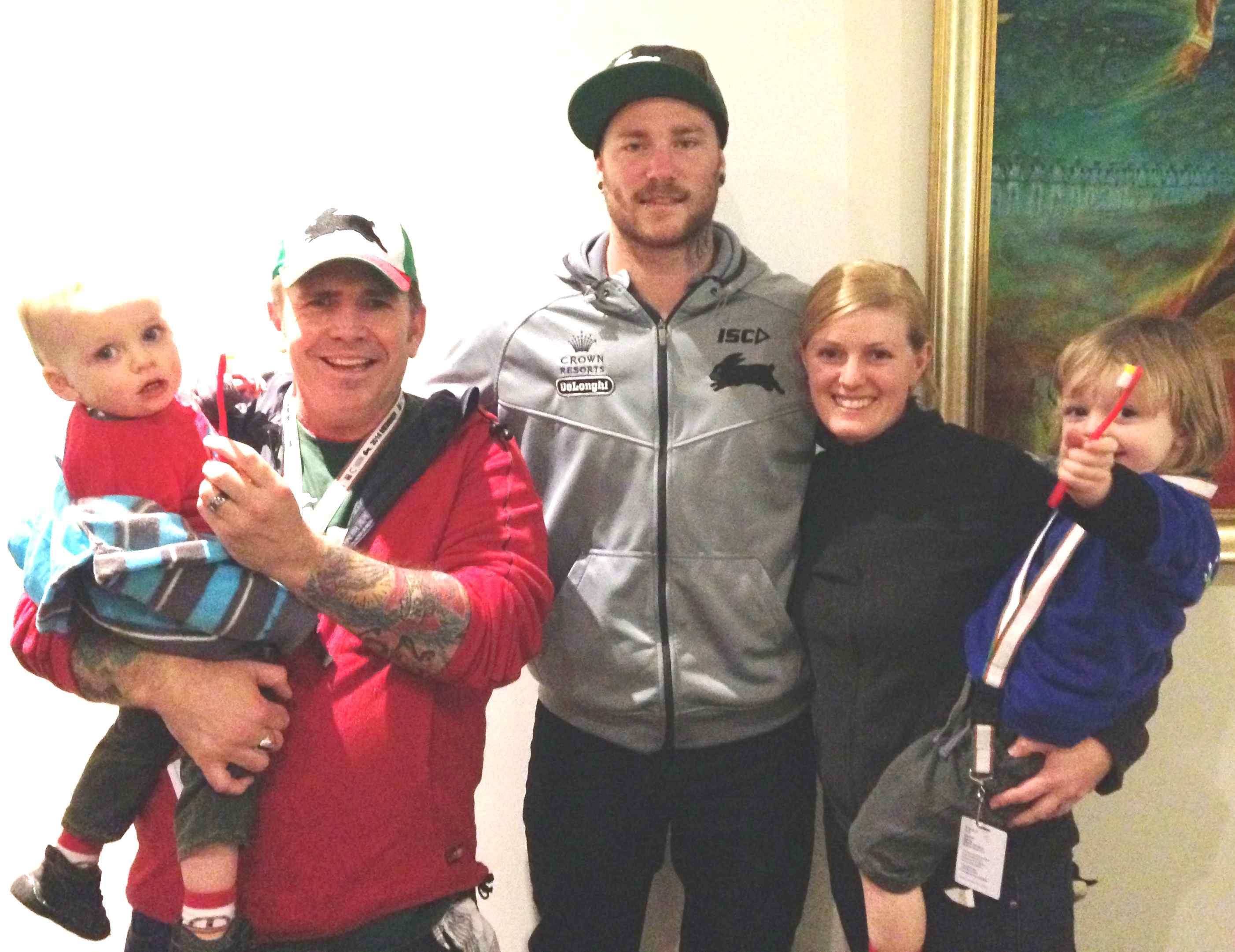 Photo Credit: Jen Stokes.
I asked him how his mother taught him to brush his teeth.
"Ha, it was a bit of a battle, she was a single mum with 3 boys. She used to drag us to the bathroom and shove the brush in our mouth, hoping it stuck. It's still a battle."
Chris recommends to brush twice daily, especially in the morning and before bed, staying away from sweet treats, and to wear mouthguards while playing football.
Colgate has supplied the team with mouthguards to wear during games to protect their teeth. They also support the players to get out to schools to educate children on the importance of dental hygiene. Chris really enjoys meeting kids and the new fans. He grew up in a country town so didn't get to see football players much so he loves giving back to the kids and putting a smile on their face.
Currently injured, Chris is out for the next few weeks. He was a footy fan before being a player, but loves playing the game.
"It's frustrating being injured and not being out there, but I enjoy watching the boys. It's easier if they win. I'm pretty confident they will get the job done."
Sadly, they lost that night.
So if you want a casual fun family night out, then head out to a Rugby League match. Even better, sign up to be a member of your team and get behind the players.
The cost breakdown for one game at ANZ Stadium:
Tickets: GA ranges from $20-$50. Family tickets are available and sometimes there are 2 for 1 deals. Tickets can be purchased through www.ticketek.com.au
Parking: $25 pre-paid before the game.
Or take public transport to Olympic Park.
Food: BYO or purchase there. A pie, drink and hot chips can cost about $15.
If you do BYO, remember no glass or cans are allowed. Bags are checked upon entry. For an extensive list, please refer to www.anzstadium.com.au
Merchandise: anywhere from $15 to $100.
Memberships: from $75 for a 3 game pass. Visit your team's website for more details.
I'd like to thank Jim from One Green Bean and Chris McQueen from the South Sydney Rabbitohs for showing us a great night.
What are your favourite activities for the family?
By Jen Stokes – Another mummy-blogger @ justicemum
Being a stay at home mum to 2 beautiful, wonderful and extremely energetic young boys, it always gives me some great stories to write about. Becoming a mum was the best thing I have ever done and I love that through writing I can express my feelings and experiences (good and bad) to other mums.

You can enjoy my blog at justicemum.wordpress.com