Jenolan Caves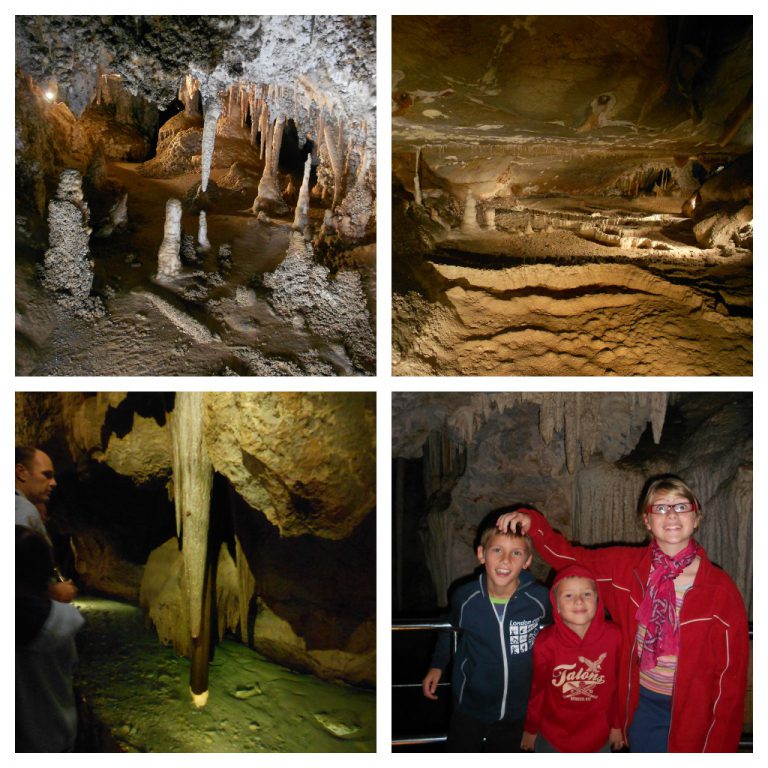 One of the sweetest parts of parenthood for me is the chance to relive the best parts of my own childhood. Sometimes, the things I loved as a kid don't quite hit the same highs with my own children. The Neverending Story on DVD was our latest bomb. Unperturbed, I was determined to run the highlight reel and show my children something that enthralled me as a child. So we packed up the car and headed out to Jenolan Caves.
Intrepid explorers started poking around in the caves at Jenolan in the 1880s with nothing more than a candle to light their way. It's hard to understand what made them decide to venture in there in the first place, but I'm so glad they did. Those brave men-and they were all men- uncovered some of nature's most stunning gems.
I swotted up on the Caves' website before we left home, so I knew that it would be a chilly 16deg Celsius once we were in the cave system. I'd packed jeans, tracksuit pants and jumpers for the whole family and we all wore joggers. It proved to be a smart decision, as there were people shivering through the tour in shorts, singlet tops and thongs. As the limestone formations are created by the flow and drip of water and many of the formations are still actively growing, water is still seeping through the cave system. In many places the floor was wet, though we didn't find it slippery underfoot.
We lined up with a big group to visit our first cave, the Lucas Cave. At 910 steps and 860m, the Lucas is classed as 'strenuous'. Among our group was a family with a toddler in a backpack. Along the walkway, there was a couple of places where the stairs go up steeply and in a tight space. Not in a claustrophobic way, just in a trying-to-get-through-the-supermarket-checkout-with-a-pregnant-belly-and-a-pram kind of way. My hubby was carrying a backpack with our water bottle and jumpers in it, and felt the bag catch in a couple of spots, so it must have been a bit of a juggle for the other dad with a baby on board.
Our guide told us how the 'speleothems' or cave formations grow on the limestone walls and my kids now know the difference between stalactites and stalagmites, helictites and shawls. The scientific information is generally aimed at the right level: detailed enough to inform an adult and not enough to bore the average six year old.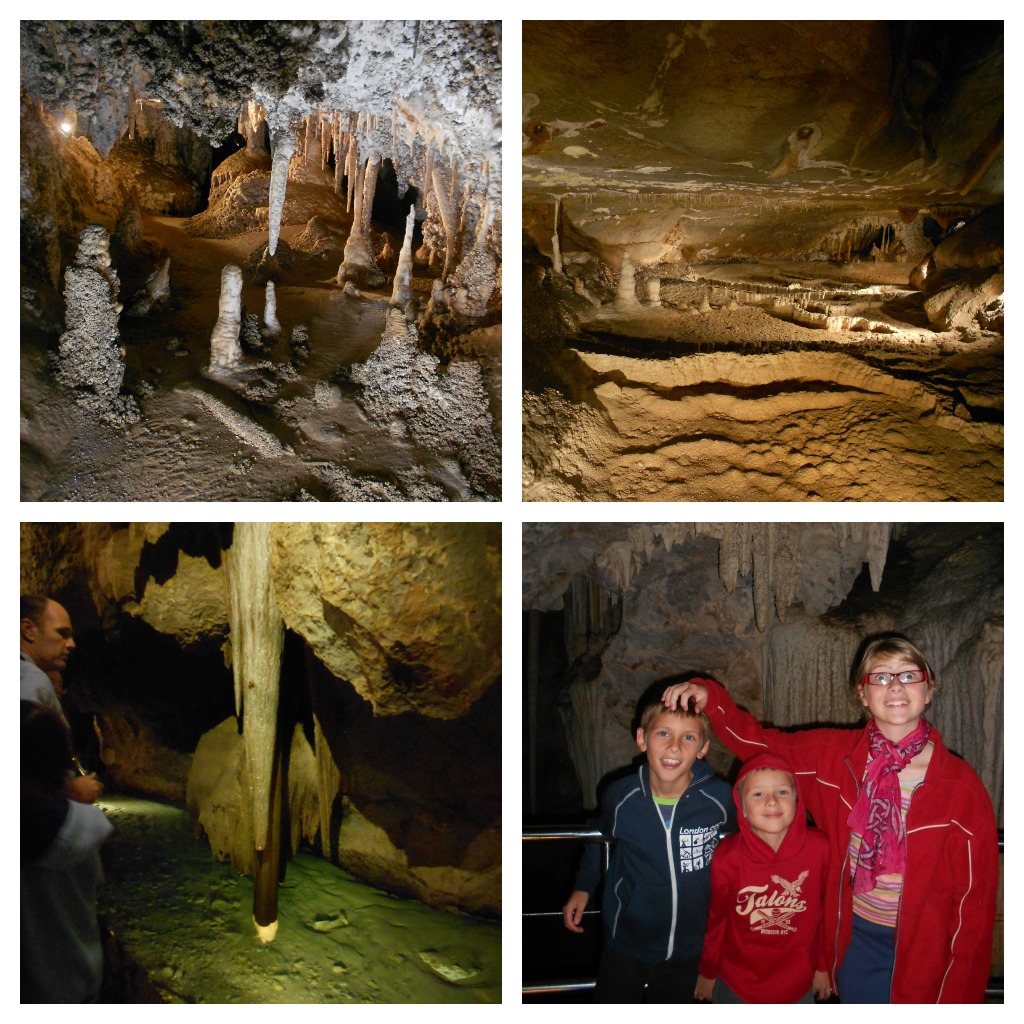 If the word 'cave' sends chills down your spine and thoughts of dark, confined spaces racing around your brain, fear not. Throughout many of the show caves are large, open, tall chambers that fit 30 or more people comfortably. Concerts are even held in the Lucas Cave, so there is plenty of space to stand and move around. The caves are also well-lit, so there's no fear of encroaching darkness.
At one point in our tour, the guide turned off all the lights, to demonstrate just how dark it was for the first cave explorers. And it was dark. Very dark. It was so pitch black, that I couldn't see my hand in front of my face. It was a moment our six year old son won't easily forget. Even though we knew it was going to happen and it was only for about 45 seconds, it felt like a very long time for him and he was a bit scared. After a few good cuddles and holding hands with Mum for a while, he got over his anxiety and ended up at the front of the group, keen to see more. We were all happy to see daylight at the end of the tour and gladly refuelled with some afternoon tea at the shaded picnic tables.
Enticed by the name, I'd chosen the Diamond Cave for our second tour. With half the amount of steps, the Diamond Cave felt much easier that the Lucas, but we did spend a fair chunk of time bent almost double to avoid the low ceiling. Mr Six managed to avoid ducking at all, but both our nine- and eleven- year olds had to crouch. Our eldest lost concentration for a moment and ended up with a memento of the Diamond Cave- an egg on her head. Our group included some fit retirees who managed the tour easily, but if you were in the late stages of pregnancy or had a bad back, this cave would be a tricky one to get through. The contortions were worth it, though. Glimmering crystals of white, pink and apricot dazzle from their hidey holes and the crystal river pool was one of the prettiest things I've ever seen. The water was so clean and clear that I had to tell my sons more than once that they were definitely NOT allowed to get in for a swim, as they inched closer and closer towards the barrier rope. Inviting was an understatement. That pool was so stunning, I was tempted to get in for a dip myself, despite the chill in the air.
Two cave tours in one afternoon proved plenty for our family. Altogether, we'd walked a bit over two kilometres underground and negotiated 1328 steps. We'd learned lots and seen even more, but it was time to get everyone fed and rested. I was thankful that we didn't have far to go to get to our accommodation. As we visited in the middle of the school holidays, we'd planned our trip mid-week and managed to snare one of the Jenolan Cottages just eight kilometres up the windy, twisty road.
When we arrived at the cottage, the grass in front of our little cabin was full of kangaroos and wallabies. Some were being hand-fed by members of a family who'd shared a cave tour with us earlier in the day. "Come see these ones" said the father. "They like chips and Twisties." Hmm. Not quite an everyday food for a kangaroo.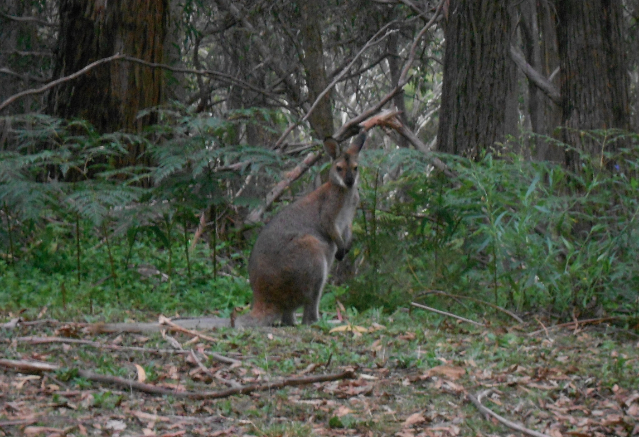 In our clean and simple cottage, signs on the wall implored us not to feed the wildlife as they can become aggressive and get sick. Instead, we just gave them some attention and took some photos.
After being in the car and then underground all afternoon, the kids burned off some energy on the play equipment as Dad cooked some steaks on the free gas barbecue. The clouds started to roll in and the whole place was enveloped in a magical mist, unlike anything we usually see at home. Even though it wasn't really that cold, it felt blissful to have the gas fire on, even if it was only for a little while.
We tucked into our dinner at the tiny table and fought over whose turn it was to do the washing up. The kids had already worked out which two would get the top bunks and we were happy that our room had a queen-sized bed. The fact that all linen was included was an added bonus.
The Jenolan Caves website had warned that there was neither tv or mobile reception at the cottage, but we'd brought a DVD from home and settled in to watch a family movie together. After such a big day, there were no arguments at bedtime. It was so dark in the night, that one child had to be guided back to bed after becoming disoriented on a night-time visit to the loo. Next time, I will pack a plug-in night-light for the bathroom.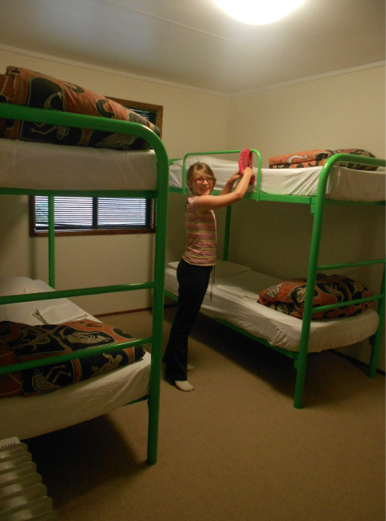 The following morning, the mist was still hanging around, thicker than ever. To my utter delight, we jumped out of bed, threw everything in our bags and headed down to Caves House for brekky. The wallabies gathered for our farewell and with tummies rumbling, we drove back to Jenolan for a big buffet breakfast.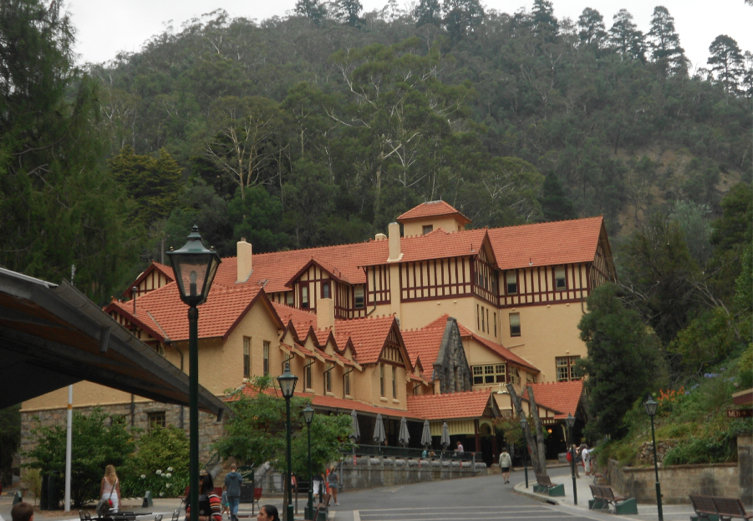 Caves House was built in the Victorian era and it retains much of its original elegance. The grand dining room is lovely and ornate, with high ceilings and photos that date back to the 1800s. Seeing photos of lady visitors in their old fashioned long dresses, high lace collars and large hats, I felt slightly under-dressed in my jeans, joggers and jacket. Then I saw the buffet, chock full with bacon and eggs and pastries and toast and cereal and fruit and yoghurt, and I'm no longer thinking about what I look like.
With a good breakfast under (and maybe a little bit over) our belts, we walk the few metres down the road to meet the guide for our last tour. The Orient Cave was recommended to me when I booked our tickets, and I'm so glad the suggestion was made. We all agreed that this cave was our favourite.
The Orient Cave contains all the same types of formations that we had seen in the other caves, but bigger and better, almost as if it was a cave on steroids. In one cathedral-like chamber, the ceiling soared, embellished with stripy coloured shawls, stalagmites with attitude, carrot-coloured 'chandeliers', glittering flowstone and kinky little icicle-like helictites. We stepped through The Jungle and down into the Egyptian Chamber, with its mammoth tree-like formations that took our breath away. And none of us will forget the steep, steep steps down into the Well to see the Bacon Shop and spot the Fairies Toilet Seat. Sound intriguing? That's because it is.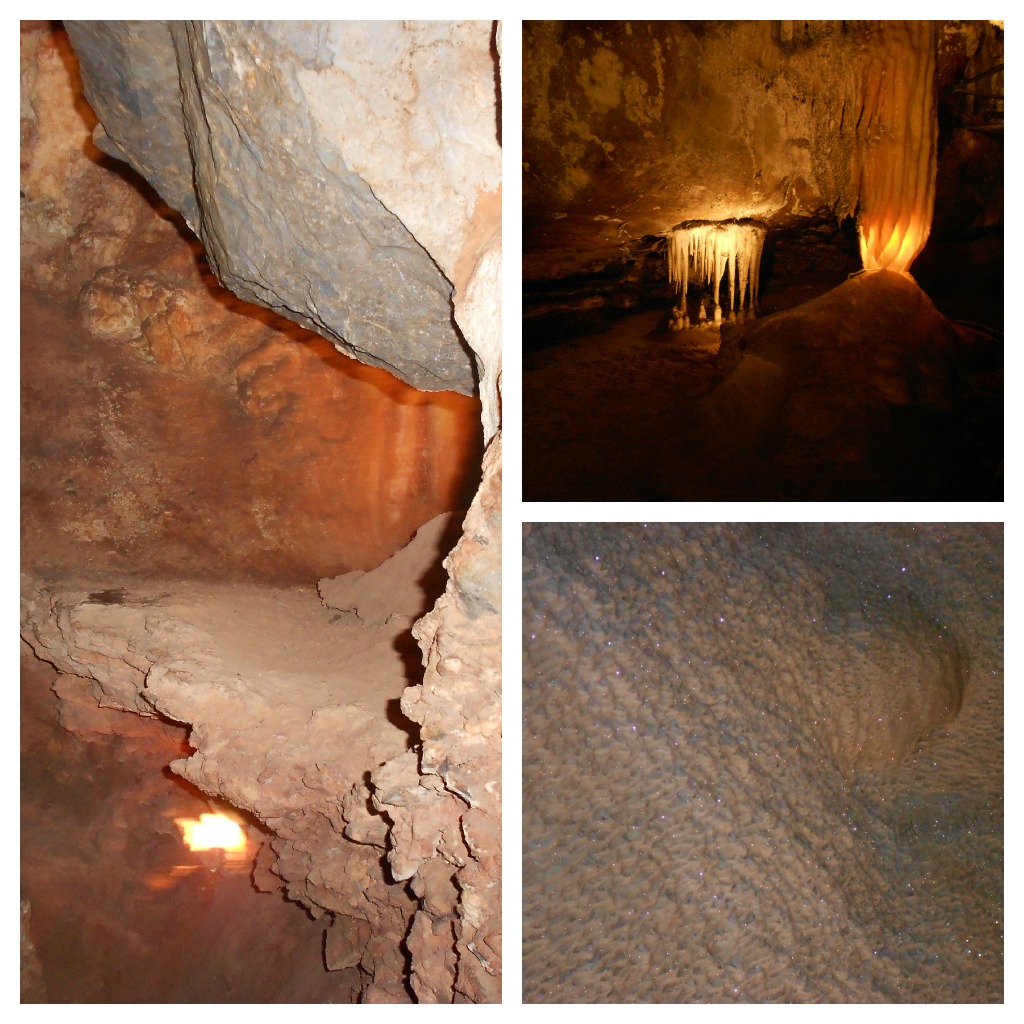 Jenolan Caves fascinated people when they were first discovered, over 140 years ago. With all the technology that we have available to us today, it is still impossible for us to manufacture the glories inside the caves. There is something primal about being underground and looking at things that were created drop by drop, crystal upon crystal over a long period of time, as if by magic. I think that's what mesmerized me when I visited as a kid, and I was content to see that look of captivation reflected in the faces of my children.
http://www.jenolancaves.org.au/
When you visit…
Be aware that the walk up to the car park is very steep and includes quite a few stairs, so remember to bring down everything from the car you might need while in the caves. There is plenty of free parking and toilets located next to the carpark.
Shaded picnic tables mean guests can bring food from home (leave the esky in the car while you are in the caves) or grab a bite from the on-site bistro or restaurant.
There are plenty of clean toilets throughout the precinct and a baby-change room near the guides office.
There is very little or no mobile coverage at Jenolan. Also, there are no shops or petrol stations.
Take note of any minimum ages when booking caves tours and check out the Plughole Adventure Tours for kids aged ten and up. Also, check the Specials section of www.jenolancaves.org.au for deals.
Take the walk around the Blue Lake and meander around the other bushwalks on-site, ranging from 20 mins to 3 hours return. Make sure you have time to grab the free Acoustiguide and walk the self-guided Nettle Cave.
Download the free Jenolan Caves iPhone app for a self-guided tour of Nettle Cave. Both adult and kid-friendly versions are available. Not currently available for Android.
Disclaimer: Jodie and her family received free cave tour tickets but covered all other costs.
Jodie McEwen is a freelance writer, one-time magazine editor and mum of three. She has shamelessly exploited her children for inspiration in blogs, magazine features and web articles for the last five years. Over time, Jodie's children have labelled her 'the best mum ever' and 'the meanest mother in the world.' She wears both badges with pride. To find out what she's up to currently, click here.