What to Pack for a Resort Holiday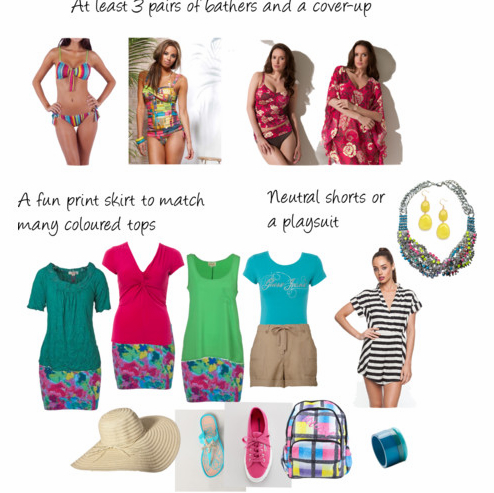 Are you fortunate enough to be holidaying in a resort this year? This is something I dream about each up and coming summer.
Imagine lying on some lounger by the pool or beautiful beach in the Whitsundays or somewhere exotic with a lovely cool cocktail in hand, children no-where in sight, being entertained, with a great book or just snoozing when the urge takes you and grazing at the delicious banquet meals served each day. "Sounds good?"
We were lucky enough to enjoy a holiday ourselves at Long Island resort when we first moved over to Australia. However, because all of our gear had been packed into a container about 6 weeks prior to leaving we were left with quite a bit of clothing to stuff in our suitcase, which had to accommodate the hot Victorian weather and what we wanted for the "holiday" part of our journey. I soon learned after we arrived that I was not really prepared to look stylish for my lazy days in the sun and had to "make do" with what I could find.
Ideally you need to take a capsule wardrobe of clothes that compliment one another and suits the needs of your holiday without taking up to much room in your suitcase.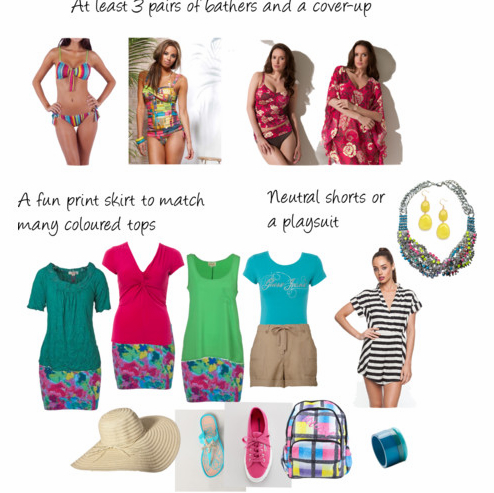 Here is my list of essential clothing items:
• At least 3 bathing suits/bikini – (as you tend to lounge in them most of the day), a tankini is useful as it can double as another top
• A cover-up to slip on top so not to get too sunburned. One that can double as a dress is always handy.
• 3-4 comfortable tops, in lightweight poly/cotton/mix fabrics as they are cool and pack light.
• A fun casual skirt in a print – one that makes you feel like your on holiday
• A pair of neutral shorts – when you want to walk off some of the food or have a game of tennis.
• A playsuit can be fun and practical – you can slip it over your bikini, enjoy a meal at the restaurant or a drink at the bar or go sightseeing comfortably.
• A stylish wide brimmed hat – keep the brim no wider then your shoulders for a balanced look.
• Lightweight Sneakers
• Decorative thongs/flip-flops
• Day backpack – handy for those day trips to another island or market
• A Maxi or full-length Jumpsuit
• A Shrug – for a cool evening breeze
• Decorative or Print sandals or wedges
• Chunky or bright accessories – they are more durable and less likely to be lost then fine jewellery
• An evening clutch but keep it simple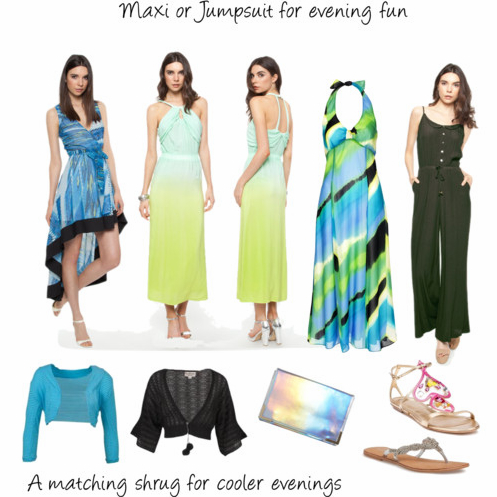 Often for the evening it's great to have something a bit dressier such as a Maxi dress or even a jumpsuit, which can be lovely and cool to wear for a night's entertainment. Remember that a knit fabric won't require ironing!
So with some careful planning you can have everything you need in your suitcase so you can relax and enjoy your holiday in true style!
You can view details of these items at polyvore
Joanne McEwen is an Image, Style & Colour Consultant at Image Sense based in Geelong, Victoria. She draws her wealth of knowledge from having worked in the fashion industry for over 25 years. Working as a designer and patternmaker gave her insight into the challenges that "off the rack" clothing brings too many of us.
Using her Image, style and Colour training partnered with her experience, gives Joanne the edge in offering expert advice in Image and Style as well as analysing Personal Colours, Wardrobe editing, & personal shopping for her clients. Her clients often consist of mums just like you who need to know "how I do I dress for my figure now?"
Joanne enjoys working closely with her clientele to achieve their desired results while expressing their personality through their image, & flattering their natural shape, with the designs & colours that suit them individually. She takes her natural flair & artistic eye for colour & design combining it with her attention to detail to offer a service that empowers people to look their best, feel their best and to be their best.
Enjoy my latest ebook "Swimwear Style Secrets" – The Ultimate guide to choosing your swimwear before you purchase your next swimsuit.
Receive my FREE "A-Z of fabulous style tips", when you sign-up for my monthly e-zine full of insider style tips and specials. Read my Image Sense Style blog for more articles on dressing for your body shape & personality.
Connect with me on Facebook, twitter, pinterest, linkedin, google+ youtube