Whats on March – NSW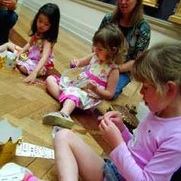 Sydney Royal Easter Show – The Royal Easter Show is the largest
agricultural show in the southern hemisphere and offers a variety of
activities to suit any age, taste or budget.

Save up to 15% on Family tickets and 10% on individual Adult, Child and Concession ShowLink tickets if you purchase by 6 March 2013 online. Kids under 3 FREE.

With everything from the cute and cuddly to the sublime and the surreal, a fun day is ensured for all!

World's Biggest Playgroup Day 2013 – Playgroup NSW is hosting the Worlds Biggest Playgroup Day 2013 at
Tumbalong Park, Darling Harbour on Wednesday 20 March 2013 as the
highlight of the National Playgroup Week 2013. Make sure you save the
date to attend this fantastic event

Babies Proms – Meeting Mozart at the Sydney Opera House March 6-17.
Babies Proms have been running for over 30 years at Sydney Opera
House and remain the perfect introduction to live performance for
children aged 2 – 5. Watch with delight as renowned pianist Simon Tedeschi assumes
the persona of the musical wunderkind himself. Mozart will introduce the
audience to a range of his music, from 'Twinkle, Twinkle, Little Star'
to his great orchestral pieces. You'll meet various instruments in the
Babies Proms ensemble along the way, and discover some of our best-known
and loved classical music.

Chinese Rhyme TIme – Monday 4 February to Tuesday 9 April – Bilingual Storytime is a fun session of storytelling and craft
activities for preschoolers. Stories are read in Mandarin and English.
Chinese Rhymetime is an animated sing-along session in Mandarin for
babies and toddlers. Both sessions support language and literacy
development as well as providing a wonderful experience in sharing
cultures.