Whats On September – VIC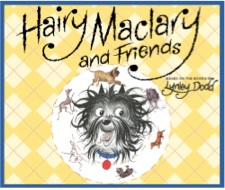 Hairy Maclary and Friends – Locations throughout Victoria from 24th – 30th September – Hairy Maclary and Friends is an adaptation of the much-loved Hairy Maclary children's books, by celebrated writer, Lynley Dodd. Featuring the characters from the books like Hercules Morse – as big as a horse, Bottomley Potts – covered in spots, Schnitzel von Krumm with the very low tum and Scarface Claw, the toughest tomcat in town. With music, singing and some of your favourite Hairy Maclary stories, this show is a must-see for the whole family.

Wallace & Gromit's World of Invention – Saturday 19th of May 2012 to Sunday 11th of November 2012 – Daily 10am to 4.30pm – Explore 62 West Wallaby Street, a life-size version of Wallace and
Gromit's home and discover how simple ideas transform into life-changing
inventions. Join the Oscar® winning duo as they guide you through
their home, a world of cracking interactive contraptions, hands-on
activities, games and more!
More Information

Royal Melbourne Show – 22nd Sept. to 2nd October 2012 – See thousands of animals up close, taste award winning food and wine, trial new products, have fun learning, enjoy live entertainment and amazing new attractions, experience all the fun of carnival rides and showbags, spectacular fireworks and much more with family and friends.

Thurs 27, Fri 28 and Sun 30 September, 10.30am and 12.30pm
Ages: 8-12
Please note: this workshop is not suitable for children under eight years.
Pricing$25
All kids must be accompanied by an adult. Accompanying adult free. Learn all about dance from the best in the business – The Australian Ballet's Dance Education Ensemble – in this fun, relaxed workshop during the September school holidays. Suitable for boys and girls with and without dance training or experience. Then, using their imagination and guidance from the dancers, the children will work together to create their own dances.
More Information
Tuesday 25 and Friday 28 September, Trop Jr Filmmaking Course Learn all the skills needed to enter Australia's largest short film festival for kids – Trop Jr! This five–day course spread over 10 weeks is designed to teach young people the skills to make a short film to be entered in Trop Jr.
During the course, kids will get the inside scoop on scriptwriting,
cinematography and sound recording. In their own time they'll write and
shoot their film and then return to Arts Centre Melbourne to learn the
art of post–production using our editing facilities and vocal booth.
More Information

Born to Fly A FREE 3 day kids' holiday program focused on character building
encompassing craft, song, dance and play (Running since 2005). Catering
inclusive. 649 Ferntree Gully Rd, Glen Waverley, 3150, Melway: 71 C8Phone
number: 04 79072998 Email: [email protected] Free
event – It is a completely free event for the children, food will be
catered, do inform us of their allergies when registering your child on
our website. Donations for the future events would be appreciated. Online registrations for 2012 are now OPEN. Please ensure all terms
and conditions is read and agreed as some changes have been made this
year, thank you.
Written by www.whatson4littleones.com.au.