10 Easter Gifts That Don't Include Chocolate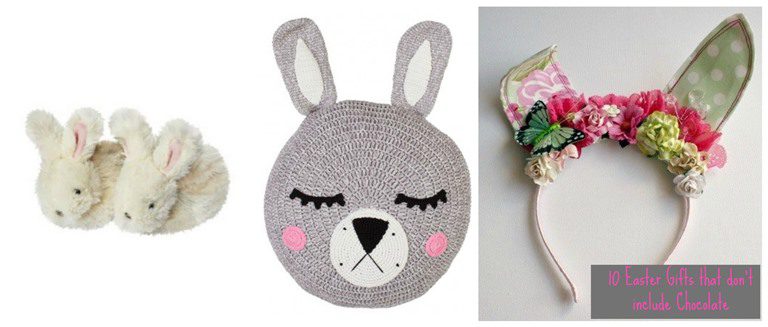 10 Easter Gifts That Don't Include Chocolate
You only have to walk into a grocery store to be reminded that Easter is coming up. Freshly baked hot cross buns and chocolate eggs have been on the shelves since Boxing Day.
It's a special time of year, but it can often be swamped with sweetness from chocolate eggs.
If you are wanting to give an Easter gift that doesn't include chocolate, this is the post for you. We have come up with a guide for 10 Easter gifts that don't include Chocolate which will appeal to both boys and girls alike.
1. A bunny cushion is a gorgeous gift that can be cuddled, snuggled into or placed on top of  a children's bed. This cute knit cushion is available online.
2. This Vintage Fairy headband is so cute and adorable. It's floral and butterfly features add a whimsical touch to the bunny ears.
3. This Colour in Easter Tablecloth will keep children busy on the school holidays and once finished will add an Easter décor touch to the dinner table.
4. Bunny Slippers are the perfect gift for babies who aren't yet able to eat chocolate. They are so cute and snuggly, everyone will want to pat the baby's toes.
5. For infants and one year olds, this Wedgewood Peter Rabbit two-handled cup would be a great and thoughtful gift. This type of gift is perfect for a first Easter as it will become a memento into adulthood.
6. Cotton On has a fabulous range of bunny totes and bags that would be perfect for Easter. Who could refuse this very trendy striped bag with a sparkly bunny motif?
7.  Easter marks the change in the seasons with the onslaught of cooler weather. Long sleeve pyjamas are a thoughtful and warming gift.
8. The newly adapted Peter Rabbit is fast becoming a favourite show amongst kids. Why not purchase them a DVD from the series.
9. A new book is always a good idea and another way to make bedtime reading interesting.
10. The one thing after chocolate that appeals to kids most is a soft toy. This plush Peter Rabbit will definitely be a well loved gift.
Have you started planning for Easter yet? Which gifts might appeal to your children?