16 Year Old Writes a Book to Help Children with 'Comparison Culture' After Battling Eating Disorder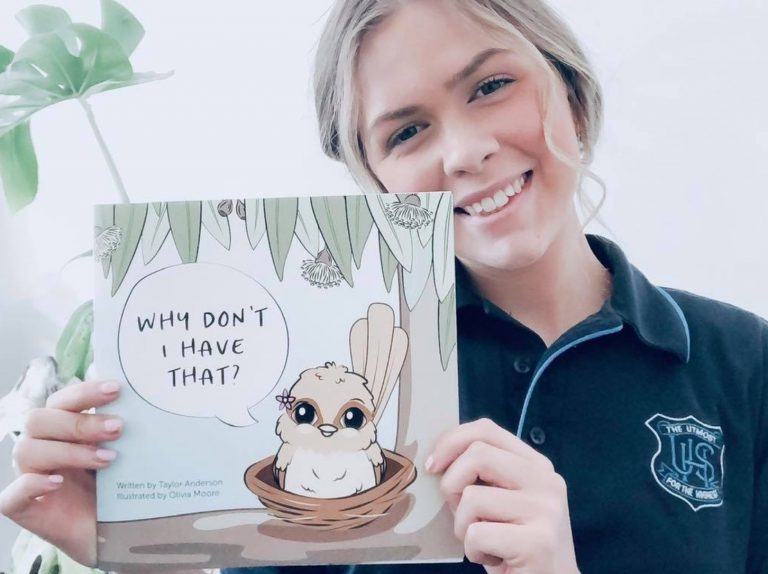 Chances are, if you have social media and use it regularly, you'll be familiar with that pang of envy that creeps up on you when you're scrolling through your feed and see someone with a better home, a better job, a better body….you know what I 'm talking about, right? Whilst humans are hardwired to look around and compare ourselves to others, social media not only intensifies this, it allows people to filter and enhance the bits of their life they want others to see. So we end up comparing our low points to other peoples highly edited highlight reel, and it can be damaging to our self-esteem, especially for children and teens.
Taylor, Anderson ,a 16 year old Adelaide schoolgirl, has written a children's book that can be used as an intervention tool to raise awareness about the danger of comparison culture. Having been diagnosed with anorexia nervosa, Taylor identifies comparison culture as a prominent factor in her eating disorder.
In a recent radio interview on Mix 102.3, Taylor explained "I have always been someone that has had no problem with how I look, my body image, anything like that. I've always been really confident and out-going, and really bubbly. Then last year I started running with my brother and my intention was just to be healthier and to try something new and then my brother moved out and I kept running and started to see the numbers going down on the scale, and I just kind of assumed something was working. My intention was not to get sick, but it just took over my whole life, and then I started struggling with my food."
At a GP visit, it was discovered that not only was Taylor's body weight low, her blood pressure and heart rate were also dangerously low, and she was placed onto a recovery program.
Proud mum Hayley Anderson says she is inspired by her daughter for creating such a positive outcome from an awful situation.
"At age 16, for her to be willing not only to share her vulnerability, but to use it as a platform to raise awareness on a larger scale is remarkable. I am so inspired by how she has turned the most harrowing experience of her life into something so positive."
"I wrote "Why Don't I Have That?" as part of my research project as an early intervention tool for children aged 3-8 years, to reduce the potential future negative impact of comparison culture," explains Taylor.
"Having been diagnosed with an eating disorder at age 15, I am passionate about helping young children understand the dangers of unhealthy comparison, as they learn to navigate a world where they are constantly bombarded with unattainable images of 'perfection' on social media."
All proceeds from the sale of Taylor's book will be donated to Breakthrough Mental Health Research Foundation to fund vital research into mental health. You can purchase a copy of Taylor's book on ETSY here.