Parents Share Some of Their Most Embarrassing and Cringeworthy Screw Ups and We Feel Better Now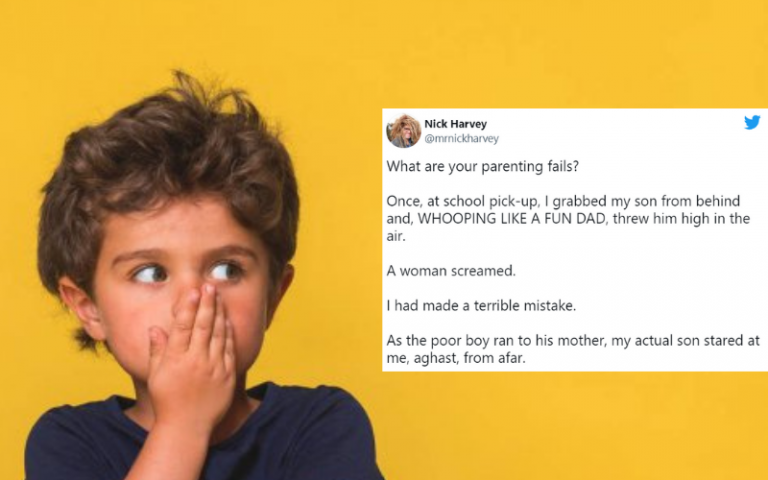 Parents Share Some of Their Most Embarrassing and Cringeworthy Screw Ups and We Feel Better Now
There can't be many parents among us that haven't screwed up so badly that it is still on our mind years later. Maybe it was embarrassing at the time, it was probably very cringeworthy, but it was definitely memorable and likely very funny!
"What are your parenting fails?" one dad tweeted, sparking a deluge of reassuring replies, guaranteed to make you feel better about your own parenting!
What are your parenting fails?

Once, at school pick-up, I grabbed my son from behind and, WHOOPING LIKE A FUN DAD, threw him high in the air.

A woman screamed.

I had made a terrible mistake.

As the poor boy ran to his mother, my actual son stared at me, aghast, from afar.

— Nick Harvey (@mrnickharvey) April 15, 2021
I sent my child in dressed up as a pirate for pirate day. It wasn't pirate day. She also had to stand up in front of the whole school to collect an award, dressed as a pirate.

— Amy (@amymkeen) April 15, 2021
Also, used to read him We're Going On A Bear Hunt. One day we found a hedgehog in bushes near his nursery.
"Look! Bear Cunt!" He shrieked at top of his voice.
Many faces went 😱. We focused on his pronunciation of letter H after that. And difference between hedgehog and bear.

— floralk (@mouldygoldfish) April 15, 2021
I had lost weight. On my day off threw on my old fave yoga pants to take kid to pre-K. Running late, we're hustling up the ramp behind other parents when my pants fell down.
It could've been unnoticed if my child hadn't shouted "MAMA, WE WEAR PANTS AT MY SCHOOL!"
Everyone turned.

— Amy got 3 microchips now! (@Wickawickawick) April 15, 2021
I failed to recognise my son when I met him after his first day at school. He had very long curly blond hair a week before that had been lopped off and I forgot. It was only when he threw himself round my legs that I spotted him. Bad moment.

— Catherine (@SauvignonMum) April 15, 2021
For a year I always took umbrage with how the kids after school club was pushing them out the door when I went to pick them up. I never said anything to the club, they never said anything to me. Ends up for a year I was picking the kids up 30 mins late.

— Alastair Ross (@alastairsross) April 16, 2021
At one sleep deprived Christmas family lunch, with a toddler son and baby daughter, I bypassed the high chair and tried to tie a bib around my husband's neck.

— Mum's got a Sharpie💙 (@Mycatlola) April 15, 2021
Ex-hubby took our youngest (about 6, looked like butter wouldn't melt – all blond ringlets etc – but we knew different) into (v busy) card shop full of smutty cards. He's paying, she starts practising her new reading skills. Loudly. 'KEEP CALM AND SUCK COCK'

He's never been back

— 👻☠️ Rachel Bones ☠️👻 (@rach0907) April 15, 2021
Young son woke up-to my horror he was really blue . Took him to doctors sent to hospital – admitted – blood tested and lots of observations – hours later discharged – nothing found- next day looked awful again – then realised I should have washed new blue sheets.

— margrit anne💙 (@margrit_anne) April 15, 2021
I had one of those craft beer Advent calendars: 24 beers over 24 days, & allowed my then 8 year old son to open each window then hand me the beer to put in the fridge for later.
He then told his friend's mother that "every day before breakfast I go & get a beer for dad".

— Tim Grey (@GreyTim) April 15, 2021
I sent my little girl to school for Roald Dahl day dressed as a very cute orange faced, green haired, dungaree wearing oompahloompah. A week early. 🙈

— MyGirlTheRiver✨SoundLounge Nov 6 (@mygirltheriver) April 15, 2021
I once got so drunk at the work Christmas do that I was unfit to drive him to school next day. We walked in instead – in the freezing rain.

Teacher looked at the poor drowned lad and said 'oh dear – did you walk in today?'
'Yes' he said.
'Mummy was drunk'
🙄🥂

— Vienna Lizard (@Fledgling1) April 15, 2021
Offering to bring a neighbour's kid home from a party, and bringing her a random child with the same name. Hers left alone in a church hall, weeping into his party bag.

— La Crapule (@Crapule68) April 16, 2021
I put a peel-off face mask on, then told my daughter (then around 10) my face was melting. She had a panic attack. Excellent parenting from me. 😬

— Jo🌻🎗#OneTitWonder (@joelymack) April 16, 2021
Gold!!! Do you have an embarrassing parenting mishap of your own to share? Sound off in the comments!