50 Stocking Filler Ideas and Jolly Santa Sacks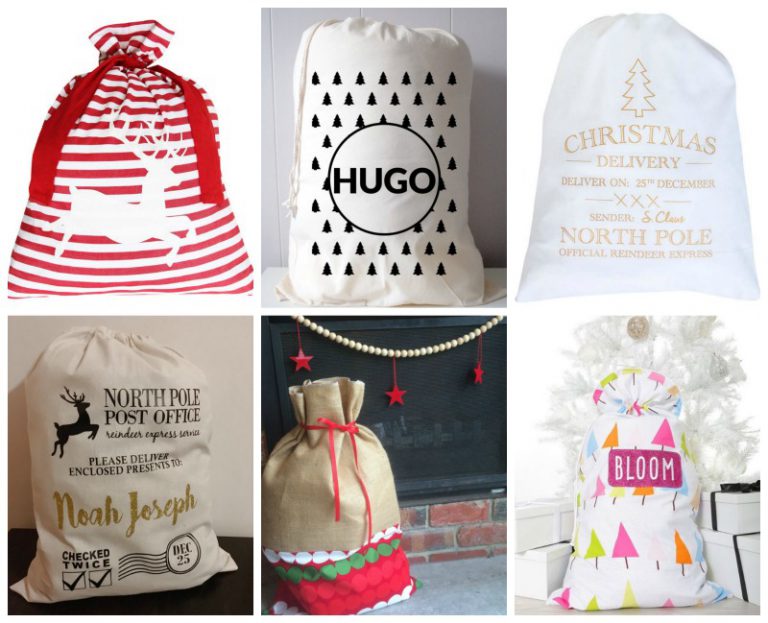 One tradition I wanted to introduce to my kids at Christmas time was the magic of the Santa Sack.
I wanted each of my girls to have their own personalized sack that they could wake up to on Christmas morning filled with gifts. It's a lovely tradition and I love the excitement on my girls' faces when they wake up to see their previously empty Santa Sack filled with gifts.
Not every family chooses to have a Santa Sack, and that's quite ok.
But I do like my girls having their own personalized sack and it does make a great place to put all the small and itty bitty toys and gifts in the one area.
Whether you say the gifts are from Santa or yourself is also up to you.
Santa Sacks can be notorious for being filled with 'filler' gifts that the kids don't really need.
I remember reading a suggestion on social media a couple of years ago to only fill sacks with the smaller gifts and make the bigger expensive gifts from mum and dad. This was to ensure when kids talked about what they got from Santa, it wouldn't look like Santa was stingy to one kid, but generous to another.
Christmas has become such a commercialized season, I think we can sometimes overthink it, but I still think that suggestion was a wise one and I adopted it with great success last year.
So what does one fill their child's Santa Sack with, without being overloaded with itty bitty crap? The key is to balance the fun toys with practical gifts that can be used for back-to-school next year. This helps keep back-to-school costs down as well.
Here are 50 suggestions for smaller sized gifts.
50 Stocking Filler Ideas
1. Small box of Lego
2. Colouring Pencils
3. Pencil Case
4. Stamps
5. Hair ties
6. Water bomb balloons
7. Hat
8. Underwear
9. Socks
10. Costume Jewellery
11. Story Book
12. Note Book
13. Colouring-in Book
14. Water colouring paint book
15. Beach towel/hoodie
16. Thongs
17. Lip gloss
18. Favourite lollies or chocolate
19. Bubbles
20. Bath wash
21. Washer/ Bath Sponge
22. Bath Crayons
23. Small Jigsaw Puzzle
24. Shopkins
25. Cushion for their bed
26. Sunglasses
27. Handbag
28. Dress Up Accessories – wand, Spiderman gloves, masks etc
29. Tennis balls
30. Frisby
31. Blow Up Beach Ball
32. Water Bottle
33. Lunch Bag
34. Lunch Box
35. Board Game
36. Sonny Angels (or small collectible toys)
37. Bath Toys
38. Harmonica
39. Tattoos
40. Playdough and accessories
41. Toy cars
42. Small craft sets
43. Kaleidoscope
44. Skipping Rope
45. USB Stick (teens)
46. iPhone case (teens)
47. Selfie stick (teens)
48. Pool Float toys
49. Stickers
50. Face Paint/face crayons
Lime Tree Kids have an amazing range of stocking fillers that are well priced.
It's also good to consider heights of presents so they 'bulk' the santa sack up. I generally mix my smaller gifts with one larger gift that fit into the sack.
Once your child has their own sack, this can be a keepsake memory for years to come.
Providing Santa remembers to fill it…
What are standard stocking filler gifts in your home? Got any suggestions to add to the list that have worked for your kids in the past?
Disclosure: There are affiliate links on this post. Should you choose to purchase an item, we will receive a small commission at no extra cost to you.